Come forth, all ye believers in the METAL faith and join the Wacken gathering! The cows of the Wacken farmers have been pushed aside and make way for some 80.000 metal fans and a musical carnage like none other in the world. This year, we pray for less rain and mud than 2012 offered and four days of full-on metal.

This is my eleventh Wacken Open Air (Thomas), and for the first time ever, I arrive on Wednesday, not Thursday. Why? Because the festival has reached a point where there's so much pressure even on the backstage area that you won't get a proper spot for your tent if you arrive Thursday. Popular place, Wacken, popular place indeed! So instead of facing a too long walks and lots of time spent on the dusty paths from camp to the stages, we've decided to drive down to Wacken early Wednesday morning, even if there isn't really that much which interests us on the bill.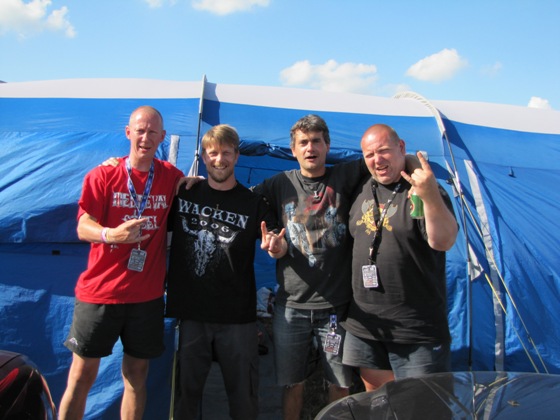 The Power Of Metal.dk Wacken team is set to go!

Our first live experience at this year's festival is the last two songs of Chinese SPRING & AUTUMN. Sounds alright. The singer doesn't sing that well, but he does it in Mandarin (?) which by any measure is fairly exotic.

What comes next is something a couple of us have been looking forward to, though: HENRY ROLLINS graces the festival yet again with his spoken word show. I enjoyed it last year. The man has a lot to say and lots of life experience to share along with a great portion of humour. He takes us through his two near-death experiences and urges everyone in the Headbangers tent to travel as much as possible to meet people and keep an open mind. There are many truths to be found in Rollins' word, and the hour passes quickly in his company.
Attending: Philippe and Thomas

Later on, we catch the Swedish Metal Battle winners, VENGHA, who play crossover metal with a big element of metalcore. Their material is somewhat unpolished and as a whole the young band seems inexperienced on a big stage, but at the same time Vengha's vocalist is the kind of guy who goes the extra mile and jumps into the crowd.

ROTTEN STATE, the Metal Battle winners from Montevideo in Uruguay also have a vocalist with an attitude. I can't help comparing him with the first Annihilator singer, Randy Rampage; intensive person, but not exactly a great voice. I can see why Rotten State would win a Metal Battle with their aggressive punk-filled thrash and convincing delivery.
Attending: Philippe and Thomas

ANNIHILATOR have a new album out on the 23rd of August, and the Annihi-crew has given the Wacken audience an opportunity to get a pre-listen to the songs at the WOA Movie Field. Opinions about the new material vary in the Power Of Metal.dk team, but I can say that fans of the Padden era Annihilator material will like this.

Here's the tracklist:

Deadlock
No Way Out
Smear Campaign
No Surrender
Wrapped
Perfect Angel Eyes
Demon Code
Fight the World
One Fall, Two Rise

The limited edition of Feast comes with a bonus CD with re-recordings of classic material.

We have a Russian connection backstage. Every year, we hang out with this crowd of lovely Russians and Ukranians. This sometimes leads to us listening to music we wouldn't have listened to in the first place. Like RUSSKAJA. This mixture of rock, ska, jazz, blues and Russian folk music (or something) is crazy - but fun when you're surrounded by a bunch of Russian speaking people who sing along and dance. That a German girl decides to go on stage and propose to her boyfriend during the Russkaja set doesn't make things less entertaining, of course!

The Russian crowd is also the reason why we check out the Russian Metal Battle winners, COUNT TO SIX. This is not a bad thing! Very modern, professional attitude. Musically somewhere between a melodic death metal band and Heaven Shall Burn. I can tell you these boys create massive breakdowns! Approved effort.
Attending: Jørgen, Philippe, Thomas

Despite some strange notes when the bassist-singer was leaving growls for clear voice, Spanish Metal Battle winners TRALLERY are very refreshing. This is a nice cocktail of communicative energy and cool breaks and bridges - you could say this is a progressive version of 'Kill'em All'.

The Indian Metal Battle winner, DEVOID, impresses with a capable round of death/thrash metal. The band is, according to themselves, rather chuffed about being at Wacken. 'This is a lifetime dream', the singer professes. Good stuff to conclude a laid-back Wacken Wednesday with.
Attending: Thomas and Philippe



In Brief with...

Arun (v/g) from Indian Metal Battle winners DEVOID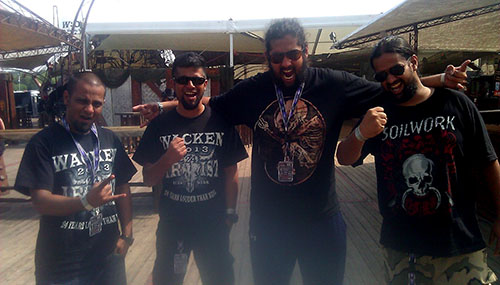 POM: What's it like being here at Wacken?

Arun: It's our first international gig ever. We have played in India of course over the past eight years, but we're really stocked about being at Wacken and about the fact that we have now played here!

POM: What was it like to play last night? You had a bit of cable problems at the end.

Arun: It went really well, and the tent was packed and the audience was responsive, but, yeah, it was a bit nerve-wrecking with that cable. It popped out a couple of times. Everyone in the band pretty much shat their pants, hahaha.

POM: I keep reading about the metal scene in India and how it's growing?

Arun: Yeah, it's an untapped market right now. The last three or four years, a boom of metal happened in India. I mean, I'm pretty sure that Europe and the US are saturated with metal, but India is this huge 1.2 billion market and it's slowly catching up. It's always been around, but now it's almost as if it's becoming mainstream. So it feels good to be in that period of your country where metal is getting that kind of exposure. We've seen this grow from small pub gigs you pay for to getting paid flight tickets and performance fees and hospitality and everything. We've seen that transition which makes it special to us.

POM: What's next for you?

Arun: Well, once we go back, there's India's finest festival, NH7, which is run by an organisation called Only Much Louder. Other than that, we're writing material for the next release. We already wrote four songs, so we're going to finish that and polish it up and release it.

POM: What are you going to see here at Wacken?

Arun: Oh, man...we've never seen most of these bands, so it's a whole new experience. I'm totally looking forward to Rammstein today because I've only heard huge things about their stage act and seen the videos, and now I'll finally be there in person. Anvil is there, and we've seen the documentary. It's just unbelievable - we're going to watch as many bands as we can!





THURSDAY

We wake up to rain. Oh, bloody no! Luckily, the rain comes to a standstill after a while, and the sun comes out. The rain has of course resulted in a great deal of mud, which the moshers in front of the stages will benefit GREATLY from during the day.

After a great Wednesday at Wacken, let us head over to more Metal Battle bands, with a nice international Thursday mix of death, black, grind and progressive stuff, the way we like it.

Do not expect a Mexican revolution with BEHOLD THE GRAVE, a quintet from Chihuahua. They are not bringing anything new among the codes of furious and melodic death metal, but they know these codes perfectly well, and how to share them with a happy pit.

ROTTEN SOULS, a corpse painted crew from Costa Rica, are now holding high the blackfire torch, ignited by Dimmu Borgir years ago. Note: Nice customization of the Costa Rican flag with a pentagram added.

No time to breathe: Polish GNIDA hit the stage with good old times 'Scum'-era Napalm Death influence, and 50-second songs, mixing leaden heavy riffs and blast beats, with a front man full of anger and sense of humor.

Then MYSTERIOUS PRIESTESS is coming, bringing progressive, intimate death metal. Among the four bands, these Japanese youngsters are maybe the most creative lot. A die-hard Cynic fan like your servant here is really receptive to that kind of artistic initiatives. Note: Yes, death metal can be intimate, and yes, the girl behind the keyboard is as talented as she is cute.

I have to say it was very challenging to show their music for the Metal Battle bands with only 20 minute-shows. It was a real pleasure for the audience to listen to them. Cheers, guys.
Attending: Jørgen, Kent, Phil

The official opening of the festival is as usual SKYLINE. And as usual it's a walk down memory lane and quite enjoyable, even if we fail to recognise any of the German celebrities (?) onstage this year.
Attending: Jørgen and Kent

It's been ten years since Jeff Waters and ANNIHILATOR last played Wacken. It was a memorable gig, that one. The same can be said about today's show. One of the tightest speed/thrash machines around, Waters and his crew take us through 27 years of metal history, starting with the new song Smear Campaign from the forthcoming release, 'Feast'. Moving into safer ground, Annihilator air King of the Kill, one of the live darlings of the band's core audience. Next up is another new song, No Way Out. Clowns on Parade from 'Metal' lights the flame of recognition in the eyes of the surrounding fans. Even more so does Set the World on Fire, the fabulous title track from Annihilator's 1993 album.

Then the Annihi-crew takes even farther back in time with Welcome To Your Death from 'Alice In Hell' and the two classic 'Never, Neverland' tracks Fun Palace and I Am In Command.

A rare and welcome guest on the set list is No Zone from 'Set the World on Fire', then Fiasco from 'King of the Kill'. It's hard to imagine an Annihilator gig without the mighty Alice in Hell tune. And we get it as the conclusion of an excellently executed gig. World class!
Rating: 95/100
Attending: Phil, Jørgen, Kent, Thomas

SOULLESS, five guys from Ohio play Wacken for the first time this year, and they take the challenge on like a storm, even if their stage act is a bit static. They deliver the goods as they pound their good old-school thrash metal with death metal vocal into the appreciative audience.
Rating: 85/100
Attending: Jørgen

The young Germans in ALPHA TIGER are just get better and better. Today they come, play and conquer with their brand of old-school US Metal in the vein of early Queensrÿche meets Metal Church. I'm already looking forward to the next Alpha Tiger concert!
Rating: 95/100
Attending: Jørgen

Arguable one of the bands which paved the way to metaldom, DEEP PURPLE are a welcome addition to the Wacken billing. This is the first time I see Deep Purple, so I'm a bit anxious to see what a bunch of guys who look like beefed up retirement home inhabitants can do in front of the WOA audience. What can I say? Gillan, Glover, Paice, Morse and Airey came, saw and conquered.

The old folk on stage win me over from the very first second when they launch into Highway Star, one of the coolest songs from an which has been with me since my early childhood. No, I'm not really a big fan of Deep Purple, in fact, none of the Power Of Metal.dk team are, but the next hour is walk through a park where are recognize some of the trees easily and others kind of feel you know without quite remembering their names. We get Strange Kind Of Woman, Lazy, Hell to Pay, Perfect Strangers, Space Truckin' and more, wrapped into solos by Morse and Airey as well as jam-like interludes by a band who clearly enjoy what they do.

After a cover of the intro to Sweet Child o'Mine (!?) by Morse, Uli Jon Roth walks on stage to join the other dinosaurs for the undismissable and unavoidable Smoke on the Water. I must say it's amazing to finally listen to this tune live and performed by the real deal and not one of the usual cover bands!

After a short break, Deep Purple come back for the two encores Hush and Black Knight, which concludes a fantastic ride down memory lane and confirms that rock'n'roll isn't just for the young (which is great consolation for a bunch of guys like us who've all passed the 40-metre mark).
Rating: 95/100
Attending: Jørgen, Kent, Phil, Thomas

RAMMSTEIN are not just music. They are a show, an experience, a phenomenon. Their larger-than-life stage set-up can nothing but impress the approximately 70.000 people in front of the True Metal stage on this mild Thursday evening. Ich Tu Dir Weh kicks off the ball, Till dressed in an over-size fur. Fireworks, sweat and fire in abundance sets the agenda for the next hour and a half – as expected. After the opener comes the theme song Rammstein, then Keine Lust and Sehnsucht.

Asche zu Asche follows suit, and next is Feuerfrei. Mein Teil sees Till dressed as a chef, attempting to boil poor Flake. Ohne Dich is a beautiful break in the constant stampede, but Wiener Blut crushes all that. Du Riechst So Gut comes next and then the scorching Benzin. Links 2 3 4 is blistering tonight, and the same can be said of Du Hast. For Büch Dich Till pulls out his fake cock, squirts all over and casually fucks Flake in the arse. Brilliant stuff! Ich Will ends the main set, but Till and Flake come back for an acoustic (!) version of Mein Herz Brennt – just Till's voice and a piano. Beautiful, no less.

Then the gobsmacked audience witnesses how Schlager-phenomenon Heino struts onstage and joins Till in a duet for Sonne, and once the old Schlager geezer is off stage, Rammstein squeeze the last drops of sweat out of their bodies and those of the Wacken audience with Pussy. What a SHOW!
Rating: 99/100
Attending: Kent, Jørgen, Phil, Thomas



In Brief with…

Chris and Arno from South African Metal Battle winners INFANTERIA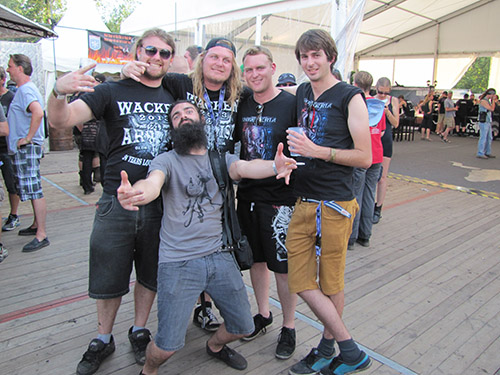 POM: Is this the first time you play in Europe? Arno: Yeah, it's the first time we play here.

Chris: I've been to festivals in Europe, but we haven't played here.

POM: How is thrash metal doing in South Africa?

Arno: It's not the biggest in South Africa. Modern metal and metalcore is bigger, but thrash has been there for years, and there is a stable output from thrash bands. We'd like to think that Infanteria is one of them.

Chris: It's nowhere near as big as here, but it's there. It's expensive for a band to tour in South Africa if you come from e.g. Cape Town like us. The country is so big, that the petrol expenses alone are really big just because of the distances. You'd have to drive 18 hours to get to some places!

Arno: Yeah, and in that sense the Wacken Battle was good for us, because it took us around the country and gave us an opportunity to play the material from our new album ['Isolated Existence', released in February 2013]. The Wacken Battle is also good for us in the sense that it's kind of hard not to be connected to the rest of the world. A lot of people don't even know that there's a metal scene in South Africa!

POM: What was it like to play here at Wacken?

Arno: Amazing! There was a super response from the audience. People really know how to show their appreciation for good metal here. We had to get used to play in front of thousands rather than a couple of hundred, though. There was a good vibe, definitely!

POM: What are you looking forward to see this weekend?

Arno, Chris and the other band member begin rambling names: Lamb Of God, Gojira, Danzig, Annihilator… [the writer gives up noting down all the names…]

Visit Infanteria on facebook: https://www.facebook.com/infanteriasa




FRIDAY

I wake up around 7.30 because it's already too hot to sleep. This Wacken Friday, it turns out, will be scorched by a merciless sun, something which of course puts a bit of a dampener on the audience reactions during the day.

First up are goth metallers TRISTANIA. Scorching midday sun and goth don't really go hand in hand, obviously, but the Norwegian/Sardinian combo do their best to entertain the crowd. Petite Mariangela is a lovely as ever and sings wonderfully alongside big Kjetil Nordhus. The sound is nowhere near perfect at the beginning, but this improves. An approved opening of the day.
Rating: 75/100
Attending: Thomas

As the heat soars, one of the heaviest live bands on earth, GOJIRA, take to the Black stage. The four Frenchmen deliver their progressive earth death metal as convincingly as always – especially the massive renditions of Backbone and L'enfant Sauvage stand out as simply remarkable. The last time we saw Gojira was at the indoor Aalborg Metal Festival in Denmark, and it goes without saying that the Wacken sound can't live up to the superb standard we experienced at that gig in November, but anyhoo; a fantastic concert, this one.
Rating: 90/100
Attending: Phil and Thomas

Fast forward to the Headbangers Stage where Swedish crossover thrash wonders DR. LIVING DEAD are tearing up the tent. Even if new singer Dr. Mania can't quite cut the higher notes the way Dr. Ape could, there's no stopping the Swedes from churning out their Suicidal Tendencies/Nuclear Assualt/S.O.D./Slayer mixture. Mosh is on the agenda in the tent!
Rating: 85/100
Attending: Thomas

Moving onto entirely different pastures of rock, I head over to the Party Stage where the reunited UGLY KID JOE want to prove that they're still part of the game. And they are! To be honest, I hardly know any of their material, but I do recognize Cats in the Cradle, (I Hate) Everything About You and Neighbor. Whitfield Crane is a great front man and that voice is just incredible – something which I think a lot of people forget. Excellent performance, spiced up by a guest appearance by none other than Motörhead's Phil Campbell for a cool version of Ace of Spades. I'm thinking it might be worth checking out the new album Ugly Kid Joe will put out in October.
Rating: 80/100
Attending: Kent, Jørgen and Thomas



IHSAHN press conference

During the Friday afternoon press conference with former Emperor front man Ihsahn, a special guest appears: Samoth, Ihsahn's former Emperor buddy. They have a surprise for us: Emperor will play at Wacken 2014 for the twentieth anniversary of 'In the Nightside Eclipse'. Yes, Faust will be there, too. No, there will be no official reunion, no studio album. They have not planned anything yet concerning the track listing, probably good old stuff. After some words about their respective solo careers, I'm asking Ihsahn: "For your previous shows (Note: like Hellfest or Sweden Rock Festival) you opened with On the Shores, a long progressive piece. Some people may ask why you have chosen this song, instead of something more direct, as many bands do." "We don't actually build our set trying to be catchy, because our music is not. We have nothing single formatted and there are no restrictions. So be prepared!" (smile)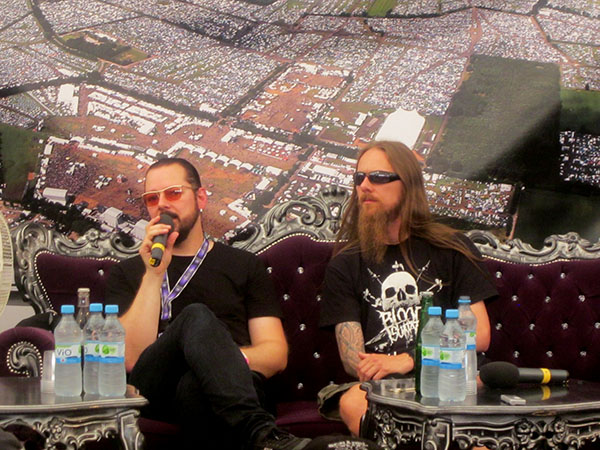 Ihsahn and Samoth - ready for Wacken 2014




IHSAHN told us to be prepared at the press conference. I am, and happy too, when 4 o'clock is ticking. The sound is bombastic, On the Shores is so intense, so heavy, that it becomes…catchy. Jørgen Munkeby is not here, so the saxophone is on samplers. Through his original music writing, his chorus, his bridges, his inspired guitar solos, Ihsahn knows how to make very complex, extreme and progressive parts accessible. As for the studio version, great work from Einar Solberg on Arrival, from the whole Leprous team actually during the show. What about the chorus of Called by the Fire or Frozen Lakes on Mars, the progression to the growls on Unhealer? Are they not catchy, I mean, in a wonderful way? I can close my eyes, sing, then suddenly bang my head, lifted then, possessed by The Paranoid, The Barren Lands and the furious A Grave Inversed. It is already the time for conclusion, with a mesmerizing "The Grave". Last year at Wacken, I had MY Coroner, now MY Ihsahn, and I was not alone to be caught during this meltingly warm afternoon.
Rating: 96/100
Attending: Philippe.

PRETTY MAIDS hail from the town where I was born and spent my childhood. They were part of my induction into heavy metal and hardrock in my early teens during the mid-eighties, so, yeah, even if I'm not their biggest fan, Pretty Maids have a place in my metal heart. Ronnie Atkins and Ken Hammer aren't exactly spring chicks, but they can still deliver the goods. With classic tracks like Back to Back, Needles in the Dark, Yellow Rain, Future World and Red Hot and Heavy (yeah!) mixed with three newer songs, the overheated Wacken audience receives Pretty Maids warmly. Ronnie is a bit low at times, other than that, all is fine. A very nice German couple next to me state that this is without a doubt the best concert yet at Wacken 2013. I personally do not agreed, but I'm happy both for the two Germans and Pretty Maids. Well-deserved compliment.
Rating: 79/100
Attending: Jørgen, Kent, Phil Thomas

On the WET Stage, MUSTASCH pull off a great show. Their mix of Black Sabbath and Metallica works excellently, and front man Ralf is all over the place. Nice one!
Rating: 80/100
Attending: Phil, Thomas

WHITECHAPEL are brutal as f*ck. Nothing more, nothing less. I only watch two songs, so I can't really rate the gig, but, man, things are moving here.
Attending: Thomas

I enjoyed Leprous during their "Bilateral" show in Kristiansand, Norway. I have just seen them today, playing with and for Ihsahn. So I have decided to cover the monumental MOTÖRHEAD this early evening. I mean, the Leprous musicians are three times younger than Lemmy. I will have the chance to see them again another time. "We're Motörhead and we're playing Rock'n'Roll", the usual short intro before I know how to die from the last album 'The Wörld Is Yours'. Then comes Damage Case, Stay Clean and Metropolis in front of an audience in osmosis with the trio. Then Over the Top when I am beginning to get into the show. Then the guitar solo when I am feeling there is maybe something wrong backstage. Then comes The chase is better than the Catch. Then…nothing. The show is just put to a halt. Lemmy, a living legend, is also a man of flesh and bones, and he is not well. Everybody is screaming his name.
Rating: 60/100
Attending: Phil

Now, there's music I understand and there's music I don't understand. LEPROUS from Norway I only partly get. And the part I understand about Leprous is diminishingly small. Every now and then there's a heavy as fuck breakdown or section which is cool, but then the young Norwegians move into something entirely else and for me incomprehensible. Noise is probably the best description. Rating: 35/100 (Thomas)

I have to run from the Black Stage where Motörhead played, trying to fly over the crowd, to get the Headbanger Stage as fast as possible. I am reaching LEPROUS and Thomas for the last twenty minutes of the show. I guess I have to say a friendly "No! No!" to Thomas. First, we do not have a clue about what happened before these last minutes. Secondly, the Norwegian youngsters are now reaching a peak of intensity. It is perhaps why you can call that progressive extreme music. Everything is so furious, dark, psychedelic, for an apocalyptic final, with the singer Einar Solberg in a trance.
Rating: 60/100 (Phil)

Swedish power metal war machine SABATON serve us with a great live performance this hot Wacken evening. We're treated with songs like Midway, Gott Mit Uns and Carolus Rex. Not only does singer Joakim Brodén put in a splendid performance and interaction with the audience, legendary drummer Snowy Shaw (King Diamond, Therion, Memento Mori and others) has joined the ranks of Sabaton. If this a permanent solution, I have no idea. This is my second live encounter with Sabaton, and I can only conclude that they're much better this second time around.
Rating: 90/100
Attending: Kent, Jørgen

POWERWOLF are f'cking brilliant! They take Wacken by storm with killer songs such as All We Need Is Blood, Amen and Attack, Resurrection or Erection, Kreutzfeuer, Dominus Sanctus, In the Name of God. I kid you not when I tell you that this is one of the best live performances I've ever seen. They simply give it all. Mark my words: Powerwolf will be huge!
Rating: 99/100
Attending: Kent, Jørgen

No, I don't know ANVIL's songs, none of them. And, no, I have not watched the documentary either. So this is all new to me. What happens? A semi-old guy runs onto stage, playing his guitar, then begins shouting into his pickups. Mkay…
This is more traditional metal than I thought it would be. It's decent enough material, I reckon, but the (new) bass player is audibly untight, and the vocals are hardly audible at all in the beginning. The way Lips mimics and acts is really…Spinal Tap. I feel as if I'm part of a late 80s rock movie or something. We're not impressed, to be honest!
Rating: 30/100
Attending: Phil, Thomas

In passing, we can hear that DORO is doing her usual thing on the Black Stage. Boy, she says thank you a lot!

AMORPHIS have a brilliant new album out. I can only recommend it to anyone! Tonight, the Finns surprise with a small acoustic set, with saxophone player, backing singer and the lot. Very enjoyable break from the metal pounding. That said, the acoustic set shouldn't be longer – it was just perfect. By the last tune, I'm sort of hoping for distortion. Which we get. Amorphis play a blistering set consisting of both new and old. This is the perfect way to end Friday night. Thank you to Finland!
Rating: 90/100
Attending: Phil, Thomas


SATURDAY

'Demanufacture' is FEAR FACTORY's classic record, and there is no surprise when the band opens with the title track, then with Self Bias Resistor. The sound is huge. The drummer who has the heavy task to replace Gene Hoglan is a top class hitter. Shock and Headcrusher are following and the pit is really getting life. The last record is not forgotten: 'The Industrialist' is a sonic bomb. But the question is why Burton C. Bell do not put a twist of reverb (and delay eventually) for the clear parts. On the records, these "hall" effects hold the melody. They should also give a good result live, and spare Burton's voice, and avoid out of the tune troubles on Powershifter. Anyway, we have a good time, and the quarter is concluded with THE song from 'Demanufacture', again, Replica, then going back to the origins with Martyr.
Rating: 77/100
Attending: Phil

Whilst sending multiple curses in the direction of the Wacken programme planning team, I head over to the Headbangers Stage to the sounds of Fear Factory from the Black Stage. Can't believe I'm actually walking AWAY from a Fear Factory gig! The reason is that I want to hear something I haven't heard before; SCOTT IAN of Anthrax fame does a spoken word show, and I do not intend to miss this.

Scott has decided to share stories from his life as a musician and about fandom. He tells us about what it's like meeting fans and what it's been like for him to meet his idols, most notably Lemmy who apparently got Scott drunk for the first time on the first promotional tour Anthrax did in Europe. I won't give away too much in case you run into Scott's spoken word show, but I can say this much: if you meet Scott Ian, don't ask him if you can touch his beard!

After the events of the past year or so in Randy Blythe's life, you can easily understand why the LAMB OF GOD front man has a boxful of anger to vent. And it does seem as if this is going to be one mother of a gig. As Desolation kicks off, it's obvious that these hardy men mean business.

Then the unexpected happens: In a matter of minutes after the Richmond five-piece have launched into their gig on the Black Stage, somewhere in Ghost Walking or Walk With Me In Hell, the skies open wide the gates. It rains like I haven't seen it in while. Just like that. The field is turned into a mud bath in a few instances.

I run back to the camp to put my camera in the car, then dash back in the pouring rain in my sandals (!), my underwear already soaked. But, fuck it, Lamb Of God is worth a 'bit' of rain and mud. Luckily, many others feel the same way. I coincidentally meet a young German girl I've met on Wednesday. She gives me a big hug, which is normally a great thing. Only, the happy young woman has just been literally rolling in the mud. Oh, what the heck, who wanted to be just soaked by the rain anyway? Wet AND muddy is so much better.

Everything gets more and more crazy whilst LOG pound away their furious metal. Especially during Redneck, the pit goes completely nuts. Despite the downpour, a fabulous concert with a band which is clearly ready to move on with their lives after at legal standstill.
Rating: 85/100
Attending: Thomas

Regular readers of our site will know that ANTHRAX have a big place in my heart. 'Spreading the Disease' was one of the first albums I bought, and they were the first, big international metal act I saw back in 1989 (with Suicidal Tendencies). They've had ups and downs, changing personnel, etc., but they were nevertheless always there. The Big 4 circuit definitely recharged the career of the New Yorkers, and in my mind, it's well-deserved. 'Worship Music' is an amazing album, with a Joey Belladonna who's putting in a surprisingly good performance.

The same today, here at Wacken, where the rain has now finally stopped and the sun has started to peak out of the clouds yet again (but of course the mud pools don't just disappear like that – mud is flying the rest of the evening). Joey and Frank Bello put such amounts of energy into the performance that you can only be impressed. Replacement guitarist Jon Donias (Shadows Fall) doesn't make much of himself, but does a good job, as does Jon Dette who's replacing Charlie Benante because he can't leave the States at the moment for legal reasons.

Among the Living kicks off the show, and I know in my bones that this will be an old-school gig. I'm NOT complaining! Only Fight'em 'til You Can't and the colossal In the End from 'Worship Music' have made it onto the setlist, otherwise we get Caught in a Mosh, Efilnikufesin (N.F.L.), Deathrider from 'Fistful of Metal', AC/DC's T.N.T., the mighty Indians, Got the Time, the even mightier I Am the Law, Madhouse and finally Antisocial. I would have liked to replace T.N.T. with a song from 'State of Euphoria' (preferably Be All, End All or Now It's Dark), but, hey, it's a detail in the big picture, and this is one great concert!
Rating: 90/100
Attending: Phil, Thomas

Glenn DANZIG, the man, the legend, is finally here at Wacken. 58 years of age, not looking as fit as he used to in his heyday during the early nineties, but nevertheless ready to rock. Backed by Tommy Victor (Prong), Johnny Kelley (Type O Negative) and Steve Zing (Samhain among others), Danzig has a solid foundation for churning out the hits of yesteryear , starting with Skin Carver, then Hammer of the Gods, Twist of Cain, Am I Demon, Her Black Wings, Devil's Plaything, Blood and Tears and How the Gods Kill. For me, this is just perfect.

Then Misfits guitarist Doyle graces the stage with his comic book character body and ditto face makeup plus hairdo. We're in for seven Misfits tunes, of which I only recognize Death Comes Ripping and Last Caress – I never really checked out Misfits for some reason. Then comes the über-hit of them all: Mother. It always was and will be the definition of Danzig. He can't run away from the song, and he shouldn't. Fantastic.

The set ends with another Misfits track, namely Die, Die My Darling, where Randy Blythe joins Danzig and Doyle on stage. Blistering, nothing more, nothing less.
Rating: 90/100
Attending: Jørgen, Thomas

After the fantastic time I have just had with Anthrax, a band I have been following since almost three decades, I must admit it is difficult for me to get into the DEVILDRIVER show. Do not misunderstand me: Dez Fafara and friends do a very solid job and he is one hell of a front man. But the last time I have seen him on stage, it was with Coal Chamber at the Ozzfest… in 1998. So allow me to enjoy the show in a very simple way, without giving you any more details.
Rating: 69/100 (I guess Thomas who is fan would have given more, but he could not miss Danzig)
Attending: Phil

I make a big detour to the W.E.T. Stage, just before the Alice Cooper show, in order to see a few minutes of FOZZY. The ex-wrestler Chris Jericho and his buddies deliver a direct form of hard rock, with solid guitars and last but definitely not the least, excellent vocal harmonies. I have to run again, now to Vincent Damon Furnier.
Attending: Phil

I cannot say I am a fan of ALICE COOPER's music, but I have a deep respect for the artist. Vincent Furnier is as a matter of fact coming for me at the right time and place. My old bones and empty head need some rest after four days of fun and chaos. I am ready for a break and good old melodic hard rock. Alice's voice and body are in excellent shape. The blonde guitarist suits the scenery well (nice wah-wah solo, lady).

It is a pleasure to listen to No more Mr. Nice Guy (it could have been great in duo with Dave Mustaine…) or Welcome to my nightmare. Alice is losing his head under the guillotine, then comes back from the dead. We are also get some cool covers: Break on through, Revolution, Foxy Lady and My Generation, with the gravestones of Jim Morrison, John Lennon, Jimi Hendrix and Keith Moon on the backdrop. An original mix of the classic School's out with Pink Floyd's The Wall closes the horror show.
Rating: 88/100
Attending: Phil

I'm not really one for Alice Cooper's horror rock, so I head through the crowd to the Party Stage were one of the world's best doom bands, CANDLEMASS, will give it a shot. Because of the ridiculously big crowd for Alice Cooper, I miss the first song, but I sink my teeth into the big, juicy doom beef called Bewitched as soon as I arrive. As it is usually the case, you don't get crazy crowds with doom bands – especially when there's the mud to consider also – so the audience is for the most part just standing about, listening, swaying or banging their head.

Bewitched turns into Dark Reflections, which then in turn becomes Water Witch from the last (?) Candlemass album, 'Psalms for the Dead'. Emperor of the Void comes next, then one of my favourite Candlemass tunes, Under the Oak. At the Gallows End and the title track from 'Psalms for the Dead' follow. The three encores are Black As Time, and the two brilliant pieces Crystal Ball and Solitude. Great work by Leif Edling and his cohorts.
Rating: 85/100
Attending: Thomas

If I were NIGHTWISH, I'd make sure to hold on to Floor Jansen. In my view, she's way cooler than both Tarja and Anette were. I don't have enough technical knowledge to tell you if she hits the high notes perfectly or whatever at all times (although I have a feeling that she's more than a tad off in Blessed Child), but she bangs her head like a maniac and, well, she looks kind of cute too.

No matter what you think of the universe Nightwish have been building around themselves the past decade, you have to hand it to them that they go all in. The show is impressive and the sound bombastic. The cheese border is close, but you know what? I quite enjoy the folky bits and they way it's been worked into the heaviness. Nice one.
Rating: 80/100
Attending: Thomas

It is unfortunately time to say goodbye to a great Wacken 2013. Let's get some RAGE with Peavy Wagner and the guitar virtuoso Victor Smolski, together with LINGUA MORTIS orchestra from Barcelona, where grace meets distortion. We are living a special moment, even though the drums are a bit too powerful in the mix for these fragile string instruments. The light show is going perfectly well with the music and the song Straight to Hell takes us to heaven.
Rating: 86/100
Attending: Phil

My finale for this year's festival will be Swedish technical monstrosities MESHUGGAH. To put it plainly; I've never been a fan. From the very outset, their music was just too much. I've seen them a couple of times in the past, but the output simply bounced off, wouldn't sink in. I want to give it another go, because I keep hearing bloody amazing Meshuggah are – then why on earth do I not like it?!

Somehow, this is the weirdest concert for me. I stand there and feel the intensity. Check. Intensity is good, right? At the same time, I never get the feeling that it really takes off. Jens Kidman's voice is the same and the same all along. It's extremely monotonous. And the songs…they sound the same! All of them! The same patterns, I feel. It's as if the entire concert is one, long song! The weirdest thing is that I stay there. I tell myself that I think it's boring, and yet I don't want to leave. I can't figure out why. Does my subconscious dig this without me even realizing? Remind me that I try listening to some of their newer albums just to check…
Rating: 65/100
Attending: Thomas

So that's it. We decide to skip Subway To Sally (have seen them on more than one occasion here at WOA, trust me) and head north. Thank you to Wacken Open Air again this year for giving us a number of great concerts and artists – we're already looking forward to seeing Kind Diamond, Emperor and Prong next, when Wacken celebrates its 25th anniversary!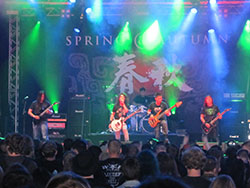 Spring & Autumn - Chinese metal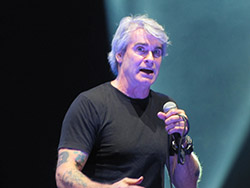 Henry Rollins - a man of few words...NOT!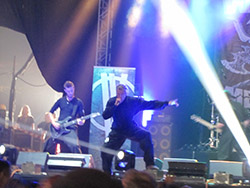 Swedish Vengha - inexperienced but hungry for more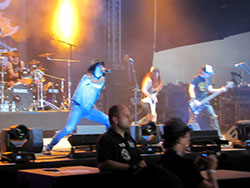 Rotten State - punk thrash fury from Uruguay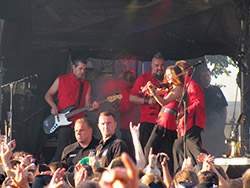 Russkaja - Austrian/Russian ball!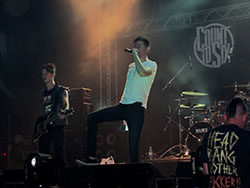 Count To Six - Russian breakdown madness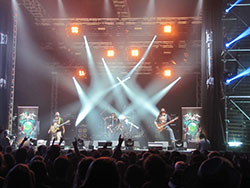 Devoid - death/thrash directly from Mombay
THURSDAY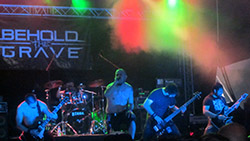 Mexican melo-death - Behold the Grave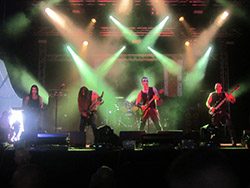 Rotten Souls - Costa Rican corpse paint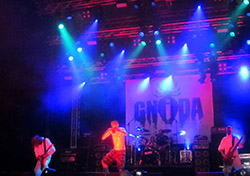 Grind brutality from Poland - Gnida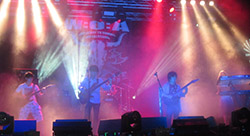 Japanese death metal experience -
Mysterious Priestess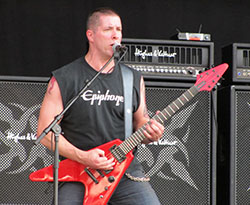 Man or guitar machine? Jeff Waters and Annihilator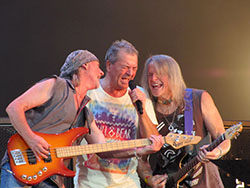 Oldies but goldies - Deep Purple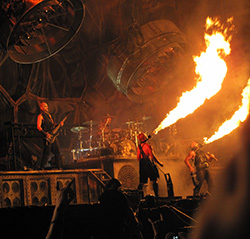 Pure madness - Rammstein
Friday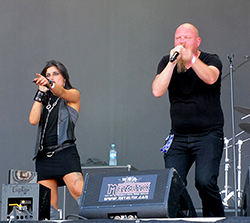 Goth and metal - Tristania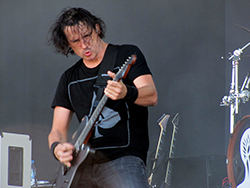 Gojira - heavier than heavy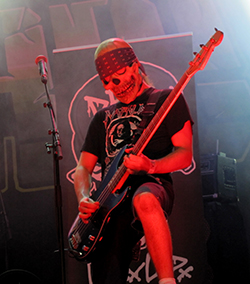 Crossover madness - Dr. Living Dead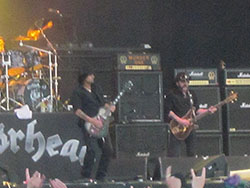 Motörhead - is Lemmy alright?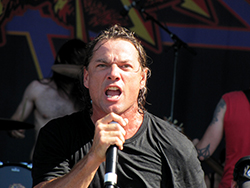 Ugly Kid Joe - entertaining!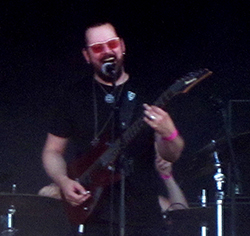 Insanely brilliant - Ihsahn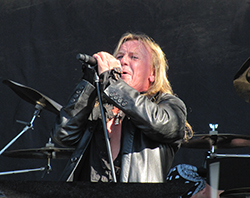 Made in Denmark - Pretty Maids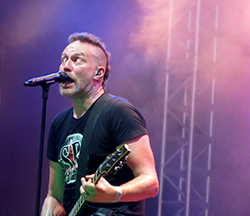 Mustasch - coolness!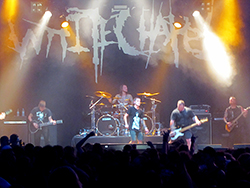 Brutal as hell - Whitechapel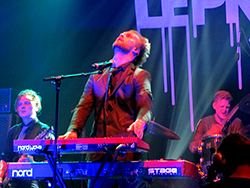 Looking for a sense of purpose - Leprous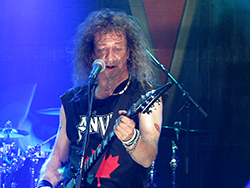 Spinal...no, wait, Anvil!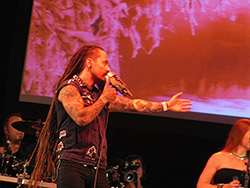 Amorphis - beauty and power
Saturday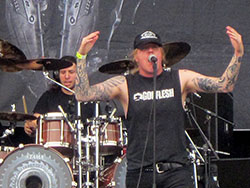 Still voice trouble - Fear Factory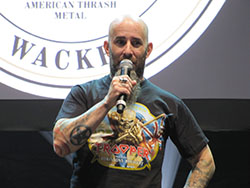 Don't touch this man's beard! Scott Ian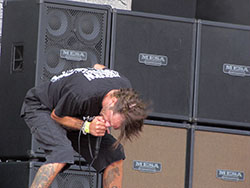 Madness in the rain - Lamb Of God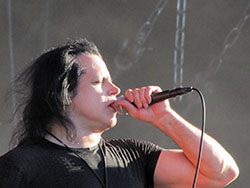 Danzig - classic set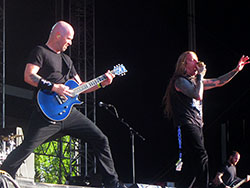 DevilDriver - what a front man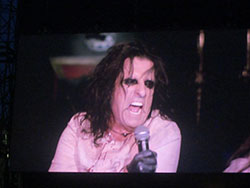 Hard rock needed - Alice Cooper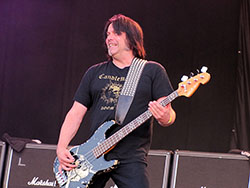 Doom's finest - Candlemass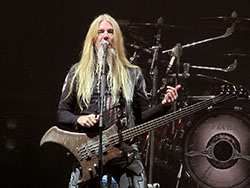 Impressive show - Nightwish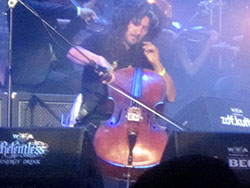 Playing on all strings - Rage and Lingua Mortis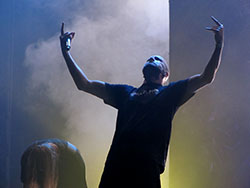 Technical madness - Meshuggah
Find many more of
Thomas and Phil's
pictures here