At a glance, the lineup for this yearís Aalborg Metal Festival is nowhere near as strong as it was in 2012. No Gojira, no Townsend, no Fear Factory, etc. The really exciting names are missing, which is not to say that there arenít powerful names on the bill as well as potential surprises. Letís see how it goes.

Just to bring you up to date with things, November is a busy month for me. It's full of work-related travel and a seminar and stuff, so Iím not the most popular guy with the missus. As a consequence, Iíve made an executive decision and skipped the first day of this yearsí festival in the north, even if it means I that I therefore wonít experience Danish death metal combo CROCELL with their new singer and the interesting new player on the Danish underground scene, THE WORLD STATE. Och, well, Iíll survive, and Iím sure the three bands on the Thursday bill did a fine job.

FRIDAY


Speaking of survive; Friday afternoon kicks off with the Japanese band named exactly that. SURVIVE play thrash, and they live and breathe it. Testament, Death Angel and Forbidden havenít lived in vain, thatís for sure, and their influence has reached all the way to the land of the rising sun. Even if Iím not a big fan of singer/guitarist Nemoís vocal, the Japanese receive points for the mix of grunting thrash vocal and clean vocal and an overall freshness of their traditional second-wave thrash. A fine start to AMF13.

Rating:
Thomas: 75/100
Phil: 85/100
FORGOTTEN TOMB have made the long drive from Italy to play AMF on this chilly November evening. The first two songs are so clearly not my thing. Black metal more than anything, and just plain boring. Thereís so little energy in this. During the third song, the Italians suddenly show a different and much more appealing side of themselves as a clean guitar a la Opeth enters the game, a recipe which is repeated in the next song. I miss direction more than anything with Forgotten Thumb. Is this black metal? Doom? Sludge? Black sludge doom? Dunno. There are fine elements, but on the whole, it doesnít really work.

Rating: 60/100

As you probably know, the end of the world is called Ragnarok in Norse mythology. RAGNAROK is tonight, right here in Aalborg. What is most fascinating about this Norwegian black metal veteran outfit is the small mountain of flesh of a guitarist Ė appropriately going under the name of Bolverk (again, check your mythology encyclopedia) Ė whose whole surface is literally shivering due to the velocity of his playing. Other than that, we agree that these guys really should get over Ď94/í95 and move on. Weíll move on and grab some Chinese food.

Rating: 20/100

And what a difference in expression and quality the next Norwegians on the bill offer! KEEP OF KALESSIN isnít something Iíve looked overly much into, but, by golly, this is an entirely different kettle of fish in terms of take on the black metal genre compared to the retarded version we heard just a few moments ago. The trio has unquestionable technical prowess, musicianship en masse and, yeah, real songs! Great stuff.

Rating: 85/100




In Brief with...

Kent Kirkegaard Jensen, reviewer from the Danish webzine Devilution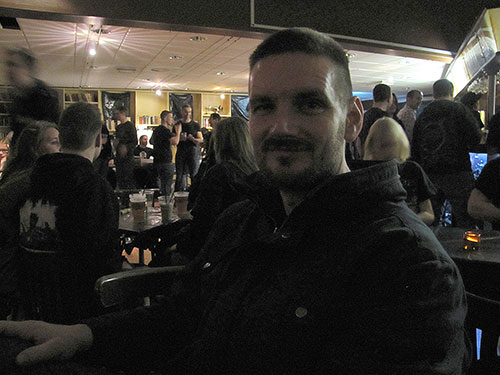 POM: What are you looking forward to at this year's festival?

Kent: At The Gates! I was completely sold when I listened to Slaughter of the Soul back then. It's really cool that they're back now. I hope it'll be good.

POM: What's so good about Aalborg Metal Festival?

Kent: I like the atmosphere here. I think it's a unique event. I've been here every year since the festival started. It's one of those things that'll just continue to happen - like Wacken. Also, it doesn't exactly hurt that the Rock Cafť is close by - because that's where the afterparty takes place, hahaha. The only thing that frustrates me is the fact that the young members of the audience get younger and younger, hahaha.

http://www.devilution.dk




A bunch of buddies from the Danish metal scene get together and agree to take a stab at some good old fashioned death metal. BLOOD EAGLE is probably the closest this country has ever come to a death metal super group. Raunchy drummer Morten Toft Hansen, former Volbeat/Illdisposed guitarist Franz ĎHellbossí Gottschalk, Mnemic guitarist Mircea Gabriel Eftemie, former HateSphere bassist Michael Ehlert Hansen and the growler Michael Olsson from Caro make up the team, and combined there are many years of stage experience gathered here tonight for the first time. So is it good? Yeah, mostly due to the great atmosphere and relaxed overall feeling of the whole thing. Are the songs there? Only to a certain extent. Iím sure Bloodeagle hasnít set out to revolutionize the genre, and they rely entirely on cool and grooving old school death metal, but thereís still room for their material to mature.

Rating: 79/100

How old are these guys anyway?! The singer/guitarist of US death metal outfit INCANTATION sports an impressive gray mane and certainly doesnít look like a spring chick. Unfamiliar with their material as I am, I can only take their performance at face value. It's not totally down my alley, I have to admit, even if they're occasionally heavy as f*ck. At their best, Incantation sound a tiny bit like Bolt Thrower, which by all measures is a compliment. The band expects that we know their material, but it's not the case - few do. It's a well-played gig by all means, but for me it needs something - perhaps if I'd been familiar with just some of the material it would have been so much better?

Rating: 70/100

HATESPHERE is one of the most experienced live combos Denmark has on offer these days. And it shows. Esse has really grown into becoming the great front man this band deserves and looks like a big happy fish in a fish bowl full of thrash riffs. Bassist Jimmy has tubes installed in his gut and is going to have one of his kidneys replaced which is why he can't tour abroad with HateSphere, but he doesn't hold back here on the home turf. It's always a pleasure to see HateSphere play, period.
If I should mention one thing that isn't great, it's the volume. Perhaps it's me who's slowly growing deaf, or could this be a tad louder and thus even more impactful?

Rating: 80/100

Although Iím not much of a fan, I have to admit that the modern metal veterans SOILWORK with BjŲrn Strid in the front deliver a professional and solid performance. Many have come here tonight to hear the Swedes, and Speed and his compadres easily manage to get the Aalborg audience going. Good one.

Rating: 84/100




In brief with...

Ken (g) from Illdisposed (formerly of Crocell)

POM: What are you looking forward to at this year's festival?

Ken: Soilwork and Napalm Death! Other than that, I'm here to hang out with friends.

POM: Which band are you in right now? Only Illdisposed?

Ken: Yeah, Illdisposed it is. I officially left Crocell a few days ago.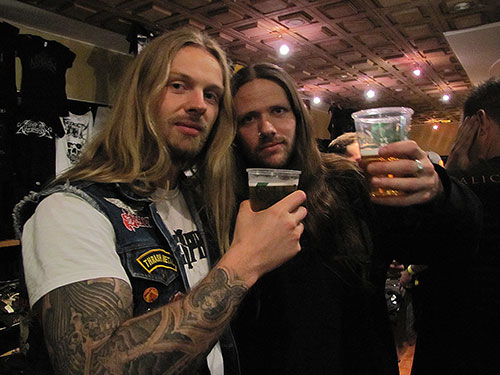 Ken Holst and Crocell drummer Andreas

Visit Illdisposed and Crocell

SATURDAY
Iíd rather not talk too much about this, but the fact of the matter is that my wifeís penchant for IKEA commodities sometimes brings me in annoying situations. Like this early Saturday afternoon where we miss everything save three songs of opening band ACT OF COHESION. The local Aalborg band deliver, from what we can see, a solid and well-played performance, sporting a mix thrash and melody.

The young band FALL OF PANTHEON from Copenhagen is one of the bands Iíve been looking forward to see live. I was mightily impressed with their EP ĎThe Shadow Envelops Allí, and Iím of course anxious to see if it works live as well. It does, partly. The band isnít overall as self-confident on stage as their talent actually calls for, and this is a shame. Their music is really good Ė think Nile, Decapitated, i.e. technical brutality Ė but, there are still many hours on the stages of this wee kingdom before true greatness awaits. Curiously enough, their drummer is a hired gun tonight. A geeky looking fellow with glasses and a considerable corpus - but he's a virtual whirlwind behind the kit and does all sorts of Tommy Lee tricks with the sticks. Interesting...

Rating: 75/100



In Brief withÖ

Dave from FALL OF PANTHEON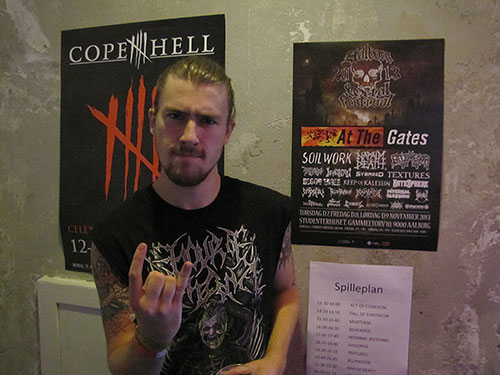 POM: Your EP, 'Shadow Envelops All', has been well-received? I know that I liked it a lot!

Dave: Yes, the response has been really positive all around. We're very grateful for that.

POM: What's going to happen next in the world of Fall Of Pantheon?

Dave: We're working on the material for our debut album. We have four songs ready by now. We'll begin to look for a label sometime soon.

Visit Fall Of Pantheon on facebook: https://www.facebook.com/fallofpantheon




MORTHEM from Austria fit well into the tour package consisting of Disgorge, Internal Bleeding and Beheaded with their brutal death metal in the early Cannibal Corpse vein. Very fittingly, the five-piece end their solid show with Hammer Smashed Face. The short and skinny singer sports one of the most brutal voices of the festival. Impressive organ, that!

Rating: 75/100

BEHEADED from Malta is one of the big, pleasant surprises of this yearís festival. Their material is unknown to us, but it certainly convinces in a live setting! Brutal death metal with hardrock solos! Morbid Angel is definitely heard in there, and that's a good thing, eh, eh? This is clearly an experienced band, and singer Frank has a tad more charisma than most of the other front men at this year's festival. Cool gig.

Rating: 85/100

INTERNAL BLEEDING may not be the youngest band around, but they attack the task of shaking Aalborg with vigour and humour. They're a bit like a sledgehammer, really. Very much in-your-face. Again a lesser known act here in Denmark, but it doesn't seem to make the slam death veterans hold back. Guitarist Chris Pervelis jumps into the photo pit a couple of times as if he can't get close enough to the action. Bjorn from Danish death metal stars Dawn Of Demise clearly likes what Internal Bleeding does; the bassist brings the band shots and beer on stage, obviously lightening the mood on stage a notch or two. Solid delivery from the US death metal combo, but in the end I miss variation.

Rating: 79/100

By the time we reach the DISGORGE gig, Iím actually in need of something less steamroller-like, but here goes. Angel (!), the singer of Disgorge, is what some would probably consider a real hunk: A big, dark surfer type with long, dark hair and muscles in abundance and an intense attitude. This gig oozes of testosterone! The music is hard-hitting, too, brutal and fast - probably one of the fastest acts of the day. Angelís brutal as well, and, well, innervating as well. Thereís no variation whatsoever in his delivery, and after three songs I start longing for something new and different.

Rating: 70/100

TEXTURES from the Netherlands offer exactly that. The diversity and variation my soul is craving right now comes as a godsend from this enthusiastic and dynamic band. Their mix of progressive death metal, metalcore and groove hits right home with me tonight. Itís a pleasure to watch their vigour and joy of playing on stage - especially the bassist is a tower of joy. Good times, good music - and a lot of positive vibes!

Rating: 85/100



In Brief withÖ

Morten Bager, Metal DJ and chairman of Club Brutal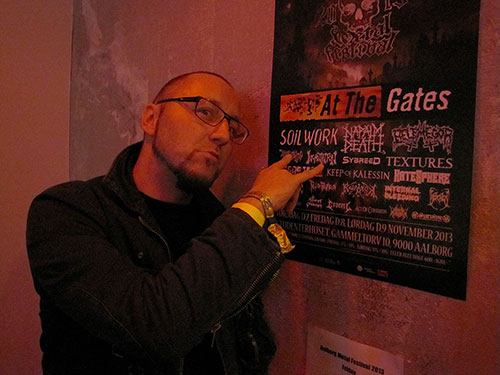 POM: What are you looking forward to hear this year?

Bager: Soilwork. At the Gates never really was my thing. But really, 99% of the reason why I'm here is the atmosphere and the fact that I can hang out with friends. Everyone is really nice here, I love it here!

POM: You work as a DJ during the festival. How long has that been going on?

Bager: A handful years or so. I came here before that, of course. The first time was on a bit of a fluke when one of my buddies suggested we went here. I obviously liked it! I got involved in the festival at some point and was actually responsible for press.

[And the rest is really hard to repeat here, since Morten speaks a lot and fast...and most of our talk revolves around old Danish underground bands...]

Visit Club Brutal here: http://www.clubbrutal.dk/



A joke or serious matter? Iím not sure where German BELPHEGOR come from philosophically and religiously, but they at least pretend to be both demonic and satanic. At first, the mood and atmosphere they build is very cool and underlines their blackened death metal very well. Horns and skulls and everything in abundance. But, seriously, four or five songs into the set, the gimmicks sort of wear thin. And is it me, or has that bassist played in a glam band? He behaves like frigginí Nikki Sixx! Och, well..

Rating: 65/100

Barney, Mitch, Danny and Shane, when theyíre together on stage also called NAPALM DEATH, create something which could best be described as musical chaos. Mitch reveals after the gig tonight that heís actually just celebrated his 23rd anniversary in the band. 23 years of chaos, think about it. If they didnít invent grindcore, this band certainly had a big stake in it, they waltzed with death metal when they visited Scott Burns in Tampa, they almost went mainstream in terms of sound during the mid-nineties, only to come back around to a style in which little compromise was found the past ten years or so, experimenting, screaming, shouting and blasting their way through album after album.

Tonightís show is as Napalm Death shows always are; a parade through three decades of extreme music, lashing out at first with Multinational Corporations Pt. 2, moving into Everyday Pox from the latest offering, ĎUtilitatarianí. Old is mixed with new throughout, Pride Assassin, Gag Reflex, Suffer the Children, The Code Is Red, Lowpoint, Scum, Deceiver, You Suffer, Nazi Punks, Siege of Power to name but a few, and Barney is his usual spasmodic self on stage, reminding us constantly between songs that the world could be so much better than it is. Itís so hard not to love Napalm Ė I for one canít help it. Ace performance. Authentic. Respect.

Rating: 90/100

AT THE GATES were instrumental in shaping melodic death metal as we know it today and are revered by many fans of the genre. I only know ĎSlaughter of the Soulí which is considered a classic and, yeah, itís a good album. I saw ATG at Wacken a few years ago and wasnít really impressed to be honest. My expectations arenít exactly high before this concert.

Fortunately, the Swedes are able to create a party in Aalborg tonight. Perhaps it helps to be closer to the band rather than the big Wacken stage experience? Fact is that the songs, also the ones I don't know, convince from begin to end. The atmosphere is relaxed and warm. The band seem to have a great time on stage and appreciate the open arms and cheers of the Aalborg audience. Blinded By Fear, the Łber-hit from 'Slaughter of the Soul', is of course received with a roar of joy by everyone - and no wonder - it's a killer tune. A gig well done, and a worthy conclusion to AMF 2013.

Rating: 88/100



Attending: Thomas Nielsen and Philippe Leconte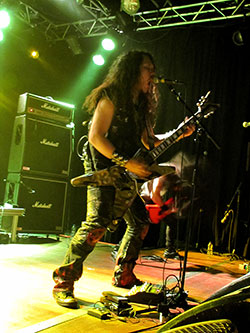 A Japanese thrash-tsunami: Survive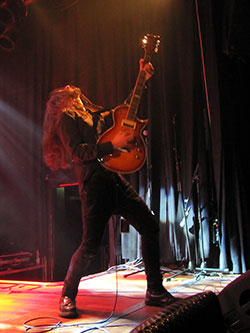 Oh, gods of doom, where art thou? Forgotten Tomb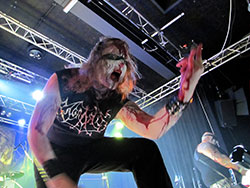 Why not move on? Ragnarok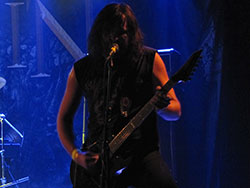 Technical superiority - Keep Of Kalessin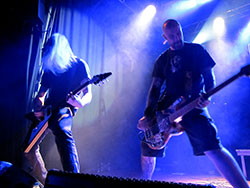 In union we stand - old buddies in Bloodeagle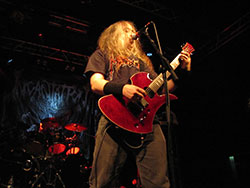 Incantation - not as known they'd like to be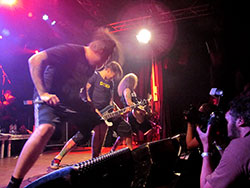 Thrash energy pure - HateSphere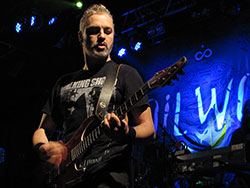 Swedish quality metal - Soilwork
SATURDAY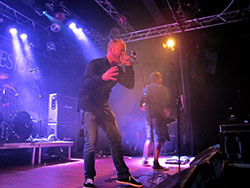 Local solidity - Act Of Cohesion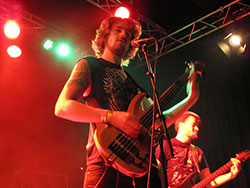 The next big thing from Denmark? Fall Of Pantheon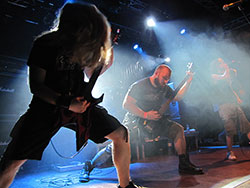 Brutal stuff from Austria - Morthem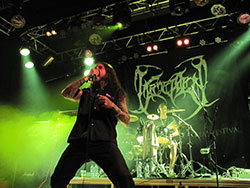 Great surprise - Maltese Beheaded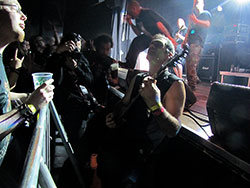 Getting down with the crowd - Internal Bleeding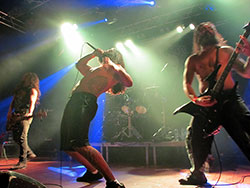 Fit for fight - Disgorge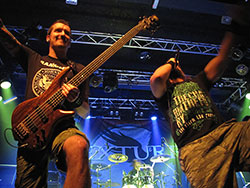 Happy geezers - Textures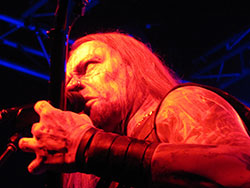 Lots of atmosphere but boring at length - Belphegor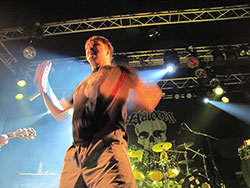 Can somebody please make this guy stand still?!
Barney and Napalm Death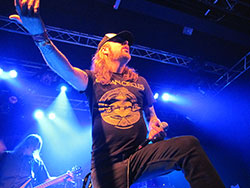 A lot better than we'd expected - At The Gates
Find more of
Thomas'
pictures here