Holy Wacken Land has yet again opened its gates wide, and metal fans from the entire world pour forth to the small village in northern Germany and thus increase the population with around 80.000 raving rockers. As always, expectations run high to this Metal Mecca, and already on the first day, WOA manages to deliver the goods.

For me, the festival starts out in a less traditional way. Danish rockers D-A-D are presenting three new songs in the press tent, and even if I'm not a big fan of the band, I feel an obligation to go. The three songs should please D-A-D fans. It sounds good! The songs are fresh from the studio and still don't have titles. The first one being presented as the Autobahn Hamster, the next as Heart something and the last one as Frühling Zwiebel. Or something. Great to see D-A-D in front of a tiny audience for once - and in good spirits.
- Attending: Thomas

Meanwhile, the cover band SKYLINE with special guests is warming up the Black Stage. This round of Kraut metal doesn't really get me going here and now, even with the guest musicians Doro, Tom Angelripper, Chris from Gravedigger and Udo Dirkschneider. I'm A Rebel with Udo is of course always a pleasure, mind you!
- Attending: Thomas

On the Wackinger Stage near the camping area, there's something I've got to see: MAIDEN UNITED - a Dutch band with an English singer that does...yup, it's true...acoustic versions of Iron Maiden songs! As the combo launches into Where Eagles Dare, disblief turns into joy. It sounds really good! And singer Damian Wilson isn't half bad, either! The band has released a remake of 'Piece of Mind', and songs from that album dominate the set. They do Revelations in an absolutely fantastic version.

Interestingly enough, another vocalist walks on stage. None other than Anneke Van Giersberger enters stage for The Evil That Men Do. Next up is Sun and Steel which with the addition of Anneke become a pure pop song. Infinite Dreams is then done by Anneke alone.

Anneke has a great and characteristic voice and she's very sweet, and I love what she did in The Gathering. But to be honest; it doesn't work with Maiden material, it really doesn't. As she begins Wasted Years, a Maiden song that for many reasons means one hell of a lot to me, I simply have to leave, and it's not because Anneke's a bad singer - she isn't, but simply because it doesn't work with a voice other than Dickinson's for me.
[Rating: 65/100] - attending: Thomas

On the True Metal Stage, a feast of power metal is about to begin. HELLOWEEN are not in luck from the outset. During the first song (Are You Metal?), there are no less than two power cuts, and in the end, it's skipped.

Nevermind, as the power comes back, the German veterans launch into the best set I've ever seen them play. Everything bar one tune is from the Keepers albums! Eagle Fly Free starts off the ball, then March of Time, I'm Alive, Keepers medley, Future World including a far too long singalong, a fabulous version of Dr. Stein, I Want Out with even more singalong and drinking stories.

Andy Deris is not a great singer, but there's no doubt that the man is a born entertainer. He's not a Kai Hansen, and he's most certainly not a Michael Kiske, and it kind of ruins some of the tunes, but there you go.

No matter what, the set is absolute amazing - totally old school, just great, but, man, the drum solo is just way too long and the singalong sections...I mean...shut up and play! We're here to hear the band and not the crowd!
[Rating: 75/100] - attending: Thomas and Jørgen

There was a time when Helloween were the masters and another German band were hugely inspired by them. Today, BLIND GUARDIAN has taken over the power metal throne and beyond. As Hansi says at some point during the set, it's 'the same procedure as usual'; Blind Guardian plays it perfectly. Compared to the last time I saw them, there's considerably more feeling and presence in what's going on tonight. The setlist is, just like that of Helloween, also in the old school department and therefore suits yours truly very well.

A couple of songs I have no clue about, but nevermind, it all sounds good, and classics like Welcome to Dying, Valhalla, Majesty, Traveller in Time (fantastic!) and Imaginations from the Other Side are aired. All in all, a perfect package put together by the Wacken team for fans of German ur-power metal - and also those of us who like a bit of it on the side.
[Rating: 85/100] - attending: Thomas and Jørgen

It makes little sense that Dio has been taken away from us and that OZZY OSBOURNE is still alive. It defies all logic that he can keep going. But there he is, right in front of us. Is there a machine inside of the geezer? Remotely controlled by Sharon? The last time I saw Ozzy was in 1997 and back then I thought that would be the last time, and I've heard friends who've seen him live since then say it was embarrassing.

Not so tonight! First of all: The sound is one of the best I've heard at Wacken ever. Crystal clear! The band around and most notably the young Gus G is ultra tight and heavy. They deliver the classic songs with conviction and perfection.

Ozzy is, well, you know him. He's technically speaking not an amazing singer, and the years have had their way with his appearance. He seems happy enough and seems to enjoy the evening, but, fooking hell, he's not quite right.

You don't really know if you should laugh or cry as he fires foam into his own face and makes an attempt at headbanging, or when he shakingly walks a bit around on stage. It looks miserable, to be honest. But the songs, oh, the songs!

I missed the first song, but then came Suicide Solution, Mr. Crowley, War Pigs, Bark at the Moon, Road to Nowhere, Shot in the Dark, Iron Man, I Don't Want to Change the World, Crazy Train and then Mama, I'm Coming Home and Paranoid as encores. There is both guitar solo and drum solo in there, but it's done more or less as a jam session (Ozzy needs a break mid-set), and the band is very, very good, so all is forgiven even if the solo section is a bit longish.
[Rating: 92/100] - attending: Thomas and Jørgen

Fantastic start of the festival - we'll see what tomorrow begins!

Friday

At noon, the ball continues. Finnish ENSIFERUM entertain the masses with their Viking/Pagan death metal-like music, and they do so convincingly. It's full throttle and just plain good stuff. Nothing like kilts in the morning!
[Rating: 80/100] - attending: Thomas

Even if Ralf is firing on all cylinders and tunes like Nuclear Fire, 16.6 and Chainbreak are aired, PRIMAL FEAR only deliver a mid-quality performance in front of the Wacken audience.
[Rating: 65/100] - attending Jørgen

The third metal concert I went to ever was Anthrax and SUICIDAL TENDENCIES. This was back in 1989. And look who's here on the Wacken True Metal Stage today: Mike Muir and ST! Still very much alive and kicking indeed.

Wacken needs bands like this. We need a band that puts a bit of funk in the big melting pot. Something that's in no way German metal, not Kreator and not Sodom and not Bay Area neither, nor death metal. Suicidal is Suicidal and they rule in their own quirky way. This is a change of worlds, nay of dimensions as we move from kilts to bandanas.

Mike and the boys start out perfectly with one of my favourite ST songs; You Can't Bring Me Down. To me, it encompasses all that Suicidal is about. Don't ever give up!

The concert becomes a walk through ST history, with an overweight on older songs. Join the Army, War Inside My Head, Subliminally, Come Alive, Possessed to Skate, How Will I Laugh and finally the anthem over them all; Pledge Your Allegiance which sees Mike Muir crawl down from the stage and spend a good part of the song down in the front, thus representing every security person's nightmare. Yeah, that's how we like it!
[Rating: 88/100] - attending: Thomas

Much debate has surrounded the new MORBID ANGEL album. And understandably so. The industrial elements have wisely been left out of the set today. As David Vincent and the rest of the crew launch Immortal Rites, the first step is taken into a tour of Morbid Angel hits. The sound is not the best at first, but this improves vastly. Fall from Grace is next up, then Rapture and another old school highlight with Maze of Torment. Three new songs follow; Existo Vulgoré, Nevermore and the anthemic I Am Morbid. I miss 10 More Dead, the coolest track off the 'Illud Divinum Insanus'!

Angel of Disease represents another shout from the past, as does Chapel of Ghouls. Trey goes nuts with an insane solo at this stage. Genius or madman? Dunno, but cool he is.

Morbid Angel finishes the set with the two songs that are probably my favourites, so I couldn't be more pleased: Where the Slime Live and God Of Emptiness. Hell, yeah!
[Rating: 86/100] - attending: Thomas

At this stage I take some time off from live music to attend a listening session backstage. The new EVILE album is due to be released on Earache shortly, and Ol Drake is at Wacken to give the press a listen. The influences are still clear: Metallica, Exodus, Slayer, it's all in there. The production is excellent, the song quality the same, and the vocals have improved strides since I last listened to Evile. Definitely an approved effort judging from the first listen!

Time to go back to the festival grounds and more thrash played by young folk. TRIVIUM have come a long way since I saw them support Annihilator a few years back...no, wait! It was the other way round, heh! Point being: Annihilator blew Trivium away back then, even if the young lads were headliners.

Today, I'm not so sure. Matt Heafy and his crew are not only loud as hell (and I do mean loud!), they are also extremely convincing and have a handful of new, highly effective tunes to air. They have quite simply grown into a kick-arse act.
[Rating: 80/100] - attending: Thomas and Jørgen

Back in 1990, Jørgen and I went down to Berlin for what was probably the first RockHard festival. A German death metal band called MORGOTH was by then alright competition for the US and UK death metal scenes. After years in hiding, the band has reformed for a few gigs. Unluckily for Morgoth, their concert coincides with the Heaven Shall Burn appearance on the Black Stage, something which by ways of reckoning ensures that no new fans will come and check out the old death metal pioneers.

The crowd is therefore overseeable in front of the Party Stage. Another thing with Party Stage is that the sound always was and always will be a hit and miss thing. I move around a bit, but don't seem to be able to get a good sound. And to be honest, Morgoth sound slightly more dated today than I'd expected. Unlike the songs of some of the other bands of the period, Morgoth's haven't really stayed with me. After a few songs, a decide to head over to the Black Stage.
[Rating: 60/100] - attending: Thomas

On the Black Stage, HEAVEN SHALL BURN yet again prove that they've become a household name on Wacken - the Motörhead of a new generation, if you like. Compared to the Party stage, there's a lot more going on here. As usual, Heaven Shall Burn deliver a high-energy set, and as usual they experiment with circle pits and crowd control. This year, no less than three massive circle pits are formed around the three towers in front of the stage. What's going to happen the next time they play? Double-looped circle pits?!

Mayhem only really begins when it is proclaimed from stage that all girls who crowd surf into the pit get a free HSB t-shirt! All of a sudden it's raining women - utter madness! In the chaos I overhear a German girl apologizing when her very nice attributes are pressed directly down into the face of a young lad. Listen, lady, I did NOT hear him complaining!

Energy pure and good times!
[Rating: 87/100] - attending: Thomas and Jørgen

JUDAS PRIEST have proclaimed their farewell to touring, and therefore this special Epitaph tour. Rapid Fire opens what will be a two-hour Judas Priest heavy metal history tour with a Rob Halford who, unlike Ozzy yesterday, sings like a young god. No, he's still not able to remember the lyrics and relies on his teleprompters, but fuck it, he screams and screams and screams and it's a joy to hear. K.K.'s replacement, Richard from Lauren Harris' band, does a splendid job. I'd even wager that he is sharper than Glenn Tipton.

The sound is again very, very good - sharp and clear like mountain water. Metal Gods and Heading Out on the Highway follow. Judas Rising doesn't sound perfect, with a sampled keyboard filling out too much of the soundscape, but still a nice surprise to hear the song. Starbreaker from 'Sin to Sin' is a tune you're not likely to have heard live before - I certainly haven't. Nice one. Victim of Changes is blistering, even if Tipton's solo inside of it isn't exactly one of the seven wonders of the world. Again, another surprise in the shape of Never Satisfied from 'Rocka-Rolla'.

An updated version of Diamonds and Rust convinces hugely, and the same can be said of Nostradamus, the only good track from the album of the same title (!).

Nightcrawler! What a rush! And then the poppier tunes of Turbo Lover. The otherwise relaxed and comfortable Halford has to check the teleprompter to remember the title of Beyond the Realms of Death, but the song is still brilliant. The Sentinel likewise.

Bloodred Skies is something special to me, because 'Ram It Down' was the first metal album I bought. Very cool to hear the tune live! The Green Manalishi gets an airing as always and after that Halford leaves it to the audience to sing the über-singalong Breaking the Law.

A drum solo turns into a scorching version of Painkiller, only to be followed by Electric Eye.

It is no surprise, but still an impressive sight as the motorbike rolls out on stage. Hell Bent for Leather? Yes, indeed!
The customary yeah, yeah, yeah singalong part with Halford ensues. Not my favourite bit of a Priest concert, but there you go. As long as we've got another thing coming. And we do.

The Bristish heavy metal party ends with Living After Midnight, thus concluding two days with legends of metal who have proved that they've still got it.
[Rating: 90/100] - attending: Thomas and Jørgen

There's no yeah, yeah, no singalong, no big grins, not even a smile in the world of Tom G. Warrior's TRIPTYKON. There is utter darkness. This is the church of darkness, and you don't party around. You shut up and raise the horns as that anguish and anger at the world is bellowed from stage.

If the waves go really high you might venture into shouting along to the ultra-heavy version of Procreation of the Wicked or Circle of the Tyrants. Or the in this settings almost pop-like Babylon Fell.

This concentrated darkness is not for the faint-hearted, but at the same time it's a rush to just stand there and let it overwhelm you - even if you wonder how four individuals can play a full hour in front of thousands of people and not raise one single smile!
[Rating: 82/100] - attending: Thomas

In some other dimension than the one I just came from, there is a band who are so blatantly contenders to the AC/DC throne. The band is called AIRBOURNE. Their performance is strong, they are dedicated to what they do, they sound like a young AC/DC, and I keep wondering why they are relevant. The rip-off factor is so utterly high that I can't get myself to enjoy it.
[Rating: 50/100] - attending: Thomas

Only in Finland could someone sit down and go: 'Guys, we all play cello, yeah? But, dudes, we love metal too. Why not combine it all?' APOCALYPTICA have made a career out of first copying Metallica tunes, then Sepultura and Faith No More, and then eventually to do their own songs.

This is the third time I see the four Finns. The first time was when they played before Metallica at Dynamo in the Netherlands, the second time in a old theatre with seats in Helsinki. Can you imagine difference between the two gigs?

Slot wise, Apocalyptica have pulled the shortest straw today. The 2 o'clock at night slot is not the best. Punters are tired, and even if there are still thousands of people, the atmosphere is a bit slow.

Nevermind, the Finns pull off a blistering show, loosening up the audience with a few Metallica tunes here and there (Master of Puppets, Nothing Else Matters, Seek and Destroy). Smart move!

Not only have Apocalyptica added a drummer to their ranks, a singer has also been recruited. To me, this is an unnecessary move, because their music always lived all by itself. It even seems a bit odd, but, hey, I supposed you can only take the instrumental concept so far.

This concludes day two of Wacken 2011. A great day, in many ways!




Saturday



Not only did I go to bed far too late Friday night, I'm also having problems getting access to the internet and thus upload of the Friday review, so the first band I manage to see on this fine Saturday morning is British thrash veterans ONSLAUGHT. This is my first time at the Bullhead Stage which is situated outside the festival grounds proper. It's a slightly unusual setup, used for wrestling as it is, and consequently the bands don't have the audience right in front of them, but rather on the sides of the stage. You can tell that it takes a bit of getting used to for Onslaught singer Sy Keeler, but as the set progresses he gets accustomed to used the possibilities of the odd stage.

The first couple of Onslaught albums never really did it for me. 'In Search of Sanity', however, was one of my favourite albums for a long time back in the day. The newer material I haven't had the energy to get acquainted with - something I probably have to change. The Brits play a very convincing, powerful set (even if there is nothing from 'In Search of Sanity'). This is an old school punch in the kidneys par excellence from a band that amazingly enough hasn't played Wacken before. Even if I'm not a big fan of the first albums, I can't help getting the goosebumps as Metal Forces is aired. Let There Be Death, Angels of Death and of course Power From Hell are equally powerful, and go down well alongside newer material such as Code is Black and Planting Seeds of Hate. Fantastic way to begin the day!
[Rating: 80/100] - attending: Thomas

I watch a bit of MAYHEM on the Black Stage. No corpsepaint? Jeans? It looks weird. Perhaps they've been like that a long time, I dunno. I'm in no way a fan of what Mayhem does, but can't help being fascinated by the primitive sounds. And Hellhammer is an incredible drummer no matter what!

Talk about ending on a high note! ICED EARTH's Matt Barlow not only reaches the high notes during his last performance with Iced Earth, he also does it in front of something I'd guestimate to be 50.000 people! What a way to end a career!

The set is flawlessly delivered, loud and clear (very loud, in fact). Most impressive songs? Declaration Day, Last December, Jack The Ripper hit it home and of course Iced Earth.

The concert ends with a few touching moments as Jon Schaffer stops everything to hug and thank a clearly moved Barlow for the 15 years he has served with one of the giants of metal music.
[Rating: 88/100] - attending: Thomas and Jørgen

Onslaught is not the only seasoned band to play Wacken for the first time today: SEPULTURA are about to unleash their fury upon the masses from the Black Stage. The Brazilian/US outfit are not likely to do things like all the rest, and the trio of Paulo Jr., Andreas Kisser and Jean Dolabella start with a little jam thing just to loosen things up a bit before Derrick enters the stage and hurls us all into Arise, one of the many monsters this band has created. The crowd goes ballistic as Refuse/Resist follows. The title track of the new album, 'Kairos', is aired - very cool! Just One Fix, one of the cover tunes from 'Kairos' sounds good too.

This is where I have to admit that I'm no expert on the last three or four Sepultura records, so there's a couple of titles I can't give you, but Choke is one that I certainly reckonize. The song Relentless from 'Kairos' sounds very promising too, but when we move into older material again, the audience goes mental again: Troops of Doom, Territory, Inner Self (aaaaaaaaaaargh!). Being Sepultura, the boys have to do a little jam-like thing again, drums out and all, only to end the feast with Roots Bloody Roots. First class!
[Rating: 90/100] - attending: Thomas

In passing, I can confirm that AVANTASIA is not really my thing. It is very nice, though, to see Michael Kiske and Kai Hansen on the same stage, and it all sounds very professional and good.

Deciding not to play it safe with the big stages for a while, I head out to the Wackinger Stage where German LACRIMAS PROFUNDERE play. I think I've reviewed one of their CD's once, and believe I liked it.

I'm glad I've gone here, because it is a nice surprise to find that this goth metal band is more metal than goth and just hit the pedal. Full force! There aren't too many people here at first, but eventually people turn up and the Germans manage to turn the whole thing into a decent party with crunchy, yet groove and danceable baryton vocal driven metal with more than a touch of Fields of the Nephilim.
[Rating: 80/100] - attending: Thomas

In passing on the way to the W.E.T. Stage I can see and hear that one of the safe bets on the Black Stage, KREATOR, deliver the goods as usual. Great.

But I'm more interested in a band I haven't seen before, and haven't even heard on disc: HAIL OF BULLETS with former Pestilence and Bolt Thrower man Martin Van Drunen in the front. However wrong this sounds when the topic is death metal, this is a warm experience! I think it's extremely sympathetic when bands seem genuinely overwhelmed with a positive response from the audience, and this is what happens today.

The Wacken audience welcomes Hail Of Bullets with open arms, and Drunen and his merry men return the favour with a true barrage of old school death metal in the Bolt Thrower vein, and even if I haven't heard any of their material before, it all goes straight in. Ace!
[Rating: 89/100] - attending: Thomas

'Good evening. We're MOTÖRHEAD. We play rock'n'roll.' And off goes Iron Fist. Yup, another household Wacken name is ready on the True Metal Stage. Whatever you might think of Lemmy, Phil and Mikki, the trio always delivers at least a couple of songs you've got nested somewhere in your metal bones.

If you're seeing Motörhead for the umptieth time like yours truly, you're looking for new things. Truth be told, the novelties are hard to find. Phil's wearing a new hat that makes him look a lot more like Keith Richards than he'd probably want. Other than that...the new album is called 'The World Is Yours' and the songs sound a lot like...well, Motörhead. One minute you think that Lemmy's looking awfully tired and is he finally going to capsize on stage here at Wacken, and then the next minute they do In the Name of Tragedy and the old geezer seems recharged.

You have to accept, I suppose, that no news is good news in the world of Motörhead. I was entertained, anyway, even as the first, few heavy raindrops begin to fall over the fields of Wacken.
[Rating: 75/100] - attending: Thomas

It has been raining on and off throughout the day, but nothing too serious. This is going to change right now. As CHILDREN OF BODOM fire away with Not My Funeral, heaven's doors open and veritable cascades of water poor over us. Where I'm standing, it doesn't seem to stop anyone. The pit is fully functional!

Oddly enough, the sound level is reduced considerably compared to Motörhead - quite drastically, even. I don't know if it's because this is after midnight, but after the sheer sound attack of Lemmy and cohordes, this takes some getting used to. Since I saw COB the first time in 2002, the band has grown into a first class act, they play excellently, the tunes work and they've incorporated some of the same stage effects as Iron Maiden with the platforms and stuff. Good stuff. There's only one thing to say, and I've said it before: Alexi, shut the fuck up and play your fucking music instead of saying fuck in every fucking sentence!
[Rating: 80/100] - attending: Thomas

This concludes our Wacken Open Air 2011. It was my intention to see Subway To Sally because I usually enjoy their show and their bombastic medieval metal, but I'm drenched and it's a long drive home in the rain and the dark. Assuring my self that STS probably sound exactly the same this year, I change to dry clothes and head north, armed with a couple of cans of Coke. Auf Widersehen, Wacken - wir sehen uns in 2012!

We'll probably have more accounts from our other writers, and more pictures will be added. Check it out again in a few days!

Breaking news today (8th of August): The Xmas presale tickets for Wacken are sold out! 10.000 tickets were sold out in 45 minutes.


Thomas' pictures from the festival can be seen here


Confirmed names for next year's festival are:
Amon Amarth
Gamma Ray
Cradle of Filth
Scorpions (best of show)
Ministry (best of show)
U.D.O (anniversary show)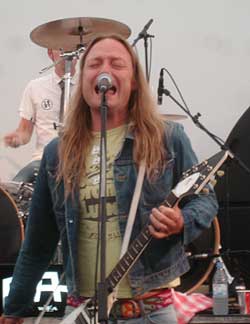 New album from D-A-D in October - Jesper Binzer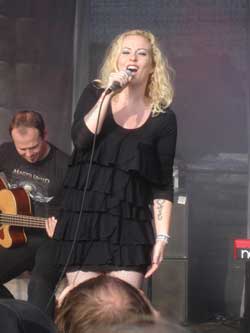 Acoustic versions of Iron Maiden? Yeah, it works! But Anneke was surprisingly not the most fortunate addition.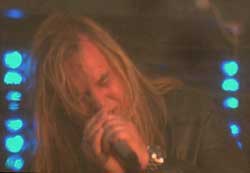 Despite power cuts an amazing set - Andy Deris and Helloween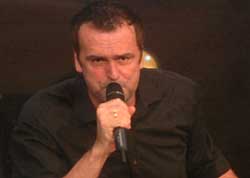 Down with Middle Earth - Hansi and Blind Guardian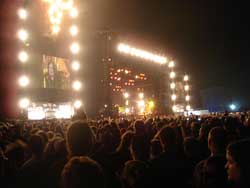 Ozzy and a few friends...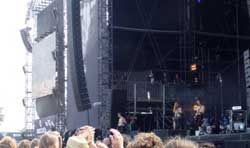 Ensiferum - Viking metal - the cool way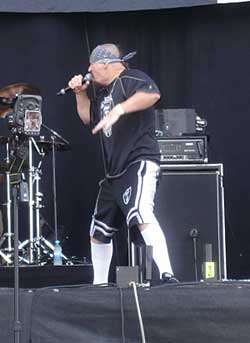 Possessed to motormouth -
Mike Muir and Suicidal Tendencies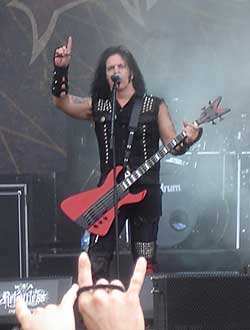 Are you morbid? Dave Vincent is!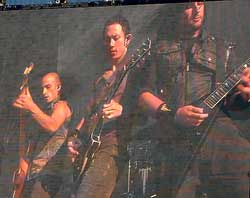 Trivium - maturer, better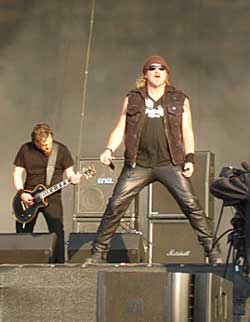 Not as cult we'd hoped - Morgoth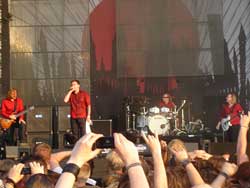 Mayhem and power -
Heaven Shall Burn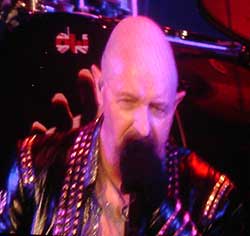 Heavy Metal history
Judas Priest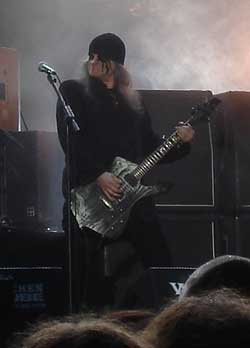 Dark, darker, Triptykon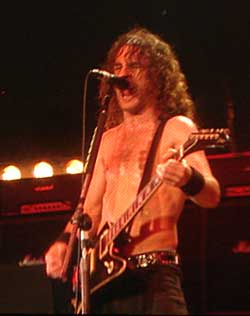 Airborne - the best AC/DC tribute band around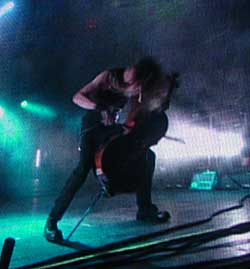 Cello madness - Apocalyptica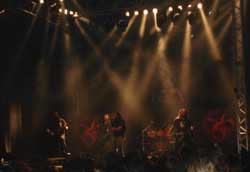 Onslaught - old school metal forces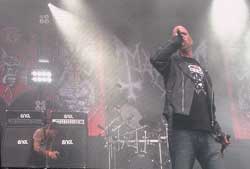 Where's the corpsepaint?! Attila from Mayhem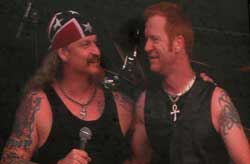 Touching moments as Jon thanks Matt
for serving Iced Earth for 15 years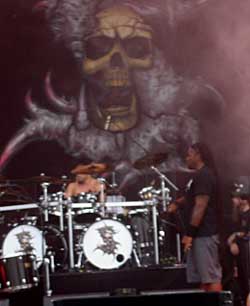 At Wacken at last: Sepultura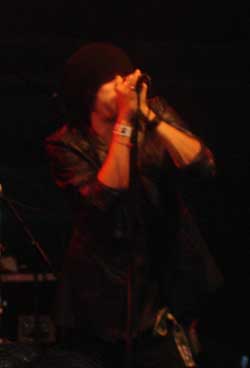 Goth Metal party: Lacrimas Profundere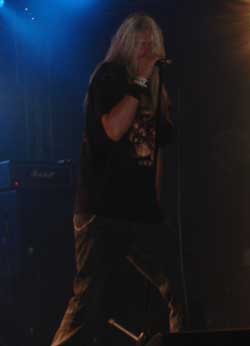 Old school madness: Hail Of Bullets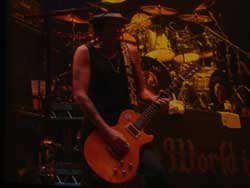 Phil does his Keith Richards impersonation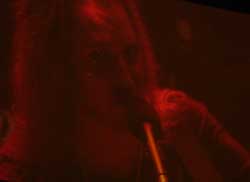 Children Of fucking Bodom