I can't say that Lizzy Borden have yet established a firm foothold in the UK market but the fact that the band has been together for close to 30 years sort of validated my hopes for strong turn-out. Lizzy Borden is known for his theatrical and visually striking shows so I wonder how the band will adapt to the diminutive stage of the 'Underworld'.
Main scheduled support is the recently re-united Martyr, veterans of the Dutch Metal scene. Meanwhile, opening this gig should be a young band from Guildford, England, called Sons Of Icarus. Not the strongest of bills perhaps but then it's always healthy to give assumptions the middle-finger.
SONS OF ICARUS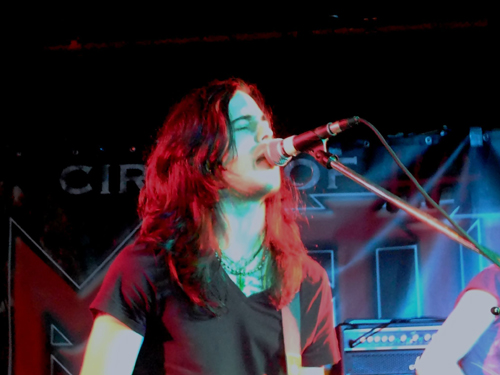 Sons Of Icarus play a Classic/Blues Rock with a vibe that is very British at heart. On paper the style might be dated, even restrictive, but Sons Of Icarus performed with such an intense passion that you couldn't help but be enthralled by the music.
Their show never raised any doubt as to whether all the band members – bar none – were truly talented musicians. For instance lead vocalist/guitarist Andy Masson had a tight control over his voice which had a warm tonality and powerful projection. All the band members had a dynamic stage presence which rubbed off on the disappointingly small but satisfied audience. Sons Of Icarus reminded me that this music genre, more than many others, is best appreciated 'live'.
Set-list:
R.O.B.
Find Your Way
Not Myself
Please Come Home
Let It Burn
You Want It All
---
MARTYR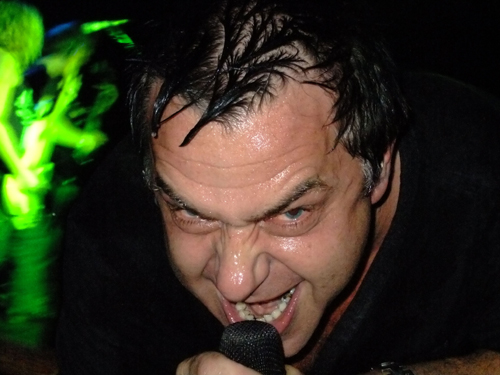 If energy and stage presence were equated with madness, then Martyr vocalist Rop van Haren should be confined to a mental asylum for life. Actually, that statement isn't entirely true as Rop wasn't only present on the stage – indeed when he wasn't satisfied with the audience's reaction, he held onto his cordless mike and sung and moshed with the audience while facing the stage.
To be honest in itself the music didn't veer off too much from the ordinary but the band more than made up for that by putting on one helluva show. And I couldn't help but admire all the band members for their attitude.
As expected, a significant part of Martyr's set focused on the band's most recent full-length "Circle Of 8" (check out Reinier's review elsewhere on this webzine). The music tends to be a sort of mid-tempo Thrash. For sure the band is worth checking out if they come to your town.
Set-list:
Afterlife
The Uninvited
Art Of Deception
Scene Of Hell
All Warriors Bleed
Circle Of 8
Eaten Alive
Insensible Scream
---
LIZZY BORDEN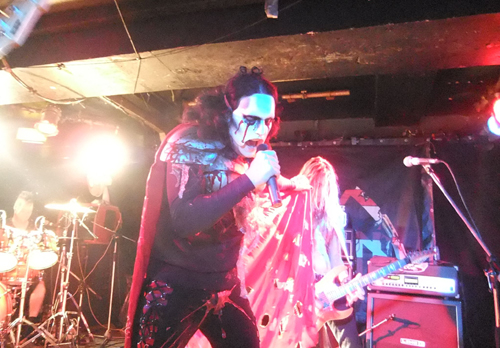 Yep, it's been a long time since Lizzy Borden graced a UK stage and the level of anticipation for this gig was high from both band and audience. In line with its reputation for visually striking shows, Lizzy made ample use of props such as skulls and blood (fake ones….I assume) and changed costumes faster than a chameleon on a psychedelic trip.
The performance itself was no less memorable – frankly just what you'd expect from real pros. During this gig, the band showcased recent material (such as 'Tomorrow Never Comes' from the critically acclaimed "Appointment With Death" album of 2007) as well as some obligatory classics (amongst which were 'Red Rum', 'Notorious' and 'Me Against The World'). There was a great moment at the end when label mates Martyr joined Lizzy Borden on stage to end an enjoyable evening in celebratory style.
A few hours after this gig, Lizzy Borden were scheduled for Wales' Hard Rock Hell festival (in the company of bands such as Witchfynde, Tyketto, Wolfsbane, Pallas, Magnum, Demon and many other notable names) and this did graft away at tonight's audience figures. It didn't really seem Lizzy Borden noticed though, for at the 'Underworld' the band regaled the audience with some truly incendiary Hard Rock.
Set-list:
(unavailable)
---
Weblinks and ratings:
Sons Of Icarus (www.facebook.com/sonsoficarus) - 79/100
Martyr (www.martyronline.nl) - 76/100
Lizzy Borden (www.lizzyborden.com) - 89/100
© 2011 C. Galea