It's an enticing format, actually. The bands on tonight's bill could hardly be more different from each other but I find that factor somewhat appealing. Headlining tonight in the heart of London's Metal infrastructure (Camden Town) is a Type-O-Negative tribute band from Ireland called Blood Kisses. Adding a bit of spice to the rest of the evening are local band The Mariana Hollow and a band who've come all the way from Birmingham: Haerken.
The Mariana Hollow
The Mariana Hollow were originally slotted in to play the second set of the night but last minute changes meant it was up to them to get the audience going. Their music sounded like a Lacuna Coil with punch and groove and all the band members possessed a dynamic presence on stage that felt so contagious.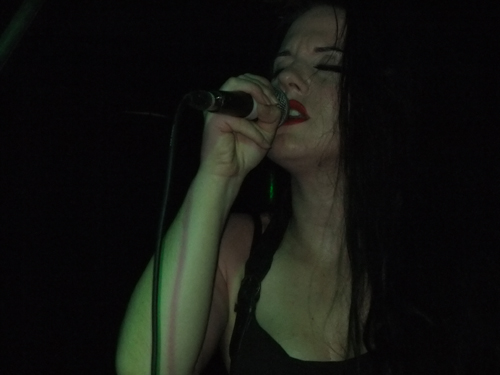 Nearly all the songs of The Mariana Hollow's set were taken from the band's forthcoming and second album "Velvet Black Sky" with only 'Come Undone' representing their debuting "Coma Heart" full-length. Clearly the band was aware that the audience would not be entirely familiar with their repertoire, yet all their set seemed to be very much appreciated. Being unfamiliar with most of their material (besides, as I said earlier, most of the songs were new) I'm not in a position to quote specific song-titles but I must say that on the whole I really enjoyed the material on offer. In fact, The Mariana Hollow were quite simply the best band of the night.
Rating: 85/100
---
Haerken
The mediaeval attire and props that appeared on stage strongly suggested a band with Battle Metal inclinations. Sure enough, once the band started playing, it became apparent that that assumption wasn't too far off from the truth. Haerken play a sort of Motorhead meet Sabaton meet old In Flames type of Death Metal and their music was quite conspicuous sandwiched between The Mariana Hollow and Bloody Kisses.
An inconsistent tightness and some occasionally off-tune guitar solos marred Haerken's set. Despite that, I must say I liked their style and could easily picture myself running through the Midlands' countryside, bare-chested and sword in hand, while screaming Haerken's tunes. (Now maybe that's not such a wise idea, after all…..)
Rating: 67/100
---
Bloody Kisses
I've always maintained that I'd rather listen to an original song performed badly than a cover version played perfectly. Bloody Kisses, however, made a concerted effort to offer the audience a special experience and take them as close as they could possibly get to the deeply missed Type O Negative. This included the way Bloody Kisses presented themselves: from the monochrome green that was distinctive of Type O Negative's imagery, to the ivy leaves enveloping the stage and the mic stands……hell, the bassist/vocalist even had a metal chain strap to his bass guitar.
As one might have expected, all Type O Negative albums were revisited and specific renditions included 'Everyone I Love Is Dead', 'Wolf Moon' and 'Be My Druidess'. I noticed that the 2 songs representing Type O's debut album "Slow, Deep & Hard" of 1991 were left until the end of the set. Those 2 songs were 'Love You To Death' and 'Kill You Tonight'.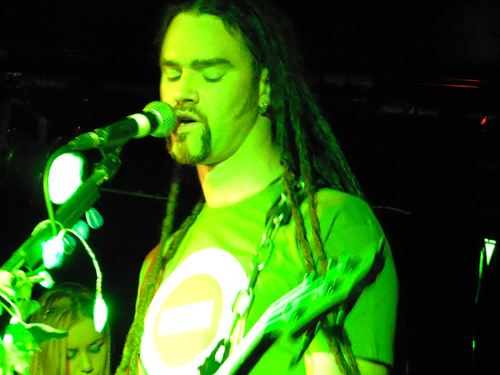 The most obvious peril of playing a covers set is that the audience will know the songs note-for-note and errors, even the smallest ones, are therefore picked out immediately. And there were indeed a few errors that the audience must have picked out such as an inconsistent tightness or the vocalist getting a particular verse totally off key. On the other hand, 'Black No.1', 'My Girlfriend's Girlfriend' and 'Life Is Killing Me' were delivered in their full and dark splendour. When Muiris (Bloody Kisses bassist/vox) commented that in March 1994 (apologies if I've got the date wrong) Type-O-Negative had played on that same stage, there were cheers all around.
The only time I had seen Type O Negative perform in the flesh was at the Ozzfest of 1997 - I remember I was right under Peter Steele's nose at the front row. Despite playing a very brief set on a minor stage, the band had blown away many of the bands that took to the much larger main stage. Tonight Bloody Kisses took me personally to those happy times and for that I am grateful.
Rating: 64/100
---
Related weblinks:
- BLOODY KISSES: www.facebook.com/BloodyKissesTribute
- HAERKEN: www.myspace.com/haerken
- THE MARIANA HOLLOW: www.themarianahollow.com
Attending: Chris Galea