I have two main goals in terms of live music this year:
1. I want to see Bolt-Thrower.
2. I want to see The Devil's Blood.

On this evening, I am about to fulfill 50 % of my ambition. The other one I'm still working on.

Ungdommens Hus (directly translated 'House of Youth') is a comparatively small place that serves as a cultural waterhole for the slightly alternative youth of Fredericia. There's room for graphitti, punks, metalheads, whoever. There are studio facilities as well the small venue that holds, I'd say, around maximum 300.

When I arrive and claim that I'm on the guest list, it turns out that The Devil's Blood haven't even arrived and thus not handed in a guest list yet, but a copy of the confirmation e-mail from the band's manager easily convinces Martin, the man in charge of the evening. He's a young, long-haired dude who happens to be a fan of The Devil's Blood. Martin is, needless to say, slightly worried, but we all trust that the Dutchmen will come flying in eventually.

In an interview I did with SL from The Devil's Blood a while ago, the guitarist and band boss stated Swedish Griftegård as kindred spirits in the current music scene. Something I found odd since the Swedes play a one-beat-per-minute kind of doom metal and their lyrical universe goes in the exact opposite religious direction than the Satanist Dutchmen. But perhaps I misinterpret the meaning of Griftegård, I don't know.

What I do know is this: Griftegård's Thomas Nielsen-approved album 'Solemn, Sacred, Severe' also works very well in a live setting. But be warned – this is NOT a party band! The extreme slowness might leave some crying for variation and up-beat pieces, but, no, Griftegård will not honour that request.

Singer Thomas Eriksson, who turns out to be a short, rather portly man, has a voice that has a goose bump factor 40. The guy hardly moves during the set as he stands behind a wooden pulpit from which he preaches doom.

The rest of the band offers a bowel-moving backdrop of heaviness, slow and dark as Cathedral on their 'Forests of Equilibrium' and Candlemass in their slow moments.

I can certainly see why some would call this boring, but I, for one, can only enjoy the sounds of doom that pour over the stage floor.

The Devil's Blood arrive in middle of Griftegård's set. When the Swedes have done their business, the Dutch begin unloading their gear. This causes some waiting time.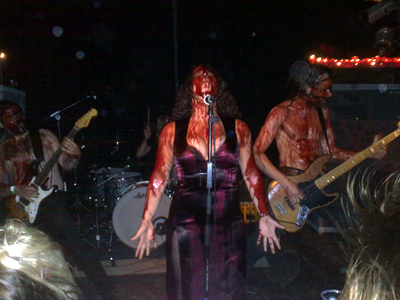 A good hour later, things start happening. The stage is now set with candles and the sermon can commence. Drenched in blood, the six member of The Devil's Blood enter the stage and launch into Come Reap, soon to be followed by River of Blood, also from the Come Reap EP.

It is clear from the outset that singer Mouth not only has a remarkable voice on record; the same is the case on stage. She's also a sight for sore eyes in her tight dress and with her face and bosom covered in blood.

Now, if you aren't a fan of guitar music, I'd advise you to stay away from The Devil's Blood gigs, coz guitar music is exactly what you're going to get – big time! The three guitarists and the bassist rule the show from beginning to finish.

Only 72 paying guests have made it to this Wednesday evening gig - which for me is unbelievable as this is the only TDB concert on Danish soil this time around – and I might be frank and say that this is not exactly the greatest crowd. During Griftegård, there was a lot of talk which to me is not only annoying, but also rude. During The Devil's Blood fewer in the crowd really let loose and surrender to the music than I had expected – which is a shame.

Because this is in fact a treat. The guitar work is overwhelming. I find myself trying to pick up what the guitar trio is doing and I'm completely absorbed by the music.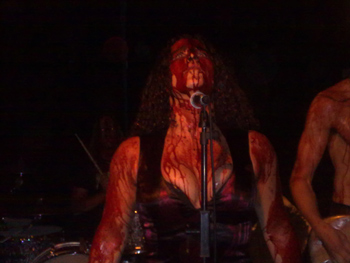 As someone notes after the gig, the Mouth could potentially be very, very bored during these gigs. For minutes at a time, she just stands there, staring into the void, arms raised, showing us the horns, or back to the crowd, hands down her sides, and waits for her piece as the guitarists around her work their way through an ocean of harmonies and solos.

I don't think she's bored. I think she's focused on the experience. And this is an experience just as much as it is a concert. Some, I notice, decide to leave and go for a beer outside, not that this seems to affect the band much. I think to myself that I'd be completely knackered if I'd driven in a van from Eindhoven in the Netherlands, arrived, set up gear and gone on stage the way they had and then found yourself facing a kind of lukewarm crowd, so much respect to the band for keeping up the pace.

Needless to say, 'The Time of No Time Evermore' is a marvellous album. One of the best I'd heard in a long time when it came out last year.
I miss I'll be Your Ghost and Evermore on the set list. A lot. They're first class tunes.
But on the other hand, House of Ten Thousand Voices, The Yonder Beckons, Rake Your Nails Across the Firmament and the goodbye treat, the rocking Christ or Cocaine all give The Devil's Blood plenty of room to impress.

The rest of the set consists of The Heavens Cry Out for the Devil's Blood, Voodoo Dust, The Graveyard Shuffle and A Waxing Moon over Babylon.

As I leave Ungdommens Hus, I have a feeling that I haven't even experienced the best The Devil's Blood concert possible. Not so much because of the band and certainly not because of their music, but more due to the circumstances – Wednesday night in front of a crowd that could have been more enthusiastic and the band being late after a long drive.

Still, this has been an experience I wouldn't have been without. The Devil's Blood is one of the most fascinating outfits around and I can be nothing but impressed. I, for one, want to see this band again! Horns up!