The last time Diablo Swing Orchestra played in the UK was about 8 months ago, incidentally at a venue only about 200 metres from the 'Underworld'. Although I had missed that gig, I've been playing their 2 albums incessantly since about then. Now, only hours away from tonight's gig, I find myself wondering how they could possibly adapt their intriguing and accessibly complex music to a live setting.
Supporting DSO are to be Lovecrave and local progsters Haken, both bands totally new to me. I can safely say, therefore, that I had no idea what awaited me. Maybe I should say my last prayers just in case…..who knows…..
---
Haken
Unfortunately when Haken were on stage I was conducting an interview with Diablo Swing Orchestra and hence missed the former's show entirely. Haken play Progressive Metal with a bluesy vibe – musically speaking they seem to draw inspiration from bands such as Shadow Gallery, Dream Theatre and IQ. The band is scheduled to play at the ProgPower festival in Holland this October so make sure you don't miss them, as happened to me tonight.
Set-list:
N/A
My rating: N/A
---
Lovecrave
Lovecrave reminded me a lot of Mandragora Scream, which might be a co-incidence since both bands are Italian. The vocalist of Lovecrave is one Francesca Chiara, who possesses a voice isn't so technically adept but for this genre of music - an emotive strain of Gothic Rock - it seemed to quite suitable.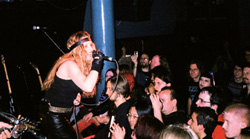 Frankly I was put off by Francesca's exploitation of her own sex appeal. ("It's hot here. Maybe I need to have a shower…anyone has some water?") Call me a purist if you may, but when I seek music, I seek just that. If I want sex entertainment I'll watch a porno or strip-show. Apart from that, or despite that, she seemed to struggle to form a bond with the audience.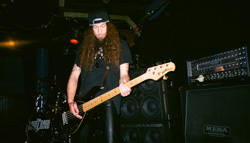 As already mentioned, this was the first time I heard the band but I reckoned the songs were easy to hook on to. The band's musicians sounded well grounded in their trade. Besides revisiting their first album, Lovecrave's setlist also served to showcase the band's brand new album ("Soul Saliva"). 'Little Suicide' was their show's high point, in my view. On the other hand, a Gothic version of Michael Jackson's 'Thriller' just didn't work out and the band itself seemed to be well aware of this.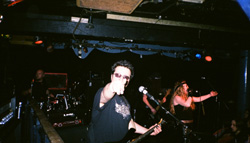 Another thing I noticed was that the backing vocals were very often superfluous and in fact I felt they should have been dropped altogether. Despite my criticisms, I genuinely feel the band has a potential to grow, as long as they fine-tune their act.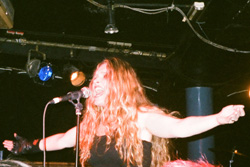 Set-list:
The Other You
And Scream
Warriors
Can You Hear
Thriller
Get Outta Here
Little Suicide
Vampires
My rating: 64/100
---
Diablo Swing Orchestra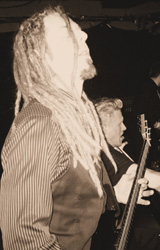 Headbanging to Opera? Moshing to Swing? Who're you kidding? Well, ladies and gentlemen, honestly neither I imagined that would ever happen….until tonight.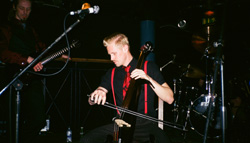 For those unfamiliar with the art of Diablo Swing Orchestra, these Swedes fuse together Prog Metal, Opera, Jazz, Swing and whatever genre happens to take their fancy at any particular moment. Amazingly, their music still manages to flow beautifully. Tonight the band members proved themselves to be top-notch musicians on both technical and interpretative levels. Not only that, but it turns out that they're great entertainers too.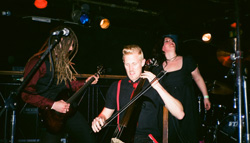 An incredible vibe reigned when the audience took over Daniel Håkansson 's vocal duties and together sang the refrains to 'Rag Doll Physics'. The same audience seemed justifiably enthralled when soprano and main vocalist Annlouice Loegdlund sang 'Stratosphere Serenade' and 'Vodka Inferno', amongst other numbers. They looked on amazed as Johannes Bergion made the electric cello part of the music, rather than either filling in or making the cello the focal point of attention, the latter having been famously practiced by Apocalyptica. In the end the band responded to screams for more with renditions of 'Ricerca Dell'Anima' ('Search For The Soul') and 'Balrog Boogie', respectively from the band's "Sing Along Songs…" and "Butcher's Ballroom" albums.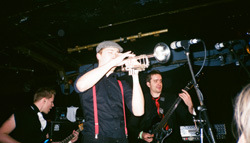 I stand to be corrected on this but tonight must have been the first gig of drummer Petter Karlsson (ex-Therion) with DSO – Petter, too, was amazing and he really seemed to have fit in well with his new band.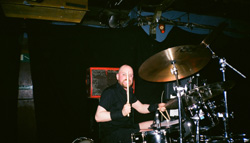 If you haven't yet checked out this ensemble, you're missing a treat. DSO's gigs are truly the Metal equivalent of a circus. And I mean that in a positive way.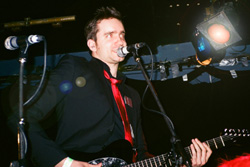 Set-list:
Lucy Fears The Morning Star
A Tap Dancer's Dilemma
Stratosphere Serenade
Heroines
Velvet Embracer
Rag Doll Physics
Poetic Pitbull Revolutions
Wedding March For A Bullet
Vodka Inferno
Ricerca Dell'Anima (encore)
Balrog Boogie (encore)
My rating: 100/100