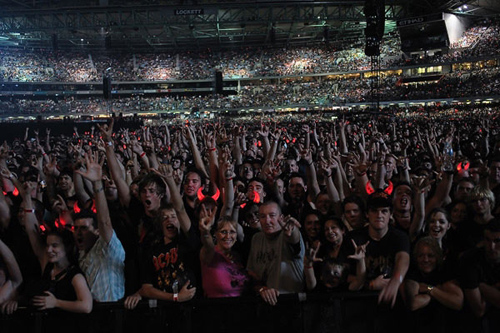 AC/DC, the greatest rock and roll band on the planet, who have sold over 200 million records worldwide, return home to Australia in February 2010 as part of the Black Ice World Tour. And believe it or not this is the first time I have seen them in my 39 years of existence.
The support act was Wolfmother has done nothing for me and their sound sucked. I couldn't hear the songs properly because they were using too many effects on the guitars & vocals, it made the entire sound very top end and washed out. They were off the stage pretty quick, which was a good thing.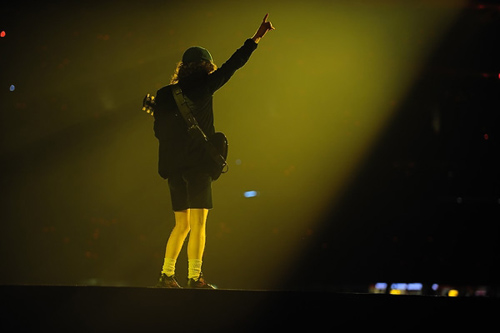 Then the chant started up for Angus and pretty soon the 60,000 plus crowd got sick of that and got a Mexican wave happening before the lights went down and a huge roar echoed out across Sydney. Up flashed a cartoon of Angus driving the Rock N Roll train, going faster & faster & faster. Then in a huge flash of fireworks the train burst through the back drop spewing sparks and flames as AC/DC hit the stage. The boys are home!!!!!!!!!!!!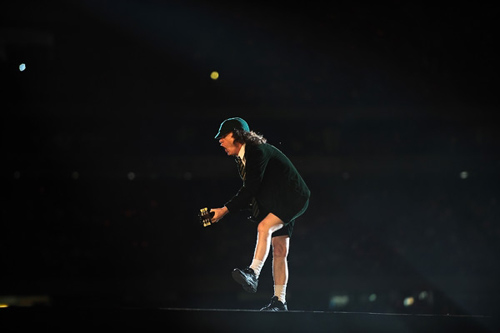 AC/DC are a very professional band and put on one awesome stage show, The big blow up doll comes out for Whole Lotta Rosie. The cameras scan the crowd for willing participants in getting their tits out in "The Jack". I must admit my 14 year old son loved this song LOL. The big bell drops down from the roof for Hells Bells, and a very energetic Brain Johnson runs along the stage a starts swinging off the rope as the bell start tolling. And a very touching moment happened when AC/DC done a tribute to Bon Scott during TNT flashing up pictures of the great man. This brought a HUGE roar for the 60,000 die hard fans. The biggest surprise I got on the night was how much damn fun the boys were having & it really looked like they were all having a blast..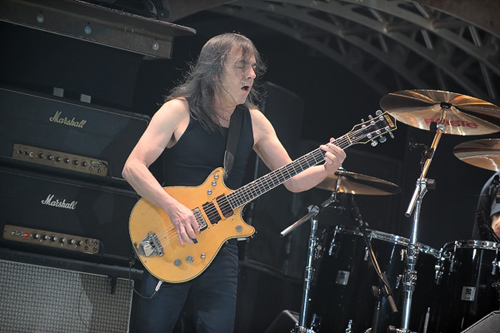 The only complaint I have is that Angus went on a little too long in his 20 minute plus solo & the beginning of "Thunderstruck" sounded recorded. But all in all this was one hell of a concert, especially seeing that most of them are over or pushing 60 and they just played their asses off for 2 hours.
The set list for the night is the same where ever they go...
# Rock N' Roll Train
# Hell Ain't a Bad Place to Be
# Back in Black
# Big Jack
# Dirty Deeds Done Dirt Cheap
# Shot Down in Flames
# Thunderstruck
# Black Ice
# The Jack
# Hells Bells
# Shoot to Thrill
# War Machine
# High Voltage
# You Shook Me All Night Long
# T.N.T.
# Whole Lotta Rosie
# Let There Be and Angus Young Guitar Solo
# Encore:
# Highway to Hell
# For Those About to Rock (We Salute You)

Rating: 85/100