Day I

Prologue:
When the wife brings home 107 kilos (!) of fresh meat, then what is the right thing to do? Do you immidiately bugger off to a festival two hours' drive north of where you live because the first band is about to hit the stage round about now? Or do you spend the next hour and a half putting meat into little plastic bags for the freezer?

Option A is most METAL. Option B means, somwhere down the train of thought, that I have a life and have to make a sacrifice here and there for the sake of my wife and kids.

At the scene of the crime:
Luckily, Thursday is the least interesting day at the otherwise marvellously billed Aalborg Metal Festival in the North of Denmark. Today holds only Danish up-and-coming bands, not that this should be underrated right off, of course. I'm particularly annoyed by the fact that I miss the performance by Psy-Code who released a very promising debut earlier this year. 100 Knives Inside I'm a bit curious about too, but, alas, when the freezer is filled and two hours put behind me in the car, only two bands out of six remain to prove their worth this evening.

CHAINFIST I've heard of but never encountered. At first, the five-piece show a great deal of attitude, the singer seemingly being inspired by Keith Caputo when it comes to looks. Sadly, his voice is not as interesting as that of the Life Of Agony front man.

The style of the band points in all directions and includes bits and pieces from Metallica, Slayer, Volbeat and various others. The good headstart wears off three or four songs into the set, even if there definitely are moments of shredding quality.
55/100

The next band is an entirely different matter. BY THE PATIENT, again for me a completely unknown combo, surprise greatly by hammering out a round of technical death metal that takes no prisoners.

Intense, focused and with a great sound, too, the five fellows on stage play one crushing tune after the other, much to the delight of this reviewer. A fantastic surprise - and I hope that this will set the agenda for tomorrow!
80/100


Attending: Thomas Nielsen


Day II

Ladies and gentlemen, I have to prepare you for a description of a day and evening that includes very, very few negative things. I have to go as far as to claiming that I have rarely attended such a compact high-quality festival day. What a fucking day! And full of death metal it is.

Danish new-comers VIRA start out with their blend of groove/modern/death metal. What is most impressing about Vira is the twin work of the two guitarists. Much effort is clearly put into writing songs for two guitars, and although the song material is not always the strongest, it works out well. As we also saw yesterday with Chainfist, Vira have a good headstart that slowly looses momentum, but unlike Chainfist Vira come back. The dip of the curve could have something to do with the technicality of the band - the sound is not good enough for technical music like this. Overall good energy, although the singer should probably work on getting more aggressively across.
60/100

Much, much more in-your-face is the front man of WAKING THE CADAVER. It is still early in the evening, and the Aalborg audience hasn't quite gotten off work yet, or perhaps they haven't downed enough beers, but that's certainly not holding back these New Jersey deathcore tornados - and especially not shouter Don Campan. The guy's a stark contrast to the other three bands I've seen yesterday and today. He's all over the fucking place, totally aware of what the others in the band are doing, pointing, grimassing, banging, inciting to chaos. That is one cool fronter!
The rest of the band is no less cool, however less in-your-face. I have to be honest and say that I probably won't buy their albums, because they add absolutely nothing to the genre, but holy crap, an excellent live band!
80/100

No less excellent is Danish Metal Awards winner CROCELL. A slight change in style to thrashier death metal, but also a change to a bit more diversity. As Philippe puts it: If this had been 20 years ago, it would have blown my mind. There is much truth in that. They haven't set out to reinvent the steel, but they do what they do excellently and are helped along way by the charismatic fronter Magnus as well as a at this point considerably bigger crowd. Our favourite tune: Winter is Coming, the mid-tempo hammer.
80/100

I would like to officially thank DAWN OF DEMISE for including my favourite off the latest album, 'A Force Unstoppable', Juggernaut, in the setlist. Focused and tight, heavy as shit as usual and with their best sound ever, the Danish death metal kings crush through a 45 minute-set. Hate Takes Its Form, ...And Blood Will Flow, Beyond Murder, Extinction Seems Imminent, Multible Flatlines are among the stabs that Dawn of Demise throw in our direction. Neck-breakingly heavy!
88/100

Now, you take a big dose of insanity. Then you add another big dose of brilliant musicianship. What you get from that is not, unlike what parts of the music press wanted us to believe at some stage, Devin Townsend. No, you get MACABRE from Chicago, Illinois. That, my friends, is insane music. On all levels.

Going on since 1985, the three murder metal maniacs have stayed firmly in the underground and seem to be pleased by any positive response from an audience. They get a lot of that this evening, I might add. If you haven't been to a Macabre gig, I have to explain that there is some amount of talk between songs. Some might not like this. But the things is this: It's part of the whole concept. Corporate Death explains what the next song is about, i.e. serial killer or mass murder we're dealing with and with he or she did. It is, well, macabre, but also very entertaining in a grotesque sort of way. I suspect that the little tell-tales are also there to give drummer Denis the Menace a chance to catch his breath between songs. What he does back there is plain amazing, but remember, these are not 20-year-old kids anymore!

Corporate Death, Denis the Menace and Nefarious are fabulous musicians, but this is not used for catchy tunes. Well, sometimes it is, but it might be in the shape of a twisted nursery rhyme. The two new songs aired would seem to fit right into the band's bizarre portfolio, so make sure you check out 'Grim Scary Tales' that'll be out beginning next year.
85/100

IMMOLATION are so old-school death metal. Not only that; they are so high-quality old-school death metal that it almost makes your heart bleed. They are a strong live force, experienced and tight. I'm not all too familiar with their past material, but I know that 'Majesty and Decay', their latest offering, is a hammer album. Nevermind, the four-piece from New York pull off a fantastic show.
82/100

PESTILENCE is both for Philippe and myself the headliners tonight. We've been fans since around 1989, but never had the good fortune of seeing them live, so this is a fairly big deal for us. Expectations are for the most part met by the Dutch death metal veterans.

Surprisingly, the crowd has slimmed down a little bit since Immolation. Perhaps Pestilence aren't as big for others as they are for us? You could say that due to the technical and not always easily digistible tunes of Pestilence, they are less grateful in front of a live audience compared to e.g. Immolation. But there is positive enough response from the audience anyway and it turns out to be a great gig. Patrick Mameli and his cohordes start out with Devouring Frenzy and Horror Detox from the comeback album 'Resurrection Macabre', two fairly straightforward song. Chemo Therapy takes over, and on it goes with songs from all four albums. The setlist well-balanced, although one could wish for one or two more songs from 'Testimony of the Ancients' (only Land of Tears is played!).

Again, a bunch of fantastic musicians - for someone like us, this is like hearing the angels sing. And about sodding time, too - amen!
90/100

NAPALM DEATH are in a category of their own. They are icons of the scene, revered and adored. Not all they've done is the greatest art, but it wasn't meant to be so. Their hearts are in the right place, and they go on and tell us about it. And they've done so for decades now.

There's something immensely comforting and reassuring about the way Barney goes 'We're Napalm Death from Birmingham, England'. When he does that, you know, as a fan, that you're home. And when you hear the title track from the first album, 'Scum', it is as powerful as ever, and a relevant as ever. Relevance, yeah, that's the key. Napalm Death stayed relevant throughout the years. They changed, came less grindcore and more death metal. Became less death metal and more grindcore again, but screw that when there's a message behind it all and musicianship to back it up.

There is, usual, no rest for Barney as he circles the stage constantly, only interrupted by his talks about the state of affairs. The barrage of sound that is so characteristic for Napalm Death is, of course, also there.

The most pleasant surprise of the night? Greed Killing, methinks. Such an ace track! Ace concert into the wee hours of the night.
87/100

What a day!




Day III

Yesterday had focus on death metal. Today is much more diverse, and, I suppose, the day that ought to offer most surprises.

For reasons I don't want to bore you with, we miss DØDNING's set except for two songs. I won't rate it, because it doesn't really make sense to do so, but judging from the two songs we did hear, they have some cool stuff going on. The style was, I don't know, rock with double kick drums and two vocalists. By the look of it a band to watch.

When Joller left the position as HateSphere fronter, I didn't really get it. He seemed to fit in nicely with the HateSphere sound and vibe. Instead he focused on SCARRED BY BEAUTY, and I would should think it would be lot better or more special than HateSphere, then.

More special it is. I spend most of the gig trying to figure out what it's about. It's not simple music as such. Technical hardcore is probably the best description. Judging by the behaviour of the band, they have lots of cool and heavy breakdowns, but the thing is no bottom in their sound whatsoever. It's all midtones and hightones, and combined with Joller's hardcore screams, it becomes a shrill affair, but I have to conclude that the band's monitor sound is very different from what I hear?

The young band's performance spawns little reaction from the hungover afternoon crowd, many thinking probably thinking this is a bit much. Joller has learnt a lot from his time with HateSphere and is above all professional, still I detect perhaps a little disappointment in his appearance. Don't be, Joller, this style is not likely to be the next big thing after Volbeat, but if you enjoy playing it, do it.
50/100

Is it alright to like something just because it's different? Personally, I don't think so, because that's when you become artsy-fartsy. I do think, on the other hand, that it's alright to like something because it's different, refreshing and quality music. ORPHANED LAND from Israel are different in a very, very cool and very un-Scandinavian way. The Middle Eastern heavy metal of this band is a unique experience, a pleasant, refreshing breath of air. Singer Kobi looks like Jesus, barefooted and dressed in white. I mean, if Ozzy is the prince of fucking darkness, then Kobi is the prince of fucking light. Brilliant gig!
89/100

The next band in the row of culturally fuelled metal music is STUCK MOJO. The (sub)cultural clash in this case being rap music and good old American heavy rock. Stuck Mojo have being doing this for almost two decades now, and they are an absolutely fantastic live band. This is an overcharge of positive energy and mental surplus, quite simply. If you walk away from a Stuck Mojo in a bad mood, then I'll wager that you need to start taking your vitamins in the morning again.

Yes, Philippe and I disagree on the rap issue, but, fuck it, this is groovy shit and good vibes in abundance!
80/100

Denmark's premier death metal veterans ILLDISPOSED have undergone a slight change. If it's due to the fact that Bo Summer's wife and two boys are posed stage right, I do not know, but fact remains that Illdisposed sound more focused than I ever witnessed them. Tighter than a chicken's arse, the quintet provide us with a dream set in the eyes of yours truly. From the first notes of Just Come and Get It to the last ring of Child is Missing, no prisoners are taken. Total shred with the trademark wall of sound. Throw Your Bolts is nothing short of majestic today. And get this: Bo's jokes are even funny today (!).
89/100
My favourite Finnish band AMORPHIS has always been a bit tricky live. I don't think I've ever heard them with a perfect sound, and tonight is no exception although it's the best sound I've heard for Amorphis. Amorphis is a great band. The advent of vocalist Tomi hasn't made the Finnish combo less great, that's for sure. He is the focal point of the band's performance, with his ridiculously long dreds and sympathetic being. The rest of Amorphis makes no figure of themselves, but rather focuses on just delivering. For the first couple of tracks, Tomi's voice is not quite in place, but it finally seems to be warm then.

The setlist is a walk through the history of Amorphis, with songs ranging back to 'Land of a Thousand Lakes' and up til now. For the most part a splendid, almost relaxing concert.
80/100

I have to say at once that none of your two travelling reviewers are fans of KATATONIA who are next on the bill. The Swedes use the same recipe throughout the set: Quiet piece, quiet piece, double bass drum staccato piece, quiet piece, quiet piece, double bass drum staccato piece. More power to those who are fans, but we're not there with you, sorry.
60/100

SEVENTH VOID? Who the f*ck is Seventh Void? No idea. Then someone mentions that two members from Type O Negative are in Seventh Void and the whole thing suddenly becomes more interesting. And when Philippe takes a break from the bore of Katatonia and goes for a beer, he stumples upon none other than Johnny Kelly and Kenny Hickey from Type O.

Now, what is this that the two are up to? It's most definitely not Type O metal. Several things are to be noticed when Seventh Void start out, the first that the volume has received one unnecessary notch up. The sound has had a perfect level throughout the entire festival, but now I have to wear earplugs for the first time (Philippe wears them all the time). Another thing is that Kenny sings. And, again, because of the extra volume, it's a bit over the top. Lastly, he's had one or two too many before the show.

The influences of the band are clearly Sabbath and to some extent Soundgarden, and it's not bad as such, but all things considered, this is not a great gig - mainly due to the sheer volume and Kenny's lack of focus.
65/100

I've reviewed the past two MONSTER MAGNET CD's and I was far from impressed. Especially 'Mastermind', the latest offering from Dave Wyndorf and his merry men, I find utterly boring. Expectations are therefore not running high. But, you know, that's just the nature of rock'n'roll; you may run into surprises.

What Monster Magnet pulls off tonight is, to put it plainly, a great rock'n'roll show. Yes, Wyndorf has gained a few pounds since he quit the drugs, but there's nothing wrong with his voice and his professionalism. Although it's not entirely my thing, I can see and hear why this evening is a real treat for Monster Magnet fans - comparetively small venue, intimate feeling, Wyndorf and band ready to rock. What can I say? Space Lord Motherfucker! An excellent full stop to an excellent Aalborg Metal Festival 2010. Nice one!
80/100


Attending: Thomas Nielsen and Philippe Leconte




Short interview with Aalborg Metal Festival PR & Press Manager Lars Bjerre (Friday afternoon)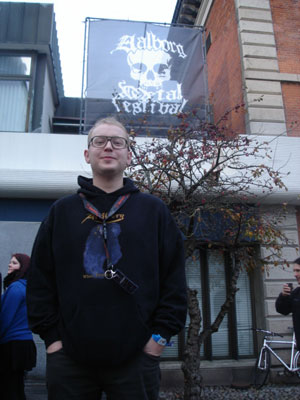 Lars, how many paying guests do you have for the festival?

Lars: All in all around 500 have bought tickets right now, but we expect to be sold out by Saturday - which is just over 600.

It's the third year in a row that the festival is a three-day event. Is a place like Aalborg big enough for this?

Yesterday showed us that it can work. It's been the best year so far. Last year we only had two bands, and that didn't work. As long as we have something people want to hear, then it works - also in a place like Aalborg.

How many are involved in the festival?

We are five on the committee and then we have a booking responsible. Apart from that, there's a number of lovely volunteers from Nordic Rock Booking and Studenterhuset's staff who put in a lot of hours.

How and when did you get involved?

Last year was my first festival. I worked for Studenterhuset and did the metal festival, and then I was asked if I wanted to do PR and press. My first metal festival was in 2005.

The choice of Monster Magnet seems a bit odd compared to the rest of the billing?

Yes, it's not exactly metal. Let's just say that our booker had an offer he couldn't say no to. And, well, we wouldn't mind broadening our scope a bit, either. We have a lot of death and black, but financially it would make sense for us to include other bands.

Who are you looking forward to seeing the most this year?

Katatonia. And Amorphis.

Who have delivered the best gig here?

Huh, that's a tough one. I think Kreator in 2008. Or perhaps Soilwork. Last year good old Artillery blew me away.

If you pick and choose any band as the headliner for next year, who would you pick?

Machine Head!







Tight and heavy - Illdisposed

Pure, positive energy - Stuck Mojo

The Finnish Wunderkids - Amorphis

Not our cup of tea - Katatonia

New grounds for Kenny and Johnny -
Seventh Void

Great rock'n'roll show -
Monster Magnet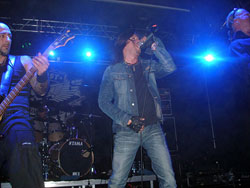 Chainfist - good headstart, but not a
lasting pleasure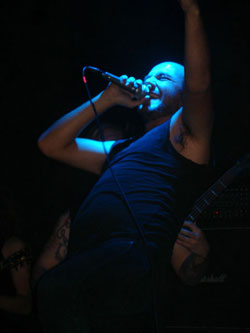 Surprisingly amazing - By The Patient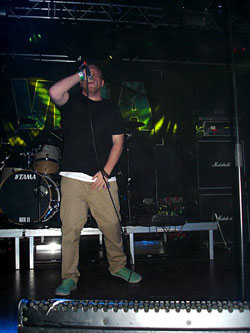 Vira - still some way to go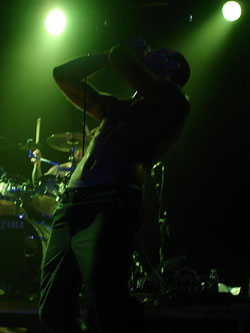 Powerful front man - Don from
Waking the Cadaver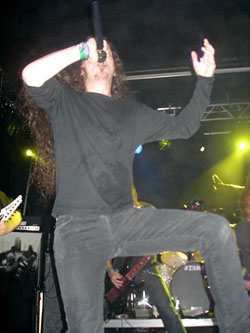 Charismatic front man - Magnus from Crocell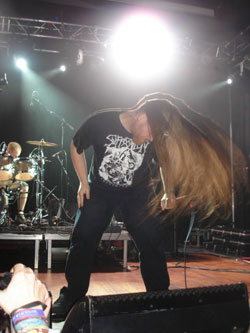 Danish Death Metal at its best -
Dawn of Demise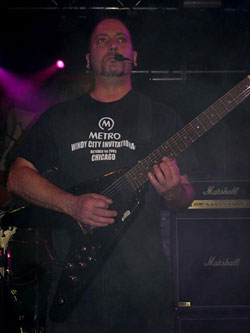 Insanity or genius? Corporate Death and
Macabre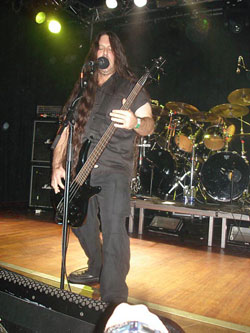 Dude, that's REALLY long hair! Ross from Immolation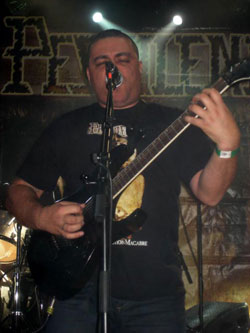 Devouring Frenzy! Devouring Frenzy!
Patrick and Pestilence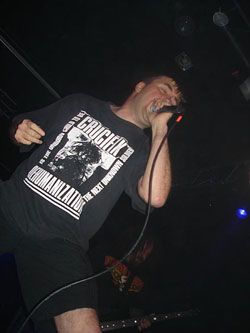 Grindcore madness - Barney and
Napalm Death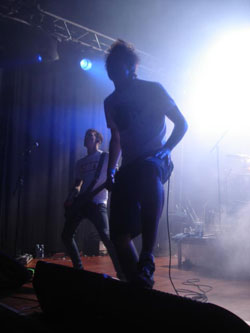 Scarred By Beauty - complicated affair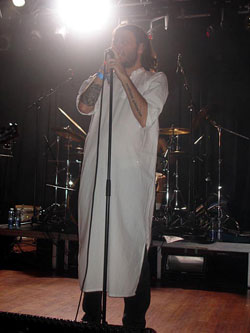 Kobi and Orphaned Land - Middle Eastern
Metal par excellence





The rest of Thomas' shite cam
pictures can be found here