Under a splendid weather that magnified the experience, Hove festival took place once more and overwhelmed music enthusiasts of all ages. Good news travels fast, it seems, as this year's edition of the three year old festival attracted lots of foreign audience. What to blame it on? The line-up? The genuinely friendly and laid-back atmosphere?
As I might have mentioned before, as you might have noticed yourselves, Hove Festival isn't an all-metal festival. However, the booking staff has obviously made a good job, as the metal audience represent a great deal of the Hove population.
The surroundings are incredibly relaxing and enchanting with its beach, forest, ecological stores and art exhibition of all sorts, though wild on the campsite, providing great learning in all rocking matters for youngsters. Hey, this is a Norwegian non-metal festival after all!
The security routines and better organised than last year's, the staff better informed. Hove has learnt a lot since last year. Keep up the GREAT work!

Let's move to the heart of the subject: concerts.
Working daytime that week, I do what I can to stay aware of the menu du jour.

The metal week begins on Tuesday, 23th with Iskald.

The band from Northern Norway is extremely unlucky, undergoing a sound that doesn't encourage to listen to the performance unless one really, er...feels the need to do so.
Their roots are the only thing that surges out of the metallic mic-mac of the poor sound-balance. From the band's name, simply ice cold, it shines through that there is no need for displaying fancy artifacts in name or stage clothes to make catchy music, it is rather the contrary.
Iskald's music is catchy and does not lack individuality in a genre where the tradition long has been to copy the early releases of the genre and fail lamentably.
I enjoy the oldschool tones, and the humour of the band, and am compelled to hear more of them at home.

Rating: 80 / 100

Architects's music, which I reviewed in 2007 when Ruin was released, led me to lending a voluntary ear their way. I cannot, no matter how sorry I am to say this, recall being more bored at a show. The fact that the band doesn't benefit from a better sound than Iskald doesn't really help.
The performance is, to me, far too flat and AD/HD-mooded.

Rating: 40 / 100

On Wednesday, 24th, Enslaved gather a large crowd in front of the main stage (Hovescene). The veterans will always be one of the bands one can count on the fingers of a single hand that manages to make of all of their musical experiments themes to last and who clears a path the fewest can hope to be albe to follow through the musical jungle.
The thing with Enslaved is that they can colour their performance according to the versatility of their audience, to the cicumstances. They manage to engage everyone on the Hove field, the bad jokes they serve the one after the other far from getting in their way.
The set includes a new song, Fusion, Ruun, Below the Lights, Ground, The Watcher, Return to Yggdrasil, Allfadr Odin, and a bombastic Isa.

Rating: 88 / 100

On Thursday, 25th , the event of the year is to take place: Faith No More. The set of one and a half hour includes many of the best songs, but also, which is both original and a great surprise, as well as a proof of the band's musicality, several covers of known songs from another age, genre, seasoned with Faith No More's special coating.
Of course one couldn't get enough of the band and they could go for a double set, but the whole is stylish, eclectic, renewing, a lot to see, a lot to hear. I hope they perform again, but only if it feels thoroughly right. This is IT!

Set:

Reunited (Peaches & Herb cover)
From out of nowhere
Land of Sunshine
Caffeine
Evidence
Surpise! You're dead
Cuckoo for Caca
Easy
Last Cup of Sorrow
Midlife Crisis
Introduce yourself
The gentle Art of making Enemies
Be aggressive
Epic
Just a Man
Stripsearch
Fuck you (Lilly Allen cover)
This guy's in love with you (Herb Alpert)

Far too short!

Rating: 90 / 100

Prodigy are the next to hit the stage. I won't pretend I am into Prodigy, I've never been, but I noticed they played all the good sounds and made a riot, for me included.

So this was it, the short but great encounter with Hove festivalen this year again. I really recommend it to you more alternative souls, or to you who fancy broadening your state of mind \m/.



Attending: Laurence
For more info or pics: www.hovefestivalen.no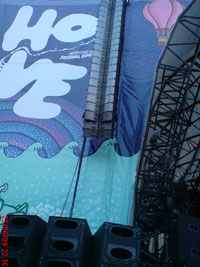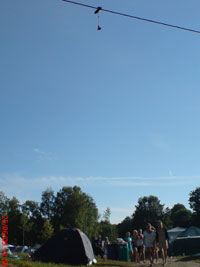 Shoe in the air, beware!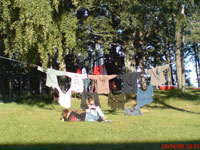 I get a Hair feeling when strolling through the festival area.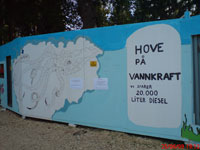 Hove supports alternative forms of energy, here hydropower.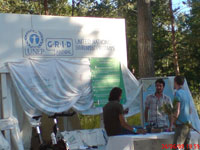 They have even invited a United
Nations Environmental Prog. team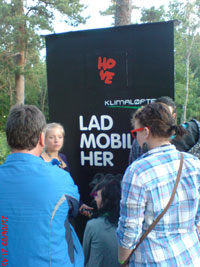 Maybe it is thanks to these efforts
that one is able to charge one's mobile battery ?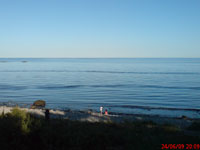 Proximity to the beach is another
good at Hove Festival.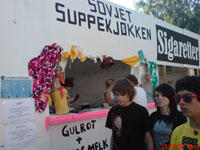 Cool food shops, all ecological, are
also to be found..
I'm starting to think Copenhagen and the Christiania district here.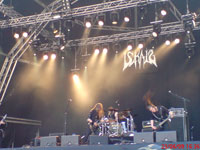 In case you were beginning to doubt:
concerts do take place at Hove!
Here Iskald from Northern-Norway.