Thursday
Arriving safely to the camping ground, we (Kenn and Claus) found ourselves located a mere 30 minutes walk away from the festival site! So we had to plan very careful what we wanted to see and what we had to miss.
Early on we went to check out how things were located this year, and we ended up stumbling across a young new band from Norway called Animal Alpha. Their in-your-face screamo-core was an intense, energetic and powerful experience, with some very interesting parts and good guitar work. But the female vocalist ruined everything, her style might be just right for the band, for me it was disturbing and awful. One of the worst live experiences in my long life. (Kenn: 20/100)

Trying to abstract from the not very convincing vocals and the close to annoying appearance and behaviour of the female front, I really liked the music. With someone else in front, it could be a very good and groovy band – and technically the sound was great. (Claus: 65/100)


After cooling the throat with a brewski it was time for a solid injection of American thrash-death metal: All That Remains. After the Animal Alpha experience I just wanted be entertained, and I wasn't let down, they put on a professional show, and shoved what years on the road can do for a band live on stage. Their style wasn't exactly getting our blood to run faster, but the audience loved it and the show turned out to be OK. (Kenn: 55/100)

I didn't know All That Remains before this live encounter, but I'd describe their style as a broad, yet balanced and cool mix between traditional metal, metalcore, thrash and death. Their songs shift between melodic parts, raw and pounding riffs and furious speed. The lead vocalist manages everything from deep growls over core-yells to melodic singing. And we get a taste of it all - definitely a band I am going to check out on their latest album The Fall Of Ideals.
(Claus: 75/100)
HateSphere has proved many, many times why they should be considered the best Danish live band around. And they came, saw and conquered once more with their intense and very powerful live show. Tight as a goose butt, energetic and really entertaining. Not the kind of music I'd put on back home, but it worked live. (Claus & Kenn: 65/100)
An almost last minute confirmation of an adding to the programme in Wacken pleased me immensely: One of my absolute favourite bands almost from the beginning of my listening to metal was playing: Overkill!
Unfortunately technical problems with the drums delays the concert from the original starting time at 23.00 for 25 minutes.Some in the crowd got clearly impatient, and so did my companions: it was more that they could put up with, so they left …but as a devoted fan, having an interview-deal with Blitz the following day and having been promised some tracks from the new album in the concert, I wouldn't miss this for anything…although nearly 4 hours of standing up sets its physical marks on a half-old fart like me, it was worth the time to wait and the pain to endure. We got the classic live tracks (a.o. Wrecking Crew, In Union We Stand, Fuck You(with everybody screamin' along)) and two tracks from the forthcoming album: one that to me sounds like "back to the roots" and the other like some "thrash'n'roll" as on Horrorscope – promising! As always their appearance is convincing: Bobby being very energetic and full-steam-ahead, whether with one foot on the speaker, throwing the microphonestand around or running on to the stage just in time to deliver the chorus singing/screaming his lungs out, D.D. hammering away at the bass with a grin on his face like a cat who just ate the fattest mouse of his life, and the three others very concentrated to deliver the goods (by the way: new drummer Ron Lipnicki approved/accepted).
Only setback in this concert is the shortened playing time (45-50 minutes) because of the delay of the start, and the probable "curfew" of the stages which they probably couldn't push more than the 15 minutes they played after midnight. Nice to see a band that so obviously still enjoys what they do after so many years in the business.
(Claus: 78/100)

Friday
The twat who threw a lit cigarette in the hay and started a fire and thus postponed Amorphis: (Thomas: 0/100)
The Wacken firemen: (Thomas: 100/100)
Will Napalm Death ever grow old? I'm beginning to find it hard to believe. The Birmingham grindsters have been going on for 26 years now, and on this afternoon they yet again stand the test of time. A glance in the audience tell me that this is not only for old geezers like me, but also young and aspiring metal fans who've taken Napalm to their hearts. Today's first massive circle pit is the hard proof. Old and new material is aired, e.g. Scum, Deceiver, You Suffer, Persona Non Grata and the everlasting Nazi Punks Fuck Off. Nice one to begin the day with! (Thomas: 84/100)
While Napalm Death draws a big crowd, the crowd and atmosphere at the smaller Party Stage is more intimate and cosy, and it's just the right place to be for me. From the first note to the chords of 'Fooled by the Serpent' Communic play their asses off and prove that you don't need more than 3 guys to put on a show! Delivering a set of the best songs off their two albums, I get everything I had hoped for, and Communica stand out as one of the winners of W:O:A 2007 in my book. (Kenn, Claus, Jørgen: 85/100)

Having been rescheduled because of the fire, Amorphis take to stage after Napalm Death. The last time I saw Amorphis was in 1996 at the Roskilde Festival in Denmark, and remember being near-traumatised by the extremely poor sound the Finns had back then, and despite the fact that they were then one of my favourite death metal bands, I couldn't even go through the entire concert. Much water has run under the bridge since then, and Amorphis have produced a couple of the album that were a tad too shallow compared to their past efforts. With a new man in front, Amorphis have recently stepped on the pedal again, and I'm naturally hoping that the folk-death-metallers will give it full throttle. It turns out that they won't really do that. The focus seems to be on quieter songs, but tunes like Smoke, House of Sleep, Against Widows and Black Winter Day do impress. Most impressive is Tomi Joutsen who masters the clean vocals and the growling perfectly. Sadly, the wind decides where the sound goes through most of the set. Not quite what I had hoped for, but alright. (Thomas: 75/100)
After a 30 minute delay (which guitarist Thomas Bredahl later explains to me was caused by the rescheduling due to the hay arsonist), Volbeat once again prove that they are the ultimate party band with their rock'n'metal. This is the third time I see them this summer, and for each time they seem more sure of themselves and professional. The Germans (and the Danes here) go apeshit to the tones of Radio Girl, Danny & Lucy, Mr. and Mrs. Ness, I only Want to be with you and Garden's Tale and it is a joy to behold. (Thomas: 90/100)

Having listened to, reviewed and very much liked Drone's debut album, I convinced Jørgen they were worth a listen. So we went to the WET stage, had a beer in the almost empty bar in the tent and waited for the thrash-party to begin. But sadly, after four tracks we are giving up, the sound is so loud and poor, that the cool melodic parts and the teight riffing disappears in a sound wall of noise, although I know the tracks from the record quite well I'm not always able to hear which one they are playing. Maybe the sound got better after we left, but the beginning was certainly no pleasure… (Jørgen & Claus: beyond rating)
One band stood out before the festival: Therion. Last time I saw them at Wacken they won me over 100%, and once more they deliver the goods. Sure they are one of those bands you either hate or love, and unless you like their style then I am sure their performance this afternoon wouldn't change a thing. No real big surprises in their set list, new vocalist Thomas Vikström has no problems fitting in and he's a great addition to their sound. One thing could and should have been better - the sound on Christofer Johnsson's lead guitar is way too low. 'To Mega Therion' marks the highlight of Wacken 2007 for me and makes the hair rise on my arms in the hot afternoon. Awesome show and performance. (Kenn: 89/100)
Now, you have to understand this: In 1989, I bought an album called 'Dreamweaver – Reflections of Our Yesterdays'. I probably got it because I thought the cover concept was immensely cool or something, but, man, I never regretted one second that I picked up that piece of vinyl! To this day, I believe this is the best concept album made. Period. Sabbat, with the later Skyclad and Clan Destined singer Martin Walkyier in front and now acclaimed producer Andy Sneap on guitar, had then released one album, the hectic thrash album 'History of a Time to Come'.
Walkyier sadly parted ways with Sabbat in 1990, the band moving on to release the rather uninspired 'Mourning has Broken' with a different singer.
For yours truly, the ugly reality was this: I never managed to see the band live back then. But, lo and behold, in a time of reunions, the unlikely becomes reality and the 'Dreamweaver' line-up is reunited (minus bassist Frazer Caske, who's replaced by former The Prodigy (!) guitarist Gizz Butt).
Today's gig is a near-religious experience. To see this band live goes beyond any reason. Nevermind that the weight is balanced more to the side of 'History of a Time to Come' rather than to the divine 'Dreamweaver' and that the sound at the beginning is a bit thin, as long as Sabbat is here and that I'm here too, absorbing every second, bellowing along to the lyrics. Hosanna in Excelsis, Behind the Crooked Cross, The Church Bizarre, For Those Who Died, all the best moments from 'History of a Time to Come' are there, but only two of the scourging songs from 'Dreamweaver' – the mighty The Clerical Conspiracy and Do Dark Horses Dream of Nightmare? If nothing else, then Sabbat just made my whole trip down here worth the while. (Thomas: 95/100) (Attending: Thomas)
Italian wonders Lacuna Coil have decided to play a relatively quiet set this evening. Lovelier than ever, and stronger at voice than she's ever been before, Cristina Scabbia impresses, as does Andrea who's improved immensely vocally over the past couple of years. The only two tunes that really punch through and move the masses are 'Karmecode' cuttings Fragile and Our Truth, whereas the rest of the set remains very polished and nice. (Thomas: 70/100)
There are pro's and con's to Wacken growing so big. The place is packed as we arrive to watch Blind Guardian early Friday evening and it is almost impossible the get anywhere near the stage. The sound is only decent from where we stand. The crowd clearly loves each and every minute of the show and scream their lungs out. The show is solid and very professional without any surprises. (Kenn & Jørgen: 75/100 Claus & Thomas: 65/100)
With an impressively good sound, Dimmu Borgir play a hammer set consisting of tracks from practically all stages of their entire career save the very beginning. Although this sounds like a contradiction in terms, this black metal band grooves like hell! They are tight as a virgin's arse and the crowd understandably sucks it up. I decide that this is a fantastic way to end the day and head back to tent backstage. (Thomas: 95/100)
Iced Earth is a household name at Wacken, and their performance this evening was good, but it never reached for the stars. Playing a varied set - I was somewhat surprised to hear 'Stormrider' where Jon was handling the vocals, the new song they performed this evening sounded promising. The lightning and pyrotechnics was the best I've ever seen at Wacken and helped to make this evening a very interesting experience with a band having fun and playing a very solid show. (Kenn: 85/100)



Saturday
It turns out that my Sabbat experience doesn't end in the Party tent Friday afternoon. Just to make the fan-experience complete, Sabbat are camping out a few tents from our own, and the lads willingly sign CD's and have photos taken. A nice bunch! Sadly, the guys deny the possibility of any new Sabbat material. Buuuah! (Thomas)
The old-scool experience today is provided by the temporarily reformed Sacred Reich. When we saw Phil Rind the last time, ten years ago, he was one hell of a lot slimmer than the short-haired, bearded guy we see on stage today. But never mind that, the old songs still work perfectly, and the band is surprisingly tight after the long absence. Only Crimes Against Humanity seems a bit long (read: boring), but otherwise are songs like American Way (opening song), Ignorance, Love/Hate, One Nation, Who's to Blame, Independence, the Black Sabbath cover War Pigs and of course the hammer Surf Nicaragua excellent in any way. (Thomas, Kenn, Claus, Jørgen: 80/100)
Oh, and just for the record, Phil: We know it's been a while since you last visited Europe, but there is no such thing as Czechoslovakia anymore…
The Portuguese stars of dark metal, Moonspell, have been billed just before two o'clock in the afternoon, and the sun is a scourger at this point. Not exactly the perfect setting for the nocturnal tones of Fernando and his compadres, but they manage to gather a considerable crowd anyhow. A bit of the drama, and in particular dramatic mimics of Fernando are sort of lost in daylight, but the strength of the three opening songs from Memorial, as well as Opium, Everything Invaded and the old hits Vampiria and Alma Mater turns Moonspell's first Wacken appearance memorable indeed. (Thomas: 80/100)
Backstage, there's a press tent show case with Australians Tourettes (formerly Tourettes Syndrome). The four songs aired from their forthcoming album, 'Treason Songs', and in particular the intense performance by front woman Michele impresses greatly. The album will be out in October – should be worth your pocket money. The five-track pre-listen I've got with me here is all blistering material, that's for sure! Buy by the millions. (Thomas: 90/100)

Actually I had planned to check out Dimension Zero at the Party Stage, but Thomas lured me into staying for the Tourettes performance, and am I glad I did – this definitely turned into one of the highlights of the whole festival for me! I'm impressed with the general performance of the band, as mentioned before carried by front(amazon)woman Michele, who is so turned into the thing, that it's almost scary. To begin with it doesn't seem very serious with musicians dressed very casually and wearing slippers, but as soon as they begin playing, it's obvious that they mean business, and damn they can play: tight, fast, precise and generally ass-kickin'! A CD that'll be a must for me when it appears.
Cheers cunt (to put it in Michele's words)! (Claus: 92/100)

Another Aussie showcase in the press tent is Doomfoxx who are someone you should look out for too. Boot-in-the-face rock'n'roll, that.
Timo Kotipelto is great live, he makes this Stratovarius show worth watching. Playing a set with no surprises at all, even the new song doesn't raise an eyebrow. We get an hour of Strato-metal from 5 gifted musicians, who have fun on stage and play a solid show. (Kenn & Jørgen: 70/100)

Rage is a long time favourite band of mine, and I have been looking forward to see them with the Lingua Mortis Orchestra for the first time. Since last time they played at Wacken as a trio, which I enjoyed it very much, (awesome) drummer Mike Terrana has left the band and has been replaced by the to me unknown Andre Hilgers.
The setlist is of course made to fit the participation of the orchestra and includes: From The Cradle To The Grave, Alive But Dead, French Bourreé, the Lingua Mortis Medley (with a.o. Black In Mind and Sent By The Devil), Turn The Page, The Suite Lingua Mortis from Speak Of The Dead-album, and finally Higher Than The Sky, and then an encore (zugabe) My Refuge. Peavy, Smolski and the orchestra seem to have a good time on the stage, and both the playing and the sound is generally ok, but I miss some of the faster and harder tracks, to make the show more asskickin', it got a bit too smooth and nice for my taste. Maybe it was because of the orchestra participating, and Mike Terrana sure is a hard man to live up to, but the new drummer is a disappointment to me: too low in the mix, and too much just a rhythm-box, with hardly no fills. Hopefully he'll show some abilities on the next album. (Claus, Jørgen, Kenn: 65/100)
Why is it that Type O Negative insists on being an anti-band? They can do nothing like the rest. But perhaps that is why I can't help thinking that they're some of the greatest? Starting out with We Hate Everyone (Pete Steele wearing a top hat and looking better than he's done for ages, by the way), the scene is set for a chaotic gig where you can hardly tell who's who and what's what. Somewhere in the heavy blur of Type O metal, there's Kill You Tonight, Prophets of Doom from the brilliant 'Dead Again', and there are no less than two breaks, during which Johnny Kelly entertains with a film camera and where slightly obscene bantering between Josh Silver and a (male) member of the road crew is shown on the big screen. Are the goth girls confused? Yeah, I should think so – because so are most of us, but some of us are just loving it. And then, out of the blue, a line is drawn in the proverbial sand, Love You to Death, Christian Woman, Black No. 1 to finish everything off with. Wham! After a set of giving the commercial music business the middle finger, they just show us that they can do that shit too, if they care to. (Thomas: 90/100)
Whereas Dimmu Borgir represents the slightly more sophisticated end of the black metal spectre, Immortal are on the more simple and crude side. It of course up to your own personal taste what you like best, but there's no doubt in my mind that Dimmu Borgir wins the battle. Although the trio from the North go through a round of classics before this massive audience, I'm never really convinced. The sound comes across thin (I think Immortal could proffer from a second guitarist), and the songs, well, they just sound alike, don't they? (Thomas: 67/100)
Different with In Flames. Wacken is definitely on the side of the Swedes tonight as hell breaks loose from the first chords ring over the boggy fields. I have to admit that concentrating 100 % on the songs is not possible for me, as I'm somewhere in front of the stage, trying to survive and having a blast doing so, but I do get that In Flames are determined to make this a party, and that tunes like Trigger, Cloud Connected, Take This Life, Crawling Through Knifes and my favourite, System, make the crowd go utterly mad. Should be a memorable evening for In Flames, indeed! (Thomas, Jørgen: 92/100)

Attending: Kenn, Claus, Jørgen, Thomas
Photo credits:
www.metaltix.com
(unless otherwise stated)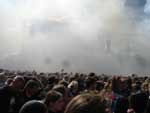 The smoke is not from Amorphis' stage show...that's hay burning on the festival site! (Photo:Thomas)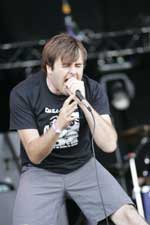 Barney and Napalm Death - where is that fountain of youth, then?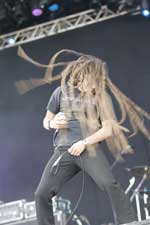 Amorphis - could be better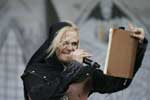 Therion - breathtaking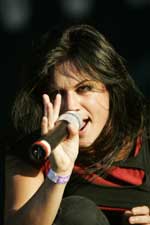 Cristina Scabbia and Lacuna play it safe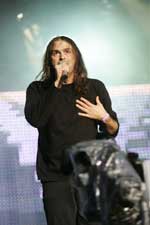 No surprises from Hansi and Blind Guardian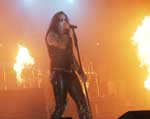 Blistering gig from Dimmu Borgir!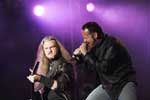 Iced Earth - promising new songs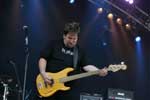 Sacred Reich - old-school thrash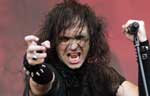 Drama and darkness in the brightness of the sun: Moonspell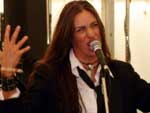 Crushing frontwoman and material: Tourettes (photo:Thomas)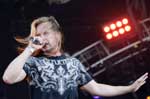 Kotipelto makes Stratovarius worth the while...



Back in better shape - Pete Steele and Type O Negative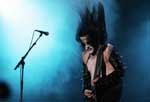 Panda looks and buzzsaw guitars - Immortal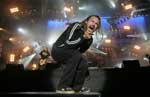 Everything laid to waste: In Flames

See Thomas' pictures here

See Claus' pictures here