This is in many ways an evening out of the ordinary. First of all, thrash icons Testament are playing in the provincial town of Kolding, a by all means nice place and, as it where, a place that is drawing increasingly better bands and even has its own annual metal festival, Godzzfest.
Secondly, a road tanker filled with ethylene has been on fire in Kolding for the past two days, the local authorities have consequently decided to evacuate an entire neighbourhood yesterday due to the imminent danger of a massive explosion. Luckily, this is a different part of town.

Thirdly, the number of metal musicians in the audience tonight is staggeringly high compared to most other gigs. Members of HateSphere, Mercenary, Svartsot, The Burning, Dawn of Demise, Invocator and Konkhra can be spotted, leaving little doubt that the main attraction this evening has had an enormous impact on a lot of bands around the world.

What is most shocking, though, is the fact that these titans of thrash will be playing in front of a crowd of less than 300 individuals, 300 dedicated individuals, granted, but still only 300. The Tuesday evening slot may of course have a lot to do with this.

There are no less than two local support bands this evening, and the first to enter the arena is The Arcane Order. The two most well-known players in the band are band head Flemming Lund (who's also guitarist in Invocator and used to be one of the driving forces behind Autumn Leaves) and Raunchy singer Kasper Thomsen.

Although showing occasional groovy spots, their Slayer/Fear Factory inspired thrash doesn't impress hugely overall. Kasper Thomsen is out of breath between songs ('I'm completely out of shape', the man correctly points out after a couple of songs). Vocally, he performs well, let there be no about that, but there is little connection with the hesitant audience – the hesitation made no lesser but the cap Kasper insists to wear throughout the gig, thus covering his eyes.
Flemming Lund's capabilities is most impressive here, solid and professional, whereas drummer Morten Løwe seems to fall out every now and then. This is a support band in the true sense of the word. (55/100)

Lipid have been around for a long time now. A decade, in fact. You could say that they just missed the popularity of their kind of thrash metal by a few months, and that they have been going through ten years where it has not at all been in vogue to play a straightforward run of groovy thrash metal with a strong kinship to Sepultura (ca. anno 1994). I'm not sure there is a market for this now, either, but it works for the most part for me.

The band has a good vibe and is more in your face than the previous band. Bass player Lasse falls out at some point halfway through the set and leaves the stage and runs around to find something (?). Curiosly enough, his absence has little effect on the sound – the two guitarists continue relentlessly and do well. Søren Pedersen's vocal is very suitable for this style of metal, shouting away like a better Max Cavalera. But, alas, again the drummer seems to be the weak spot - precision is lacking. Not a bad gig at all, but I have a feeling Lipid can do better. (60/100)
After a ridiculously long change-over (one hour!), smoke finally begins to billow over the stage and the gathering of Testa-thrashers can commence.

Testament open the ball with The Preacher, and the sound is perfect. I find myself wondering if this is playback, because the first four songs just sound too perfect! Particularly Electric Crown is clean and fantastic, with everyone's sound coming to its full effect.

Chuck is his usual beastly self behind the mic, Greg skipping around the stage like a concentrated but happy hippie, Eric is slaving away on those chugging riffs he created over the years and Alex, man, that guy is just a wonder on the guitar.
Although I've seen Testament four times before, only the first time was with Alex (Clash of the Titans, Copenhagen, 1991), and I'd frankly forgotten how talented he is. An error or two sneak their way in, but the rest just makes you forgive and forget two seconds later. Nick Barker behind the drums is the only disappointment tonight. Like the two previous drummers this evening, he's just not entirely there. He has to be counted in by Eric on a few occasions, and how cool is that, when we're talking a major league drummer like Barker?
Too bad, but it doesn't ruin the experience as we're thrown into a set of classic Testament material, including Sins of Omission, Practice What You Preach, Souls of Black, Over the Wall, Alone in the Dark, Into the Pit and Disciples of the Watch.

Much to my surprise, post-Skolnick material is also included in the set – I'd expected material from the first five albums solely, but no, we're treated with the more brutal tones of Low, D.N.R and 3 Days of Darkness, the latter two from the blistering 'The Gathering' album.

Oddly enough, the crystal clear sound begins to disappear after the fourth or fifth song. I don't know if the fellow behind the sound desk has fallen asleep and consequently leaned over the knobs, but fact remains that the output quality deteriorates throughout the remainder of the gig – which to me is a huge mystery and the exact reverse process of concerts.

But still, the truth is this: Testament plays heavy metal like heavy metal should be played; loud and fast, and although your neck goes bust from banging and your throat the same from screaming along, you can't help smiling because Testament are furiously talented musicians and know how to put together shit that rocks big time! (89/100)

More images HERE!

Attending: Thomas and Jesper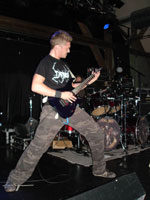 Flemming Lund from The
Arcane Order impresses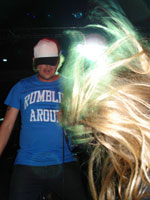 Kasper Thomsen (The
Arcane Order) - looking at
the crowd is out of order
or wot?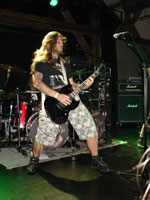 Søren Pedersen (Lipid) -
good voice, good style,
good thrash.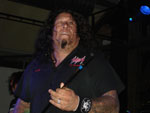 Watching over the
disciples: Chuck Billy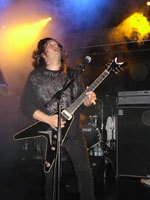 Chugging away on those
classic riffs - Eric Peterson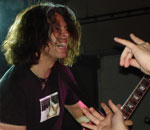 This man's hands are
worth their weight in
gold: Alex Skolnick