---
SEASON OF THE WITCH
One of the most fascinating aspects of the New Wave Of British Heavy Metal (NWOBHM) is an indissoluble emotional bond that seems to exist between players and followers, between events and memory – indeed between all stakeholders and occurrences that to some extent or another contributed to the perpetuation of this phenomenon. And it's not the more well-known bands that offer the best proof of all this... Iron Maiden, Saxon, Def Leppard... these are bands whose commercial success has possibly made associations with the NHOBHM redundant.
No, the spirit of the NWOBHM is best illustrated by the loyalty towards bands for whom greater success was often prevented by a series of unfortunate events. Take the case of Witchfynde – with the band's labels going bankrupt one after the other, management issues and other stumbling blocks obfuscating their path, it would have probably been easier for the band to be interred for good.
Yet, over 3 decades after the band's inception, Witchfynde's knack for raising hell shows no sign of abating. At least that's what a venue full of banging heads would seem to suggest. And it was right before this very gig (which, for the record, took place in London) that guitarist/co-founder Montalo and myself sat down for a cordial chat to reminisce, reflect and rue.
I'd like to start this interview by focusing on the roots of Witchfynde... what were the circumstances leading to the band's formation?

Montalo: It was really an amalgamation of 2 bands. At the time, I was playing in a band with friends from school and we had a gig near my home. A band which was based in Derby came to see us – this band had Gra [Scoresby] as their drummer and another guy called Richard Blower on bass. Afterwards they basically asked if I could join up with them. They seemed to have a lot more passion and a lot more direction than the band I was in at the time. And so I joined up with them and that was really the start of the partnership and friendship with Gra. Gra and myself were instrumental in getting the band on the direction that we took and carried on with until now.

What do you remember about the first gig you did with Witchfynde?

Montalo: The very first gig we did with Witchfynde was at Derby University – actually it was a college in those days. That gig was with Thin Lizzy and it was the first time that Thin Lizzy had played a gig with [Scott] Goram and [Brian] Robertson in the line-up. It was fantastic to be with them – of course they went on to achieve mega stardom and that was one of the most classic [Rock] line-ups ever.

They were probably already well known by then...

Montalo: Probably, yes. It may have been because we were on our own territory but at that gig we went down exceptionally well. At that time we wouldn't have been playing the sort of material that eventually appeared on our debut "Give 'Em Hell" album – in fact we were probably playing a lot of covers at that time. That gig was also the first time that Witchfynde had appeared on a poster and I've actually got an original copy of it.

In the late 1970s and early 1980s I wasn't living in the UK so I missed out on the birth of the NWOBHM. What was the British Metal scene like at that time?

Montalo: Now we take it for granted on what it used to be like but back then it was very very active. In terms of getting a gig you could virtually get them anywhere. All the pubs and clubs had Rock nights. I used to be the one that used to put the gigs together on behalf of Witchfynde and it was a strange way that I used to go about it. I used to find areas of Britain that had some sort of occult interest going with them in some form or another. So I used to target visiting places where I wanted to be. If I'd find something going on in, say, Lancashire then I'd look in the map and in the directory and I'd phone all the pubs and clubs around that area and lo and behold, yeah I could get a gig just like that. It was fantastic, with all the ecstatic crowds.

London, however, seemed to be a thing by itself. We did used to get invited to play down in London, but very rarely. And they didn't like us at all. They thought we were absolute rubbish.
Did that happen just to Witchfynde or was that reception given to most Metal bands in general?
Montalo: I think it was given to anybody from outside of London.
Which is strange as Iron Maiden, for example, are from London...
Montalo: ...and of course Angel Witch are also from London. And they went down fantastically but as soon as these 'outsiders' came down they were like 'ooh, no, they're crap'. It's wonderful now to come back to London because people in London actually like us now. [laughs]
About time, too! Another topic: Witchfynde have had a chronic history of problems with record labels. How have things been going in these last few years?
Montalo: Well they're going great because we don't touch them any more. [laughs] Things have changed a great deal in the way our music is distribution since the early days. The internet is now the main focus. We've got a very good relationship with Cherry Red Records. Basically they bought our back catalogue. What had happened is that Rondolet Records - which are the people we've had trouble with right at the beginning - went bankrupt and Cherry Red bought out our back catalogue. So whenever we have a new product we always ask Cherry Red if they'd be interested in doing anything for us. They don't actually do new CDs, they do downloads. So everything [Witchfynde's albums] is available as downloads now. Yes, things have totally changed.
The problem is, you see, that we lost all the rights to our music in the early days. So we never got royalties, we never got any royalty statements... we never knew anything. So even though we haven't got the backing of a record label now, at least we know exactly where our products are being sold. Everything is accountable and we're on top. So what's the best thing? Do we sell 100,000 units and never see a penny or do we sell 100 units and at least we do get some money?
I do see the logic in your reasoning.
Montalo: Plus, to be honest we're happy at the moment. We don't have anybody dictating to us what we have to do. We just do what we want and whatever we enjoy. And that's what we'll continue to do.
Is Witchfynde writing any new material?
Montalo: Yes, we are in the process of doing some new material. We were also supposed to be doing a live album because we don't really have a whole album capturing us live that we're really happy with. I don't know what's happened to that idea – it was supposed to be coming from Holland but something's not quite working out along the line.
Also, Witchfynde don't have any official visual release yet, which is a shame.
Montalo: It's true, we don't. To be fair we've just been working on live shows up to now. I think we'll be having a bit of a breathing space from the end of the year so we'll be putting together some more new material then. Unless of course, something really interesting comes along and we'll have to get out there again. But at the moment the plan is to put together a few new ideas early next year.
After Witchfynde had reunited around the turn of the millennium, the band played in the U.S.A. for the first time. What was that experience like and are there any plans to play beyond Europe again in the near future?
Montalo: Playing in America was a fantastic experience. We went down very very well. A lot of people do know us in America so it was wonderful to go there.
We would love to go back but the financial situation just doesn't seem to be working out for us to be able to do that. We've had a few promoters who wanted us to go there but they just couldn't get it right with all the restrictions. I don't think anybody will get into trouble for this but when we went to America we flouted all the Visa laws. These days, with all the terrorism situation, we wouldn't get away with it. In addition to difficulties in getting the financial side of it sorted, it means we can't actually get anything together. Which is a real shame because we would dearly love to go back to America.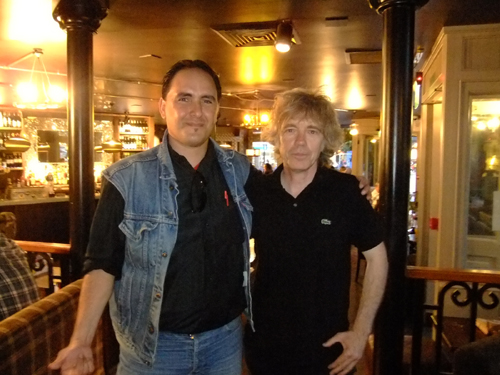 Following the "Lords Of Sin" album of 1984, it was a good 17 years before you recorded another album. [That album was "The Witching Hour", released in 2001.] After such a lengthy absence from a recording studio, did you feel like a different band?
Montalo: [laughs] Well, we were very hesitant of course. When it was suggested to us that all this interest had happened since we stopped appearing, it was news to us. Of course, as we mentioned earlier, in that interim period the internet had come along and people got to know about us. So when it was suggested that there were promoters wanting us to do festivals and wanted a new album, we were very unsure. So we met at Gra's home and said, 'Well let's just give it a bash. Let's just see how it sounds. We're not just coming back if it doesn't sound valid and if we haven't got something to say.'
However, as we struck up, everything seemed to fall into place. We probably benefitted from a fresher approach because previously we had got so bogged down with management problems and record company problems. So we thought, well, it might all be different out there now. We'll just do it. And in fact it sounded fantastic.
"The Witching Hour" is also the title of an Anne Rice novel. Is it a co-incidence or is this somehow liked to the album?
Montalo: Excuse my ignorance but I wasn't aware of that. Clearly it's pure co-incidence.
Well I myself only discovered that this week, to be honest. The next album after "The Witching Hour" was "Play It To Death" [2008]. How do you personally think that album compares with the other Witchfynde albums?
Montalo: We saw it as going back to the basic rawness of "Give 'Em Hell" and that's what we liked about that album.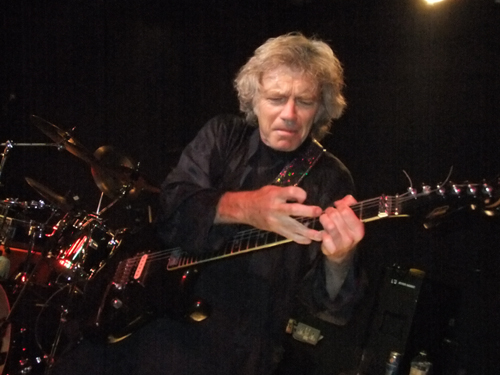 I'd like to ask some questions about some specific Witchfynde songs, if that's OK...
Montalo: Sure, I'll try to answer as best I can...
What was the lyrical inspiration behind 'Leaving Nadir'?
Montalo: [grins] Ah, you've floored me there because all the lyrics at that time came from Gra. He was the main writer in terms of the lyrics side of things. And he still is to this day. So it will have to be Gra to answer that question.
Around 1982, Witchfynde recorded a Demo for BBC Radio1 – a Demo which incidentally seems quite hard to find. Within it was one song that was different from anything else Witchfynde had ever done before (or indeed after). The song I'm referring to is 'Belfast'. What is the story behind it?
Montalo: Before Luther had joined Witchfynde, we'd been playing on several occasions with the band that Luther used to front. His band, which was called Dog Soldiers, used to support Witchfynde on some of our gigs. So we got to know Luther very well before he actually came into our band. In all fairness Luther had already got a reputation of his own by then and the song 'Belfast' was a real favourite of the people who followed his band. So at the time it just seemed like a fitting tribute to Luther that we should include his song when we played our shows.
Then, when the opportunity came that we had to play at the BBC session, they required one song that wasn't yet published. So it was obvious that we should include 'Belfast'.
A number of well-known bands I've interviewed over the years – Jag Panzer being one of them – have cited Witchfynde as a major source of inspiration. What do you think all these bands have found in Witchfynde that has triggered their imagination and creativity?
Montalo: I don't know. I'm... I'm really flattered to be honest. It could well be our age – you know, they were probably babies and they sort of got entranced by our music at that time. I don't know. The other thing of course is that we were always quite keen on our music. Our style... well my style at least... is extremely simple. It's extremely basic and it's extremely raw. So maybe anybody can do it. [laughs]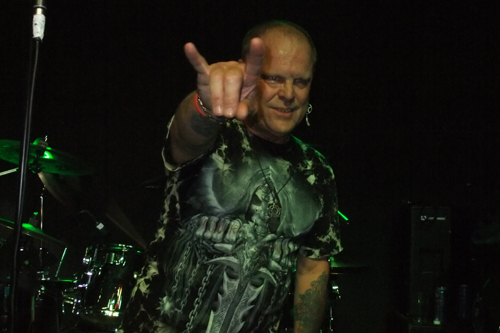 Or maybe you were doing the right thing at the right time...
Montalo: Well, maybe. But it's just my philosophy – I am a very basic and a very simple person. So if people were just starting off, they might have heard our music and thought: 'Hey, I can do that.'
So what you're saying is that your style is more focused on interpretation and emotion rather than technique, right?
Montalo: Well yes, I think so. This is not to say that that technique is not a technique in itself. But I've always done it that way because it makes it easier for me to play. I enjoy playing on stage and the last thing that I'd want to doing is thinking: 'Now what the hell comes next?' I'd sooner enjoy the actual atmosphere and the feeling.
What about your own inspirations as a guitar player?
Montalo: The main ones, I guess, in the very early days were Black Sabbath's Tony Iommi and Ritchie Blackmore. They were my main heroes. I did used to be in touch with Tony Iommi quite a lot in the very early days, before we started producing "Give 'Em Hell". We used to keep in touch in terms of sharing production ideas.
There were other guitarists too. For example you mentioned the very early scene – well, there used to be a local club…well, a couple of local clubs... close to where I lived. And U.F.O., with [Michael] Schenker used to play there very regularly. And I used to go and see them play and also he was one of the main inspirations in those days.
Unlike Venom, another NWOBHM band, your music and lyrics have never been overtly Satanic or even Occult. Yet Witchfynde are often credited as a primary influence on the Black Metal genre. What are your views on this?
Montalo: I guess it's due to our writing style, probably coming from Gra mainly, that we don't like to be in-you-face blatant. We'd prefer people to see things into the lyrics and the ideas behind the songs. We'd like them to make their own interpretation. That's the way we feel.
You know, it's so complex, this whole thing between positivity and negativity. So we don't like to be so blatant. We think people can just judge for themselves and see their own situations within that.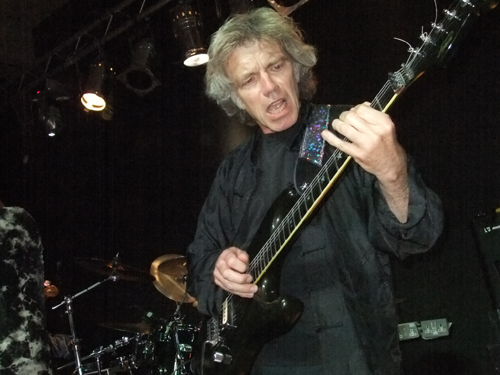 So as such it doesn't really bother you that Witchfynde are linked with Black Metal...
Montalo: No, not at all. I mean people are seeking the truth. Anyone who's into our music has got to be a seeker, really. They've got to be trying to find out what life's about and the reasons behind things. Again, it's up to them to read into it and see what they think. I'm sure we are coming from a seeking /spiritual / negative vs. positive way of looking at things within our lyrics and if you start being blatant... well, there wouldn't be a long-lasting sort of capture behind it.
'Montalo' isn't your original name – so from where does it originate?
Montalo: Well, I used to be involved with a [Wiccan] group of people in Sheffield and it was the high priestess of the group that gave me that name.
Here's the last question for you – Montalo, what would you want Witchfynde's greatest legacy to be?
Montalo: [laughs] Our greatest legacy? That people actually saw behind the imagery and just enjoyed the music.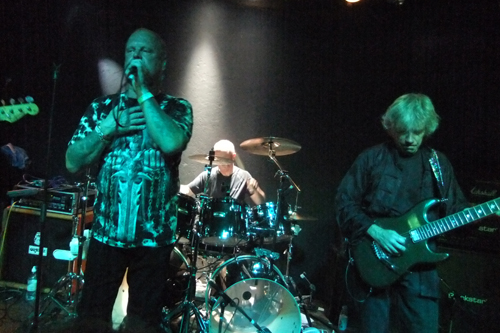 © 2011 Chris Galea
---