---
To kick things off - your new album; "Broken Heart Syndrome". Everyone claims their latest album is their strongest, but why is this album so special?
Voodoo Circle - We wanted to go way back to our roots, the 70ties,....using vintage sounds and gear and write the best possible songs in that way....and so we did :-)
How does the final result compare to the idea you had going into the studio?
Voodoo Circle - 100% convinced.
If you had to pinpoint one song off the new album that represents your visions and sound anno 2011, which one would it be and why? I would pick "Wings of Fury".
Voodoo Circle - "Wings of Fury" is a typical Neo Classical Power metal song and an exot on this album. I would pick "Devils Daughter", "Blind Man", "Absolution Blues" because they represent the 70ties style of the album much better.
Where do you see the biggest difference between this album and your debut album?
Voodoo Circle - Broken Heart Syndrome sounds more vintage and has more colours, more dynamics.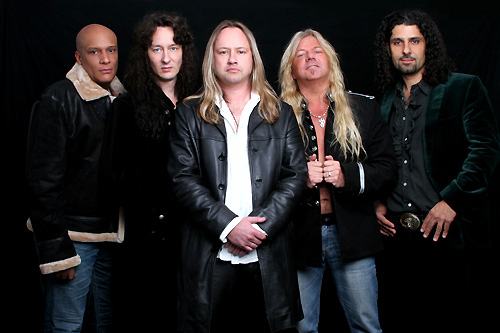 Any touring plans in the coming months?
Voodoo Circle - Yes, but too early to tell.
Which album do you hold close to your heart and why?
Voodoo Circle - Rainbow "Long Live Rock 'n' Roll" cause that's how it all started.
What does the words hard rock mean to you?
Voodoo Circle - Lifestyle.
Voodoo Circle isn't taking all of your time (I assume), what other project are you spending your time on??
Voodoo Circle - I just got back from touring with Ian Gillan and Rock meets Classic were we played every night in front of 3.000- 6.000 people, it was a fantastic tour. Next I will record the new Sinner album, then touring South America with primal Fear, then song writing and recordings for the new Primal Fear... .besides that I have my own little Guitar-Effect Company : www.guitarslingerproducts.com , I hand build effect pedals... I am very busy.
Thank you very much for answering my questions. Do you have any last rants for our readers?
Voodoo Circle - Be yourself and live your dream.
---