---
When you think of old school US power metal, Crimson Glory, Agent Steel, Lizzy Borden, Manowar, early-era Fates Warning and of course the long standing Vicious Rumors should come to mind. These bands are some of the best in the genre who emerged from the early eighties.
For 33 years, Vicious Rumors have kept true to their sound while persevering through many ups and downs in their career. Through all of this, founder/guitarist Geoff Thorpe has kept the VR warball machine rolling along.
While most of Mid West America was buried in snow, the personable Thorpe was thriving in his California sunshine when I called him to speak about their new album.
The new album, Razorback Killers, is just fantastic. What's the concept and meaning behind it?
Geoff: Basically, it's just American power metal. We're holding the flag as high as possible. The concept is to just kick ass and to rock as hard as possible - it's pretty simple. It's Vicious Rumors really trying to hone in on our sound and bring some melodic metal to the people.
What was your mindset while writing it? What direction did you want to head in?
Geoff: Basically, I just wanted to perfect and keep working on Vicious Rumors. We have key elements of our own sound and I was just to make an exciting record that made people want to party and rock and feel good. And to put a production together that was going to give you that sonic bath, some low-end to high-end and just be a really kick ass metal record right in your face. It's definitely a continuation of the type of sound Vicious Rumors has always gone for. With big background vocals, twin guitars, double bass, heavy vocal thing and a lot of different mix of vocals. Brian Allen, Larry Howe and myself have a pretty wide vocal spread we can do. We tried to incorporate all those things on the new record, and I think it came out sounding really powerful.
You've pretty much remained true to the VR sound and formula throughout the years. Were you trying to go for a certain heavier sound or something comparable to any certain previous albums?
Geoff: Pretty much. As you mentioned, it's kind of a trademark of the band to have lots of trade-offs and harmony solos and harmony passages. And that's definitely something I didn't want to give up on. A lot of music today, the guitar solos sort of get faded out. That's definitely not what Vicious Rumors is all about. It's a very guitar-orientated band. And that's also one of the reasons I had three very special guests guitar players on the album, Eric Peterson, Brad Gillis and our old guitarist Mark McGee.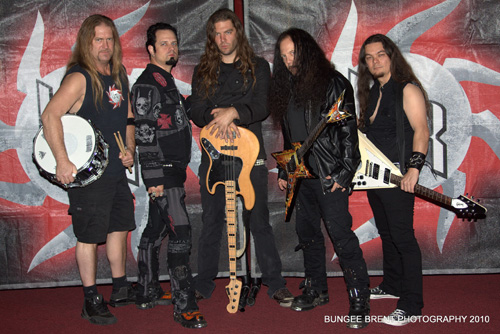 You've pretty much steered the VR ship since 1979-80. Do you still have the same values for VR in 2011?
Geoff: Absolutely. It starts with the record and the chemistry of the group. I got a great bunch of guys and everybody really enjoys playing live. We're also very excited to be working with SPV on this new album. They're a label that really knows metal and understands this music, and they seem to be very excited about our new record. So far, the reaction we've got from the people that have heard it has been really positive. We're just planning on working and touring and kicking as much ass as humanly possible.
The return with 2006's Warball with James Rivera was a great comeback. Did you lose James because he reformed Helstar or was his time just a one-album deal?
Geoff: That's basically it. James having Helstar together and being an original member with all the other original members is a really special thing. So we totally understand that. The time that James put into Helstar and having all his original guys, we could see how that would be something that would really be his passion. I just wanted to get back to Vicious Rumors. I totally understand, Helstar's a really great band so I can see why they want to keep it going. If Carl Albert hadn't of passed away and we were still working together, there's nothing like having that long time chemistry that works. I was just looking for whoever was going to be the singer of Vicious Rumors to be their No. 1 band. James was very busy, not only does he do Helstar, he does a lot of different projects. I was just looking for a little bit more of a No. 1 priority for Vicious Rumors. James is a great singer and we made a great record. It was definitely a great experience.
With Brian Allen as the new singer, this album kicks ass equally as well. I've always loved Malice and I always am fond of heavy vibrato and falsetto vocalists. When did you realize he would be a perfect fit for Vicious Rumors?
Geoff: We're doing a big Keep It True festival with Malice, Agent Steel, Crimson Glory and all these great bands. That's going to be the kick off to our world tour. We're also going to be co-headlining the Dokkem Festival in the Netherlands. So, we have a lot of big plans, the new band is really playing well together. We're just excited to have a new record out and a new label. We're getting good response to Razorback Killers. I love the action, the traveling, meeting people, playing music and seeing the connection of fans around the world. I'm very excited, me and the guys, we're all really looking forward to getting back out again.
You've had a pretty loyal following, but not a huge one, not here in the States anyway. Do you find you have a bigger fan base in Europe?
Geoff: I do. We locked on to something there early on in our career and we've been able to keep going back and keep doing it. The band's gone through a lot of ups and downs, and had some down-time for some rebuilding. I'm very thankful to have success anywhere. To have this long of a career. Vicious Rumors are entering our 33rd year of metal. It's been an incredible ride and I'm very thankful to have had such a long go at it. And we have so many great things to look forward. It's been a blessing and I feel so lucky to be able to follow my dream for so many years of my life.
Describe the early 80s and the whole new beginning of a genre and the feeling you guys had. Do you still have that hunger and energy you displayed at that time period?
Geoff: Things are definitely different, the music industry has changed so much since then, so it's really a whole different ball game. But the passion for the music is still there. The passion for the fans, live performance and the creative process of making these records. It's stressful, and you always feel a lot of pressure to do a great record. You try not to second guess yourself too much. I've just found that over the years if I just stick to my guns and make something that I think is exciting and something people are going to want. I think that if you follow your dream and be true to yourself that people can really feel that. I felt that on this last tour the people were really connecting with the band's performance. The audience isn't stupid, they can tell if you're just going through the motions or they can tell if you're up there fucking kicking ass. I'm proud to say that my guys really work hard. In that regard, things are the same. We're excited to perform and we get it on every night. The music industry itself has changed quite a bit, but you have to just roll with those changes and keep moving forward. Metal is in our blood!
---