---
Could you please introduce the band to our readers?

Bodi: Hi, we are Vermin from Germany. We started playing Shows back in 2005 already. But due to a lot of Line-Up changes and so on, it took us until 2009 to make the Band more serious. Since then we played a lot of shows with a "new" Line Up that was formed in 2009, and still works very fine:

Bodi – Vocals, Stephan – Guitars, Bobo – Bas and

Manu – Drums

.

Now, in 2011 we finally released our New Album PARADISE via Heretic Visions Productions / Twilight Distribution.

In 2009 and 2010 the band released 2 EP's. Are they a lot different from the new record?

The first EP "Strike your Idols down – Live" was a Live EP, featuring a Show in Austria during a Tour we did with our Buddy's MASTER back then. The second one, "At sanity's dawn" was a 4 Track Promotion EP, which we recorded during the preproduction to the Album Paradise. The Album has been recorded properly and in a very good Studio. Have been mixed and mastered professional. So it has a way better sound quality of course. Further we rearranged some little things in the preproduction.

'Paradise', your new album is released by Heretic Visions Production. I never heart about it, is it a new metal label?

Well, actually Heretic Visions is more of a booking / event agency than a Label. They were helping us out with some bookings in the past already. Now they have decided to offer us a contract and to release our Album via Heretic Visions Productions too. Paradise was the first Record released under their flag. May the will release some more in the future. They are a very nice partner. Doing a very good job helping us with the distribution via Twilight Distro, and to find the best possibilities for Shows.

The music on your album is groovy, but definitely death metal also. A kind of death metal version of Machine Head?

If you want to call it like that. We actually don't like those genre borders and stuff. We just want to play the music we love and bring the influences of the music we listen to at home. I'd like to call it simply Death Metal.

Is Machine Head an influence for the band, because I hear the beeping guitar sounds in your music too?

I don't think that they are a big influence for us. No one of us listen to Machine Head very much. Few songs from time to time. But maybe unknowingly

.

Who is responsible for the production and are you satisfied with it?

Paradise was produced by Stephan Fimmers of Necrophagist, at his Aexxys Art Studios in Germany. He also mixed and mastered it. Yeah we are very satisfied with the Record. He did a great job teasing the best out of us. He brought up some good ideas for the working process, and he is a very nice and funny dude to work with. Had a good time with him.

How is the song writing process for a Vermin song?

Well, normally our Guitarist, Stephan or Drummer, Manu, comes up with some ideas for a new Song. We grab this idea and work with it in the rehearsal room. We write nearly everything in the rehearsal room during the practices. But of course everyone collect some ideas at home and bring them. Yeah, pretty old school, the most ideas come up while jamming. The lyrics are the only exception. We write them at home and arrange them in the rehearsal room.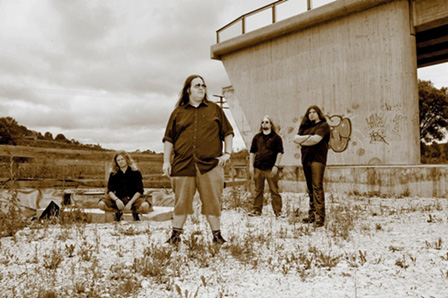 Does the title ´Paradise´ in combination with the artwork have a deeper meaning?

We just wanted to express that somehow the world is pretty weird at the moment. Is it Paradise where we live, do we devastate Paradise, or can there be a Paradise at all nowadays? The Booklet tells a short Story. A deserted Wasteland, which is growing some new Life again. But , if you see it from a big distance isn't it a all dead planet already? I like the Artwork pretty much. Everyone can interpret for himself, what Paradise means to him, how it looks like, or what the Artwork seems to be for him.

Am I correct when I conclude that you want to sound different from the majority of all the bands by using some clean parts that seem to come out of nowhere and by using a sudden funky part etc.

Well, it is not our biggest goal to sound necessarily different than other Bands in the Death Metal scene. But we don't want to make the same music everyone is doing. It' s important for us to keep the songs interesting, both: to play and to listen to, and some kind of "unique" on the one hand. But we like to keep the songs catchy and memorable on the other hand. We try to bring in some influences beyond the metal, for example the Funky Part you already have mentioned. We all listen to a very wide range of music at home. Everything from metal, to blues, to 70s (Prog) Rock, Jazz and so on. So we try to bring this in a bit. But also we don't want to forget that we are still a metal Band, haha.

Are there already touring plans?

Yes, of course. Touring and Live Shows are the best!!! We just recently finished some Shows with Ragnarok (Nor) and NervoChaos (BR) on their European Tour. We are checking the options for Fall and Winter 2011 at the moment. The plan is to play a Roadtrip and a Short Tour all over Central Europe. Maybe a Weekend Tour in December. In early 2012 we will play a longer tour then. Looking forward to finally hit the road again. We would love to play Scandinavia of course. United Kingdom would be cool too.

Why should a metal fan buy your record and not one of the many others?

You know, in my opinion (Death) Metal is still a Underground Life Style. Underground bands and of course, more than everything else, the Fans keep it alive. It's important to buy the Albums and go out to Shows and support the scene. This keeps the metal scene alive! In time of all this legal and illegal Download shit it's even more important to buy CD`s. I think its way cooler to have the CD of a foreign Band in your CD Case, than to have the songs on your Computer.

The 5 songs they should play on my funeral are:

Oh, that's a very good question. I don't think about my own funeral very often, haha. There are so many great songs that would fit very good. I just can speak for myself, so for me (Bodi) those would be very nice:

"Mad World" by Gary Jules
"Time" by Pink Floyd
"Omerta" by Katatonia
"Loosing my Religion" by REM
"Thin Air" or "A natural Disaster" by Anathema

But most likely I will change this list in 5 minutes again, haha.

Anything else you want to share with our readers?

Thank you very much for the Interview and the nice Review. Also a BIG THANK YOU to everyone who is reading this Interview, buy "PARADISE" and who is keeping the metal scene alive! Hope to see you guys on a Show sometime!!!
---