---
I am sure you are a big unknown to most of our readers – so could you please introduce yourselves?
Valet Parn - We are a modern metal band formed in Athens Greece in 2006. Our current line up is the following: Steve Venardo (Vocals), George Emmanuel (Guitars), Jimmy Haursen (Guitars), Stathis Ridis (Bass) and Socratis Panagouleas (Drums). In 2009 we've recorded our self-financed, produced album "Riddle Figure" and released it on January of 2011. On our upcoming shows we will be supporting SepticFlesh on "The Great Mass" tour and performing on Durbuy Rock Festival (The Haunted,Trypticon,Septicflesh,Korpiklani and more).
"Riddles Figure" is your debut album – what can metal fans expect from it?
Valet Parn - "Riddle Figure" is a modern heavy metal album which includes 9 tracks. Good sound, heavy riffing, melodic clean vocals with a small touch of brutal and screaming vocals, groovy drums and melodic lead guitars. In each song we tried to give a different character and also keep the melodic element strong. The results is what you hear and we hope you'll enjoy it!
The album is self-financed, but still very impressive and professional. And I am sure you didn't want to release an album that wasn't perfect, everything seems to be worked out in even the smallest detail. Have you all mortgaged your future for the befit of the band?
Valet Parn – All the band is so into it! Each of us really wants to move the band forward. It takes many sacrifices in order to achieve that, since now we've made a lot of them and we are willing to do more because Valet Parn is what we want and enjoy do the most.
How happy are you with the final result?
Valet Parn - We are really pleased of what we've done to create this album. The thing is that we gained a lot of experience through the whole production of "Riddle Figure" that we will use for the next steps. But it's not only that we are pleased from the final result but we are really happy from the whole process of producing, distributing and promoting this album.
The whole thing was recorded in 2009 – why did it take so long for you to release it?
Valet Parn - Well, it took a lot of time because we had some setbacks. In the first place, when we've finished with the mixing and mastering of the album, we start searching for a record deal in order to release our album but the deals we've got did not satisfy our needs so we decided to release and promote our album by ourselves. That took us some time because it was the first time we've been dealing with something like that and we didn't want to hurry things up cause all of us respect Valet Parn and want the best for the band.
You must have written tons of new music since – what direction has the new material taken you and when can we expect to hear it?
Valet Parn - Well, it's true that we've already pre-produced several tracks. I can't say for sure when the next album will be released but the material seems to have more Rock elements influenced from Classic to Progressive Rock but still keeps the aggressive metal tone.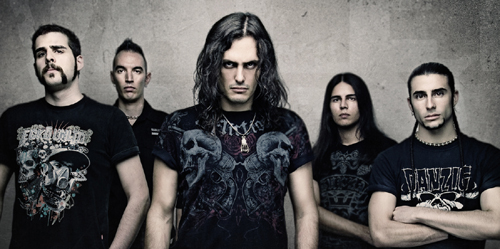 In my review I write that you have the same roots, drive and intensity as Bullet for My Valentine and Disturbed – how far off am I on this statement?
Valet Parn - It seems that the final result has many similarities and differences at the same time with the bands you've mentioned. I believe that this happens because we wanted to give a modern vibe to our material, and these two groups already got a direction to what we call modern so it's true that the roots on "Riddle Figure" probably have same identity with Bullet for My Valentine and Disturbed. The thing is that each artist receives different "messages" from his influences, so the point of view changes in each case and it's pretty hard to identify the influence source.
Who and what has inspired you, musically as well as lyrically?
Valet Parn - On this album we tried to describe how man reacts when he's called to face the hardships that life can bring into his daily life. So we where inspired basically from strong daily and lifetime experiences each of us gained through time. The flow of the music in each song is developed in order to support the situation that's described metaphorically at the certain time of the song.
Any story worth telling behind your name?
Valet Parn - Well, there is not any fancy story behind our name! It just came up from me and Stathis (Bass) while we where trying to figure out the name of the band. The word "Parn" comes from one of my favourite anime trilogies called "Lodoss of War". The word "Valet" was just a word that me and Stathis liked, so we combined them, wrote them both down and the final result satisfied us so we just kept it.
You are going to support SepticFlesh on their upcoming tour – maybe not your ideal touring partner – but what can the audience expect?
Valet Parn – Septicflesh is not probably the ideal band to tour with due to our genre does not fit with their genre. But still Septicflesh is a great band to tour with . They support the undergound acts here in Greece, have their own audience, do great shows and they've grown up a serious number of fans after many tours in Europe and U.S. With Big Bands such as Cradle of Filth, Behemoth and more. We will try to give our best on each show no matter the genre we are playing. As a band we respect the metalheads and want to provide the best possible shows in any case, and of course this is a chance we've been waiting for in order to present our music. So as I said above we will be giving our best to the audience on every show!
If you had the choice what would be your ideal touring package?
Valet Parn - The last days I've been watching the final announcements of the 2011 Sonisphere Festival and the Greek Sonishpere line up seems to be one of the best with just a few changes, in my opinion! so it would a dream come true being on tour with a line up such as Metallica, Mastodon and Slipknot. Pretty fancy, but as I said, it would be like a dream come true!
What does the words modern metal mean to you?
Valet Parn - Even if I'm not good on describing a bands genre I'll try to give you some of the basic characteristics of what I'd like to listen from a modern metal group which are really simple. Massive, clear and well mixed music, tight performance, melodic elements and brutal or screaming vocals with strong expressiveness.
Thank you very much for answering my questions. Do you have any last rants for our readers?
Valet Parn - We'd really like to thank you for your time and support ! Hope you'll enjoy our music and hope that someday we will see you on the road!
---