---
Third album from Twinspirits "Legacy", what can metal fans expects from it and where does it separate itself from the first two. I think for starters that this album is more song orientated.
Twinspirits - Yeah! You're probably right. We have some straight short songs here with a great rock vibe, but there's also the big suite multipart "The Endless Sleep" that's more progressive and visionary...so I hope there's material for all the tastes! The main difference is probably the achievement of cohesion that we gained playing live in the last 2 years. You can hear it in the new album in my opinion.
How happy are you with the final result and what kind of expectations do you have for it?
Twinspirits - I'm very happy so far of the result, this time I took care of the mix also, I usually produced the album, but never mixed actually. It took me 2 months to go through all details, but I'm very satisfied I have to say. I have no particular expectations, you know, we do the best we can to deliver some music that truly represent the band, difficult to predict reactions or feedback, but it's been good so far!
If you had to pick one song off the album that represent the essence of Twinspirits anno 2011, which one would you pick and why? Personally I would probably pick; "I'm leaving this World".
Twinspirits – Many have been stricken by that song, it's probably very passionate and catchy moment of "The Endless Sleep" suite. I'd say probably that the whole suite "The Endless Sleep" in its entirety is representing Twinspirits of 2011. There are all our elements in there.
Three albums, where will you take us with the next album?
Twinspirits – Don't know. I never know where I'm going to when I approach new chapters of the creations of my albums. You can expect something in the style of Twinspirits of course, but I do my best to not repeat myself, so who knows?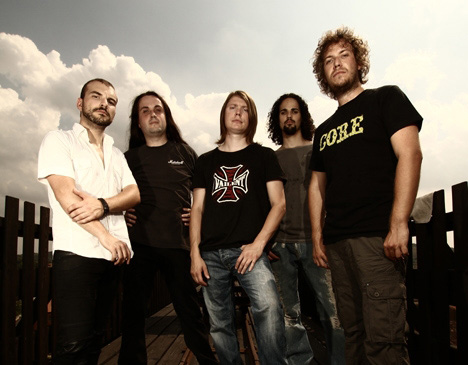 The cover artwork is very simple – why? (Where's the flames and dragons… hehe)
Twinspirits – Dario (our drummer) takes care of the artwork of our album. He's maximum freedom in this topic. He proposed this simple artwork and we all liked it a lot. If's very different from the usual metal covers, and probably it's more recognizable. Also it's very connected with the concept of the suite, which is an important part of the album. The Old paper style and the red stamp give the right representation of concept of "Legacy".
Who and what has inspired you, musically?
Twinspirits – I come from the classics, I studied piano when I was a child and I approached the guitar and keyboards of heavy metal at age 16. My main influences have been AC/DC, Van Halen, then Malmsteen, Dream Theater, Jason Becker, Steve Vai and many more. My inspiration comes from the inside, it's something natural that has not to be forced to come out. It's very easy for me to imagine music and lyrics and it all comes out very fluently...I take inspiration from experiences of my life, or observation of other's life, and I like also to invent stories and visionary concepts that are not connected to the reality (like Genius and the suite "The Endless Sleep" for example).
You have always been involved in a lot from Empty Tremor over Genius and Khymera thru Prime Suspect and Twinspirits, but what has had the biggest influence on your professional career, and do you have any regrets?
Twinspirits – All of the projects (including Cosmics you didn't mentioned) had a great influence for me. Every different aspect of these bands and projects I've been working with has left a sign in my musical a personal soul. At the moment Twinspirits is my priority, and the band that represent better where I'm now in music, but I'm always ready to challenge myself in other styles or adventures.
Is Empty Tremor, like the Genius Project, a closed chapter?
Twinspirits – Yes. I left Empty Tremor back in 2006, and now they have a new keyboard player (very good producer and singer also actually) and they just released great album "Iridium". I'm not involved anymore with them and I'm happy to see that they're developing and going ahead with good results. Genius was a trilogy I wrote back in 1998, and the story has been completed in the 3 chapters, so that's all for that saga.
What does the words progressive metal mean to you?
Twinspirits - It means creativity, no rules, power, technical tricks but also simple and warm melodies...it means research and quality song writing most of all.
Thank you very much for answering my questions. Do you have any last rants for our readers?
Twinspirits - Thanks to you and to all the readers of power of metal zine. Your support is precious, hopefully I'll see you on the road over there!!
---