---
Could you please introduce the band to our readers?
Branko: Sure, we're an Italian/Croatian four members band, I'm Branko Stekovic the guitar player, my brother Kreso is the vocalist and keyboard player, Stefano Artus is the drummer and the youngest member is Dante Bridda on bass.
How did you come up with the name Spellbound Dazzle and what does it mean?
Branko: Yes I well remember the day we chose the name of the band, it was a bit before we joint together. We've been thinking so much to find the right name, but it was useless, no name was satisfying so I just took a dictionary, looked in, and said to myself "the first word I'll find it would be the name of the band". So it was spellbound that immediately convinced me to use it as an official band name. I thought about something magic you see and you're like blessed while watching at it. That name became Spellbound Dazzle, that means something like 'magic light', or a magic music… when listening to it, you're spellbound.
You and your brother hail from Croatia and now live in Italy. What musical education did both of you get in their country?
Branko: We listen to a lot of ex-Yugoslavian music and despite what people think, the rock culture was very spread between younger and older people. Furthermore we were born there and can't escape our roots even living at the other side of the world, so we are very influenced by rock and popular Balcanian music. Try to transmit all of this into our music and "Unreal Fairy Tales" is an example of this combination.
Who is (are) responsible for the song writing?
Branko: Me and my brother write the songs, but then show everything to the other guys. So together we decide what to change if there's something to. Dante and Stefano are very talented and have a lot of ideas, so we hope they help us more in the future. This way me and my brother have less work to do and more free time ha ha ha ha ha …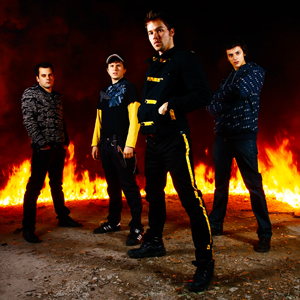 I'm very impressed by 'Unreal FairyTales', for a debut (and not only for a debut), a very good one with well written songs. It is as if you listen to a new record, but get the idea you have heard it all before and recognize it. I say this as a compliment, do you understand what I mean?
Branko: Must admit that this question made me think a bit, if you mean that our sound reminds you of some old famous bands sound, this is a huge compliment, and it means that we're on the right way.
I hear several influences, the biggest one is System of a Down, but there are a lot more, which ones can you add to it?
Branko: Actually it is not System of a Down who gave us most of the inspiration as many people think, but other bands like Queen, The Beatles, Extreme, Pantera, Metallica … I think that the similarity with System of a Down is because of those Russian and Arabic scales that we use in our songs. But this are the basic parts of ex-Yugoslavian popular music since ever, for example Goran Bregovic, Lepa Brena and many more. Maybe you want believe me, if I say that most of the songs were written before we even knew System of a Down.
The vocals has similarities with the System of a Down singer, is that done on purpose?
Branko: Not that I know of … I know some of my brother's musical tastes and they're totally different than mine. I mean he listen even to pop rock singers like Tom Jones, Elvis Presley, Janis Joplin, Paul McCartney and stuff like these and it is almost the same like with our band: his way of singing' has always been compared with other thousand singers that he never even listened before, like Jeff Buckley or Myles Kennedy from Alter Bridge so that we never could exactly say who is the singer he has been most inspired of.
With "Ruska" there is a Christmas song on the record. It hits the street 31 January 2011, a little bit strange isn't it?
Branko: Yes a little bit, but when we wrote this song we didn't know that it would be released on January 28th. But this song actually talks about a tramp having his last dream before dying, wishing to have all those things in life he never had but of course it happens on Christmas period, the best period for a story like this. So it is a half Christmas song.
I had problems to describe the music Spellbound Dazzle is playing, what would you suggest?
Branko: Ha ha ha ha so we have the same problem, since we formed the band we've been always asked about this. It's not so easy to give an answer cause' we play a lot of different genres as you can hear and we just invite all the people to listen our music and judge by themselves. We could say alternative rock-metal, but it wouldn't be enough. It could also be Disco-Metal or Folk-Rock, furthermore nowadays there are a lot of new genres that it makes it even more difficult, but if anybody has an idea, please tell us … ;-)
How is the support so far from Limited Access Records, satisfied?
Branko: We're very satisfied about Miriam and Torsten, because they're doing' a hard job with booking and … and often speak via Skype, or send mails to each other almost everyday, for any question. Promotion has started for "Unreal Fairy Tales" and preparing an album it's such a hard job, despite many people think otherwise. Think about writing, composing, recording and mixing than think about the cover, the graphic, look for illustrators, web designers, booking supports, logos and so on … Without their help it would be impossible, they have the right contacts, and they know their job so we are completely faithful.
I think you must be satisfied with the sound and production of the record, especially the drums sound very tight, how was the cooperation with Siggi Bemm?
Branko: Yes we are very happy with the sound, because it fits well with the "Unreal Fairy Tales" style, and it's not easy having the same sound for all those different genres songs, so he made a good job. We had a good time with him, he is a rocker and he knows a lot. He did his best to make us feel relaxed and gave us a lot of advices and made us re-record anything that was not OK. No matter if it had to be a thousand times or more, he wanted everything to be as its best. He's a relaxed one so always made us feel comfortable, and he used to tell us "guys, I see you're tired so go up and play PING-PONG or drink something in the fantastic Woodhouse Studio's bar!!! ha ha ha ha……………" Yes!!! this is the right way!!!
With the right support there must be a 'big' market for you, the only thing that I'm a bit afraid of, is that there is too much variety in styles on the album. Too heavy for some, too progressive for others and to wimpy for yet another group of metal fans. What do you think?
Branko: What can I say? We know that there is a lot of stuff in there, but when we play gigs it is possible to notice that not only metal heads are there. There is a younger and older audience and also girls who usually don't like so much metal. So maybe that all those different styles in "Unreal Fairy Tales" work in different ways, but at the same time make different people understand each other for one night.
What's next, touring perhaps?
Branko: We try to play as much as possible, but it isn't so easy booking shows for new acts as we are. This summer we will play some shows in Germany and would be glad to see some Danish fans there too.
What are in your opinion the 5 best 2010 albums?
Branko: 'AB II'I of Alterbridge, Avenged Sevenfold's 'Nightmare', Volbeat's 'Beyond Hell/Above Heaven', Ozzy Osbourne's 'Scream' and Iron Maiden's 'The Final Frontier'.
Anything else you want to share with our readers?
Branko: Hope to see and meet some Danish fans possibly on a gig and drinking a lot of beer!!!! And don't forget to pick up our album "Unreal Fairy Tales"!!!!
---