---
Debut album out, tell us – what kind of feelings do that bring up in you?
Sister – Right now we're just stoked about it all. It's been alotta work to get it all together with the recording especially cause we chose to record in different places and did a lot by ourselves together with Martin Sweet and Calle Fäldt. The result turned out exactly as we wanted so it's just a great fucking feeling to have the debut album out now for all to listen!
If you had to pick one song off the album that represent the essence of Sister, which one would you pick and why?
Sister – One of all in the bands favourites is Bullshit & Backstabbing. Mainly just because its raw fast energetic and really a song that shows what Sister is all about. It was the second single to be released from the album.
"Hated" is your debut album, does the final result live up to the ideas and expectations you had going into the studio?
Sister – As I said earlier it turned out just as we had planned. It's strange because of the time pressure and chaos that occasionally visited the production. But something good can always come out from those circumstances and this time the result turned out just as we had said/hoped the result would be in the end. I like that the album in some ways sounds a lot like a live album. We captured the energy we have on stage. Tobias Lindell who mixed the album really got what we were after and that guy knows his shit!
If you had to state one emotion to describe Sister, which one would it be and why…?
Sister – Raw disgusted looking shitfaced and out for a night with the pissed off little sisters. Hehe I guess we are a band that just want to get going and get fucked up doing what we do best. Be out and drink with the crowd after a great show. That emotion you have then we all in the band love and can do for the rest of our lives.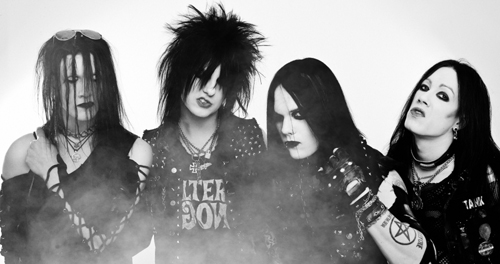 Photo: Axel Engström
Tell us a bit about the artwork – who made it etc.?
Sister – Kim Oktavia who is a long time friend and the tattooist of the band (we all go to her to get our skin covered) did the art for the album. She does a lot of paintings that is killer and she knows exactly what we are into. The photographer Axel Engström who's also a friend took the pics and one reason why it all turned out so good is that when you know the people you work with you work on another level in some ways. Their heads are as fucked up as ours haha.
Who and what has inspired you musically?
Sister – We get inspired of all kinds of music. Can be all from Creedence Clearwater Revival to Slayer. Dead Boys to Hanoi Rocks. What I think is great with Sister is that we take influences from all kinds of music and mix it together. Heavy riffs with punk choruses. Guttural voices with 12string guitars. Who knows what will happen in the future. But we're always gonna be and sound like us.
Could you give a brief introduction to the lyrically ideas behind "Hated"?
Sister – Lestat writes most the lyrics and exactly how his head works I guess no one knows or wants to know hehe. No but the idea about the album title HATED and title track HATED is that there's a lot of people that believe that music has rules and they know what you can and can't do. And they actually think you as a band give a fuck about them. We found it kinda funny and thought it would be a nice pretty little idea that for once give them a little self satisfaction and dedicate some of our attention to them. The text is how you can use that hate as fuel for your own personal satisfaction.
How did you end up with a name like Sister, any interesting stories to tell?
Sister – This was before I joined the band but I know they had some different band names with Sister in it but in the end plain Sister was just better. Four guys calling themselves Sister is just wrong in the right way.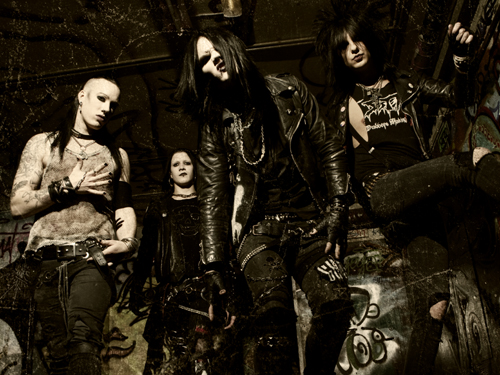 Photo: Axel Engström
If you had the chance to pick your touring partners, who would it be and why?
Sister – Guns N Roses!! Hehe. No but more believable options just at this moment (Guns N Roses will come later) could be Michael Monroe, a band I think really got it together and been kicking ass both times I've seen them.
What's next for you, any tours planned, work on your next album…?
Sister – Now after the first album just been released a new album is the last thing on our minds haha. We have some tunes of course but now we just wanna tour our asses off! European tour in the making from late summer and we'll see what happens after that. Hope to get some last minute calls from festivals this summer cause the album was released so late this year and everything is pretty much booked. Got a few interests that are almost official but we'll see what happens!
Thank you very much for answering my questions. Do you have any last rants for our readers?
Sister – Just that if you're brains aren't totally dissolved from drinkin' all summer you will know that keep an eye on when we hit the road around Europe is the only right thing to do! Sister belongs in that black monster van we call BAO that's been around the continent a few laps. And we definitely belongs on stage so see ya'll then!
Cheers Rikki
---