---
"The Great Escape" has just been released and has received much well-deserved praise along the way. So what kind of hopes and expectations do you have for it?
Seventh Wonder – I think the expectations from the public were bigger then the expectation from the band, I mean, the goal is of course to create a perfect album but if you constantly thinking that you HAVE to create a perfect record that album will not be so perfect. When we started to record TGE some of the songs where not finished. So it was first after a couple of month when I realized how the album sounded.
The title track is a 30 minutes long epic track and your to date most daring and accomplished song, who came up with the idea for the song and how hard was it to compose?
Seventh Wonder – The idea is Andreas Blomqvist's! He had read the novel "Aniara" and thought it was a great idea to write a really long song based on that book. The song is parted in 13 parts so during the recording we all learned part after part and we didn't know exactly how long it should be. So I'm glad the it turned out the be longer the 30 minutes otherwise It might be confused with being a regular hit-song:-)
Your last album "Mercy Falls" was a concept album, what topics are you dealing with on this album?
Seventh Wonder – The album contains seven songs and the first six are different from each other while the last one is the 30 minutes song based on Aniara. Aniara is made by the nobelprice winner Harry Martinsson and it's quite cool the his daughter actually gave us permission to use the novel as a basic idea! Since I am not involved in the making of the lyrics (Tommy and Andreas writes all lyrics) I'm not the best guy to answer questions about the topics but I can tell you all about the guitar solos:-))
Where do you see the biggest difference between your last two albums? I think the new album is more song orientated without giving in on the complexity and diversity?
Seventh Wonder – There is three things that's different on this album comparing to previous ones. First of all, we now have built our own studio! Which is both good and bad. The good thing is that you don't have to pay money for expensive studio time and constantly feeling the pressure that you have to nail a solo in time otherwise you have to pay even more money but that is also the bad thing. I mean, if you have unlimited studio time I think we would still be sitting in the studio with the first song! The second thing that's different is the mixing guy! Now we had worked with a guy called Erik Mårtensson. He is located in Stockholm (same as we are) and being in you hometown during the mix is so much easier then doing the mix in another town or a different country! The last thing that's different is the artwork. We are using the same guy the produced our video for the song "ALLEY CAT" Johan Larsson.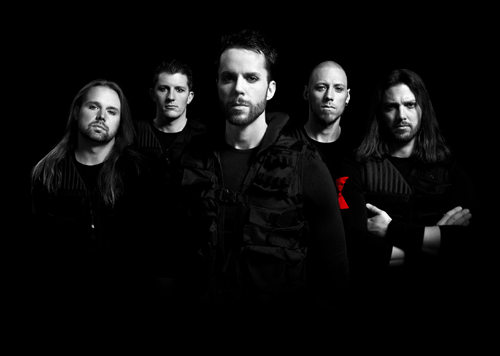 Seventh Wonder - any deeper meaning behind the name?
Seventh Wonder - The band name Seventh Wonder was a suggestion from Andreas Blomqvist after we had found out that the band name Neverland was already taken. It was one suggestion among a few others and it was the one that the rest of the band liked the most –so it was adopted as the new band name. So there is no deeper meaning with it..
What do the words Progressive Metal mean to you?
Seventh Wonder – For me it's just a description of some kind of free metal. If we want to add a violin (like King of Withewather) or add acoustic guitar (like the beginning of the song TGE) we are totally free to do that!
Name five albums that have made a big impact on today's scene and you personally...
Seventh Wonder – Personally I do not listen to progressive metal every day. I'm more into melodicmetal/rock but of course "Images and Words" with DT is one of my favourite albums. But the best guitar album of all time is Extreme's "Pornograffitti" and early Yngwie albums like "Marching Out". Also Mr Big's "Lean into It" is amazing! Incredible performance and great production! Last I have to mention a more funky record made by a Swedish guy called Paulo Mendonca, the album is called "Different Places" and it's my favourite party album of all time!
Seventh Wonder isn't taking all of your time (I assume), what other project are you spending your time on?
Seventh Wonder – Actually SW IS taking all of our time but since we are living in a digital world when almost everyone thinks that it is a human right to download, we are unfortunately forced to have a daytime job. I work at a PA-company and we are doing everything from regular concerts to TV-shows and festivals.
Thank you very much for answering my questions. Do you have any last rants for our readers?
Seventh Wonder – Thank you and hope you all like the new album!
---