---
Could you please give our readers a brief introduction to Red Rose?
Red Rose – Hello Kenn, and hello PowerOfMetal DK! (…hey, that's my initials! :)) Please, let me first introduce our line-up: Leve Laiter – vocals, Elnur Aliev – guitars, Eli Reeve – bass, and me, Deion Kristen, – keyboards. We formed Red Rose in the beginning of 2010, as a result of not being satisfied with our previous band experience, and of striving for something more. This was meant to be a mature, productive band that would set its aims and achieve them, and we took this project pretty seriously. We began working on the material right away, and by the end of 2010 we actually materialized our first main goal – the debut album. Searching for a label took some time afterwards, but eventually, in some mysterious and fortunate way, we found ourselves in the hands of Italian Bakerteam Records!
Debut album out next week; tell us what kind of feelings does that bring up in you?
Red Rose – We still cannot believe it's really happening! Our music is going to reach so many places in the world, and be heard by so many different people – this is amazing! We are very excited and eagerly wait for the moment!
If you had to pick one song off the album that represent the essence of Red Rose today, which one would you pick and why? Personally I would probably pick the title track off the album…
Red Rose – I think you're right. The title track is probably the essence of us at this point. This song is very bright, and full of hope and expectations. I think it pretty well defines our state as a young band. And musically the song "Live the Life You've Imagined" probably gives the best overview of each musician. Though there are other aspects of Red Rose too, like the ballad or the heavier side, and we'll explore them in the future, finding perhaps another blend to define us. But for now it really feels like the title track is what's called "Red Rose".
You have recorded the album here in Horsens, which happens to be my hometown, under the safe guidance of Tommy Hansen. Why did you choose him and what kind of experiences did you take with you?
Red Rose – O, this question brings a lot of good memories… When we started to work on the album, we knew it would have to be recorded by a professional. We wanted to get a sound as good as those bands we love and listen to on the CDs have. And Eli (the bassist) shared his thoughts about Tommy Hansen – he knew him for his works with Helloween, Jorn, and other international projects, and just loved Tommy's sound. The rest of us agreed that this might be just what we were looking for. And thus we found ourselves thousands of miles away from Israel, in this beautiful country Denmark, in a small sweet town Horsens.
It was an extraordinary, lifetime experience! Tommy gave us a really warm welcome. We really felt like home there. He is very kind and wise man. With his guidance we managed to record the album in the short terms that we had (we've only been in Denmark for 12 days). And since it was our first professional recording at all, we learned so much from the process and from Tommy personally! He is a true master. Without him the album would never sound like it does… We all remember this experience as the best thing ever happened to us in our lives!
Could you imagine working with Tommy again and if so why?
Red Rose – Definitely! In fact, when we were saying goodbye, we told Tommy that we might come back next year for another album. Though it didn't happen this year, we do intend to work with him again soon. Tommy's got so many years of experience, and he's not just recording and mixing – he fully participates in the process, makes creative suggestions, and helps to achieve the best possible result. We're really glad we found him!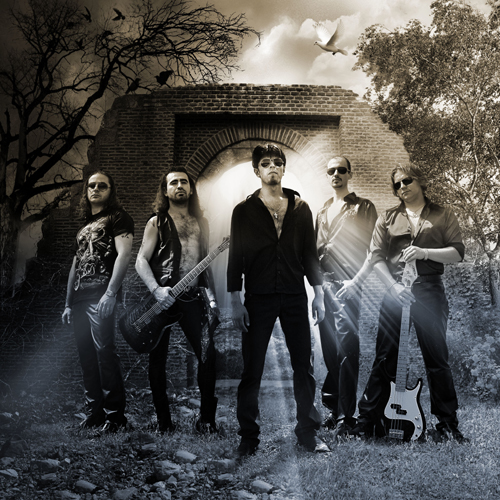 Tell us a bit about the artwork – who made it etc. and how important do you feel it is to have a cool artwork?
Red Rose – It was made by Brazilian artist Jobert Mello. We found him on the internet and instantly loved his works. They are very colourful, contemporary and really impressive. And I think it is very important to have a good artwork – especially if you're a new band. Whatever they say about judging a book by a cover, cover is what makes the first impression when the name is not familiar. So we decided to order the artwork from Jobert. We had this idea of presenting two opposite worlds on the front cover, to point out on the concept of conflicts that we have in our songs and in the name of the band as well. And Jobert materialized it with two cities, which fully met our expectations. He also designed the logo for the band, and I think the whole artwork is very good! We sure consider working with him again.
Who and what has inspired you musically on this album?
Red Rose – Well, it's hard to name something specific. There is no book or movie, or a person that inspired us on this album, if that's what you mean. I think each song had its own source of inspiration, depending on its general direction and mood. And we tried to make songs different one from another, to test ourselves in different aspects. But generally there was this wave of something new, something big that we felt was coming. This feeling was the main inspiration in creating the album.
Could you give a brief introduction to the lyrically ideas behind "Live the Life You've Imagined"?
Red Rose – Here also we tried to touch different subjects, different aspects of our lives. And, as already mentioned, we tried to reveal the inner conflicts of human being. Like in the title track there is a conflict of choosing the path of your dream, which is unknown and frightening, or staying in your comfortable and safe regular life. There are also themes of love with different views on it ("Dreamer", "Tough to Love" and "The Last Drop"), a military theme in "Name on the Stone", dreams and regrets in "Turn Back the Time"… All of them describe different situations one could encounter in his life, and if someone can be imbued with one of the songs, and relate it to his own experience, I think we achieved our goal.
What's next for Red Rose, any tours planned, work on your next album…?
Red Rose – Tour would be a great thing to happen. We didn't plan anything like that yet, but we hope it will be possible in the close future. For now we have a local scene to make a couple of shows, and we think of making an official video to one of the songs from the album. And yes, we are working on the concept and ideas for our next album. Best is yet to come!
If you had the choice to pick your ideal touring partners, who would you pick and why?
Red Rose – Hmm… that's a tough one! Well, I may think of Royal Hunt for instance. They are in the genre, and we love this band. It would really be an honour to join them on a tour! But there are many great bands in fact. So to be an ideal partner, I think we need to like each other's music and perhaps even find friendship with band members… I really don't know. But I hope that if we find touring partners, they will be ideal for us!
Israel hasn't produced many melodic metal bands – how is the scene for bands like Red Rose?
Red Rose – Israeli metal scene is small in general. It is like an underground movement. And if you speak of a specific genre, it is even smaller! So it's pretty tough to gather a decent audience here. But there are many talented bands, and metal music lives in Israel. Hopefully, it will expand in time.
Thank you very much for answering my questions. Do you have any last rants for our readers?
Red Rose – Thank you Kenn for this interview! It was a pleasure answering your questions. And for all the readers – we hope you will enjoy listening to our debut album, and perhaps find it inspiring. Live in full and make your dreams come true!
---