---

The man's a death metal machine. He churns out metal like a cow squirts milk. Sweden's Rogga Johansson has been in a number of bands and has been part of just as many projects, two of these with Massacre front man Kam Lee. Now, Johansson and his death metal crew Paganizer has released 'Into the Catabombs', a solid piece of old school death metal. The Power of Metal.dk's Thomas wants to get some background info.

PoM.dk: Rogga, congratulations on the release of 'Into the Catacombs'! Are you leaning back now to relax a bit and enjoy the result, or are you already on to the next of your many projects?

Rogga: I

'

m not doing much work right now on any other project, so I guess you could say I'm leaning back a bit. We are rehearsing for coming shows with Paganizer and that's pretty much what I'm doing now and for the rest of the year.

PoM.dk: You're part of an impressive list of metal projects. How do you distinguish between them and make sure that they don't sound exactly the same? It must be quite a challenge…unless you're a multiple schizo, of course…

Rogga: If you ask some people there is no difference between most of my projects

,

haha. For me it

'

s different

.

I think

there's

a rather clear difference between many of the things I do, not maybe the actual riffing

,

but most projects also have other members in them who bring their spice to the sound. For instance Demiurg and The Grotesquery could be very similar

,

really, but then you have the main difference that in The Grotesquery you have Kam Lee doing vocals w

h

ich changes the whole sound of the band.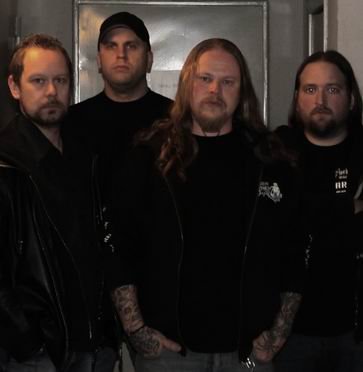 PoM.dk: If I could force you to pick your one favourite band or project out of all those you've been part of, which one would you choose?

Rogga: Thats really hard, as I usually am most happy with the thing I'm working on at the moment. But I could probably say Demiurg is very special to me, just Paganizer in a different way. Those two I think contain the things I'm most proud of. Paganizer is the oldest going band and we've done some albums I totally love, and Demiurg is probably the most extensive project I've done and the last album I think is the best actual album I've done so far.

PoM.dk: Back to Paganizer and 'Into the Catacombs'. Which track is your favourite? I think I've landed on Panzer Truck because it's got that characteristic grinding groove and the almost rocking riff in there as well.

Rogga: I love the opening track Total Lovecraftian Armageddon as I'm very much into crust/death. But I think the best songs on there are Their Skin Suits Me and Panzer Truck. Their Skin Suits Me I feel is one among maybe ten of the best songs I've written, it has that groove and almost classic feeling to it I think, its a very basic and very catchy yet brutal death metal song and I love that about it.

PoM.dk: The artwork by Axel Hermann looks great and very old-school. Did you commission him to do the work or how did this come about?

Rogga: Cyclone Empire, our label, thought that we really needed and deserved something special for this album, so it was their idea to get Axel to do the artwork for us this time. I was very happy about it, we all are and it came out even better than we hoped for. Axel is the most classic guy you can find, really, alongside Seagrave, so needless to say we are very happy to have his art accompanying our music.

PoM.dk: Speaking of old-school: Are you still in contact with Kam Lee and do you have plans for more Bone Gnawer material in the near future?

Rogga: Yes, we talk every week and right now we are working on the next The Grotesquery album, to be released sometime next year. As for Bone Gnawer I dont know, really. I left the band a while ago, and the rest of the guys were to carry on but I don't think that will happen. So perhaps sometime in a year or two there will be a follow up to the debut album, which would be cool to do. I know many people love the debut, so if there's a new one in the future it'll be more of the same stuff for sure.

PoM.dk: It's no secret that you've been part of the music business for many years now, and that you're churning out metal music like few others. Don't you ever get tired of the business and feel like doing something entirely different?

Rogga: I get tired of it, or at least I get tired of my own music. I would love to do something different, but I think I might be a one trick pony actually. Its hard to write anything that doesn't sound like what I usually do, and if I did something else I still would like to do the vocals myself and I cant fuckin' sing for shit...

PoM.dk: Let's say you could put together the dream team of metal musicians. Who would be in the band?

Rogga: The lineup for Demiurg is pretty much a dream team for me, perhaps if I could get Swanö to sing too it'd be even better. haha.

PoM.dk: What are your top five albums right now?

Rogga: Einherjer - Norrön, Puteraeon - The esoteric order, Jungle Rot - Kill on command, Lake of Tears - Illwill, Banished from Inferno - Minotaur

PoM.dk: Thanks a million for answering these questions, Rogga! Any final words for our readers?

Rogga: Thanx for the interview! And the last words would of course be "Listen to the new album!"


---