---
I am sure you are a big unknown to most of our readers – so could you please introduce yourselves?
No Gravity - The project "No Gravity" was born after the split up of my band (Simone Fiorletta) Moonlight Comedy. Doing a quick path of my past, I can say that from 2004 I have released six albums between Moonlight Comedy and my solo works. I played live and studio with Primal Fear, Destruction, Vision Divine and with artists such as David Cross (King Crimson), Richie Kotzen, Neil Zaza and many others.
No Gravity was born almost as a game, after writing an arpeggio with my guitar, then become "Nowadays", I thought to write a Power-Prog work. Then tried to involve the most famous Italian singers, but there is also a big German guest. So in the album "Worlds In Collision" we have Michele Luppi (Killing Touch, Mr. Pig, Thaurorod), Andy Kuntz (Vanden Plas), Fabio Lione (Rhapsody Of Fire, Vision Divine), Roberto Tiranti (Labyrinth), Mark Basile (DGM) and Emiliano Germani (Moonlight Comedy).
"Worlds in Collision" is your debut album – what can metal fans expect from it?
No Gravity – Yes, it is our debut album but all musicians involved are professionals. Metal fans can expect a hard Power-Prog, full of grit, melody, virtuosity ... well everything you can find in an album of this kind. On myspace page www.myspace.com/nogravityprog you can listen to a medley of the entire album and the single "I'm Bleeding".
How happy are you with the final result and what kind of expectations do you have for it?
No Gravity – The final result satisfies so much me, and I hope satisfies who will listen to it. Having produced an album with artists that I personally think very highly was a great goal for me; besides all singers involved were fully satisfied by the compositions and for me it is a stimulus to continue in this direction.
Over the time I learned to not expect anything and welcome with open arms all that a work can bear.
If you had to pick one song off the album that represent the essence of No Gravity, which one would you pick and why? Personally I would probably pick; "Can't Dream anymore".
No Gravity – It is a question which is very difficult to answer for me. I'm the only composer of this album and each song means something important for me all embellished by singer present in the song. Maybe I can tell you that by a technical point of view all songs contain the No Gravity essence but, by an emotional point of view, the ballad "I'm Bleeding" has a little something more. After all, as all the par excellence ballad, it manages to get straight to the listener's feelings.
The only non-Italian vocalist is Andy Kuntz, while the rest is the cream of the crop in Italian power metal. Was it hard to get everyone involved?
No Gravity – Absolutely not. Over time I managed to meet them personally almost all singers who later took part in the project and it was only in a simple e-mail that I explained my intent. After few days I received the consent of all the singers accompanied by their enthusiasm for this work; anyway this is a particular album created to make real the participation of all these artists together.
The more difficult thing was to manage it all in a period where each of them was on stage with their own band to promote their new album.
Each vocalist has written their own lyric and melody lines and they did their own recording. Did that change the final result in any way – for better or worse – compared to the idea you had before you started to put the pieces together? Who and what has inspired you, musically?
No Gravity – I decided to give singers all their working space to write lyrics, melodic lines and to let express themselves without stakes that could restrict their creativity. For the artistic point of view I knew these singers from years and I was sure to be satisfied by their actions.
In the matter of the music I dealt personally both the writing and recording; mixing and mastering took place in my "S.F. Studio", so if there are bands who want to mix their works in my studio can contact me at simone.fiorletta@gmail.com.
I draw the inspiration to compose my music by all that surrounds me, by my life, my experiences...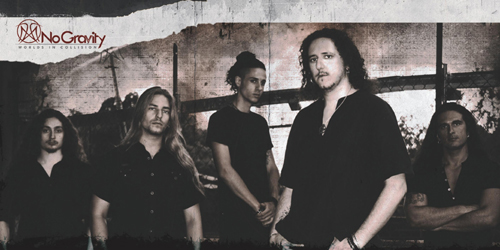 Any story worth telling behind your name?
No Gravity – Well, there isn't a real history regard that. Simply we considered some ideas and chose what we satisfied more.
Is No Gravity a one-off project or a band and what will become of Moonlight Comedy now?
No Gravity – It's a project, a band that I want expand reconfirming the singers who participated in "Worlds In Collision" and also trying to include others.
Moonlight Comedy decided that maybe this was the time to carry on so everyone has gone their own way. It was a natural decision that has not weakened the friendship among us and maybe it's possible that someday we'll return to play together, but certainly this isn't the suitable time.
With so many vocalists involved what are the chances you will go on tour to support the album?
No Gravity – Well, I think that if this should be a problem, you can also choose a singer disposed to sing the entire album on tour. But the difficulties are finding someone disposed to organize a good tour, thing that today has become a rarity. If someone was interested to organize live shows, can contact me on nogravityprog@gmail.com.
What does the words progressive power metal mean to you?
No Gravity – I don't know well how I can describe it by words, I try to express it in my music.
Thank you very much for answering my questions. Do you have any last rants for our readers?
No Gravity – Thanks to you for the wonderful review. I'd be glad to present you the rest of the line-up and the endorsements who support us.
Davide Perruzza with me on the guitars, Andrea De Paoli (Labyrinth) on the keyboards, Andrea Casali on the bass guitar and Marco Aiello on the drums. And sure enough thank you to ESP Guitars e Backline (www.espguitars.com / www.backline.it), Brunetti Amps (www.brunetti.it), InTune Guitar Pics (www.intunegp.com) and the FT Elettronica (www.myspace.com/ftelettronica fine handmade pedals).
Now I want say good-bye to all the readers and… listen to the album!!!
---