---
November 11th 2009, a date you probably remember. I'm sure you have already been asked about what happened many times and are perhaps sick and tired to tell again, but I'm going to ask it anyway. Why did 3 members leave the band?

The band had been Falling apart for some time, we expected different things from the business and we just weren't on the same page anymore. Mikkel was about to become a father again and Morten was busy with Pretty Maids. Mike left to play with Hatesphere. So this was the only logic decision to ensure a future for Mercenary.

Please can you tell us who the new band members are and in what bands they performed before joining Mercenary? Was it easy to find them?

Well we only have one new member really, I am not a new member anymore having been in the band for 5 years. Morten has been playing drums for a lot of bands Submisson, Arcane Order, been a session drummer for Soilwork. I have know Morten for quite some years from the scene in Denmark so he was pretty easy to find.

Wasn't it a problem to go further under the flag of Mercenary? Is Jakob Molbjerg the owner of the name Mercenary?

No, not really, we have been wanting to turn the page for some time, and a band has to evolve this is just a new evolution of Mercenary! And we have never been stronger internally in the band! We have reconnected to the essence of making music! LOVE for the material and love for the process of being a band.

As for the name, it belongs to the band, and not one single person, if Jakob was to leave the band tomorrow, the name would stay with Martin, Morten and I.

The title of the new album 'Metamorphosis' has to do everything with the changes in the band?

Well, guess it pretty obvious that we are trying to make the statement that we are not the same Mercenary anymore, things have changed, of course! No band can loose 3 members without the sound of the band changing in some way, but Mercenary's sound has always changed from album to album. So in that way this album is really no different from the others.

Rene Pedersen takes care of all the vocals, clean harsh and grunting ones, or are some vocals done by other band members?

All vocals are done by me yes, the other guys stick to playing he he, although Martin does some backing vocals live.

The music has more modern metal (American) influences, do you agree with that?

We have definitely taken the sound in a more modern direction, as for the American influences I can only assume you are referring to the vocals. Guess it has something to do with my love for Rock, and especially American based rock. But yeah, can see what you mean.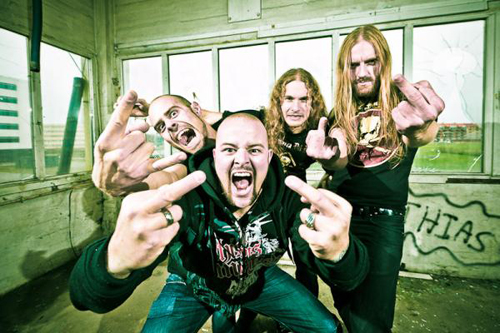 Personally I think that '11 Dreams' is still your best album and I'm not the only one I think. Is it difficult for a band to compete with your earlier releases and trying to top them? Or are you just writing new songs and never feel that pressure?

I don't see it as a competition in any way. 11 dreams is a very different album compared to "Metamorphosis" and if you discover a band on an album, I guess that album will always be something special for you. I feel no pressure of having to live up to anything from the past. We are who we are, and we write the music we write. And the rest is up to the fans.
Can you tell us something about the lyrics? They seem to be rather personal, is that correct?

They are very personal and every song is written with pure unfiltered emotion as they should be. I deal with a lot of personal issues by writing, it is the best therapy for me.

Are there already plans for going on tour or playing Summer festivals on the European continent?

We have the Power of Metal tour kicking off on the 25th of February, besides that a lot of summer festivals are dropping in, so there will be plenty of opportunities to see us live in 2011.

If you had to choose one song on the new album that would express the best what Mercenary is all about, which one would you choose and why this one?

In A River Of Madness is for me the one song from the album that shows the best from the new and the old band, it has a lot of the same elements as the sound had on 11 Dreams, but still brings so much new to the table.

Anything else you want to share with our readers?

Just want to extend my deepest gratitude to all thee loyal supporters out there. Thanks for standing by the band and for making this album possible! THE BLACK BRIGADE forever!

Good luck and thanks for answering the questions.
Reinier de Vries

Thank you, and cheers!
René-Mercenary

---