---
Mythological Cold Towers from Brazil has just unleashed one of the best doom metal albums The Power of Metal.dk's Thomas has listened to in a long, long time. "Immemorial" is a beast of an album, nothing less! Thomas sent a few questions across the big ocean to guitarist Shammash in order learn more about what makes the band tick.

Hi, are all things well in Sao Paolo?
Shammash: It's all right, thanks. We are pleased to release another majestic work and proud to know that the album had had a great response!

I've never heard about you before 'Immemorial' landed in my mailbox, yet MCT existed since the mid-nineties. Did you never concentrate on opening the European market before or is it just me who's too slow?!
Shammash: As incredible as it seems, you're not the only person who says it. There are several reasons that make a band just a cult in lost and unknown confines of the underground. Brazil is a country far away and distribution is slow here too. We released our previous albums by labels which fucused their work in Brazil, so our distribution in Europe was little and we weren't known by people who appreciate the kind of music we do. Now, with Cyclone Empire everything is going well, they have done a great job spreading our music and many people are amazed to know us.

If someone says Brazil and Sao Paolo to me, I immediately think 'Sepultura'. Did the Seps influence and inspire you and other bands in your city. I picture them to be like the big brothers of all metal musicians in the city...
Shammash: Sepultura is from Belo Horizonte but they have been living here for approximately 20 years. There were other bands before them, but that didn't have a worldwide recognition as them. We were never inspired by their music because our proposal is quite different, but undoubetly they were the band that introduce the Brazilian metal to the world.

Which bands influenced you to play the kind of metal you play when you started playing music?
Shammash: We always prefer a morbid, slow, macabre and eerie metal. The bands that inspired us were Celtic Frost, Candlemass, Paradise Lost (early), Cathedral (debut album), My Dying Bride, and so on. We started playing at the end of 80's in bands of death / black metal. In those days, the Brazilian scene was extremely strong but unfortunately it didn't expand to other continents.
I'm really curious as to what the meaning behind your band is!? Is it taken from somewhere particular?
Shammash: The name reflects our admiration for lost and forgotten civilizations and inspires us to worship the mysteries of the ruins, buildings, inscriptions left by those people. It is through the sagas of the immemorial races that our music becomes cold and bleak.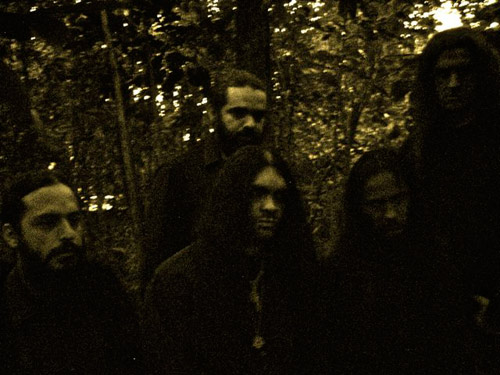 As I've already mentioned in the intro, I'm a big fan of 'Immemorial'. What were the inspirational sources for the album - in terms of music and lyrical themes?
Shammash: Musically, Immemorial has influences of the old Doom / Death of the 90's mixed with darker and epic elements that make the Mythological Cold Towers, a band different from others. The lyrical themes portray legends and myths of ancient cities lost in the Amazon coveted by several researchers and explorers who some of them disappeared attempting to find them.
One of the things I like about the album is that the voice is brutal and dark rather than the high-pitched approach some doom metal vocalists have. How come you've decided to do it in this fashion?
Shammash: The vocals are typical of Doom Metal bands of the 90s. However, Samej mixes guttural with declamations to create textures which are almost like a movie narratives.

Who writes the music in band? Is it an all-band effort?
Shammash: All riffs are composed by guitarist Nechron, so we join us to arrange the songs and create new harmonies and melodies.

Who did the cover artwork for the album and what's story behind it? It's really dark and gloomy!
Shammash: The cover picture is the cover of a book called 'Apapaatai: rituais de m¡scáras no Alto Xingu' written by a Brazilian anthropologist called Dr Aristóles Barcelos Neto. He allowed us to use his picture and after that the art was developted by Carlos Martins who also worked with us in our second and third album. The image represents a mysterious indigenous ritual deep in the Amazonian forests and reflects exactly the lyrical theme of Immemorial.
Are there any tour plans in the wake of the release of the album?
Shammash: Yes, our drummer Hamon has been living in Europe and contacting organizers for possible shows in Europe. We have been waiting for a very long time. We hope to have the opportunity soon to meet all those who appreciate our music.
What are your five all-time favourite albums (I know, not a fair question, but that's how I am)?
Shammash: There are several albums that have marked our lives, but I will mention five with no specific order:
DECORIAH - Wisdom Floats
RAS ALGETHI - Oneiricon - The White Hypnotic
THERGOTHON - Stream from the Heavens
MY DYING BRIDE: Symphonaire Infernus et Spera Empyrium
MASTER'S HAMMER - The Jilemnice Occultist
Thanks a lot for answering my questions, Shammash! Any last remarks for our readers?
Shammash: We appreciate the opportunity to answer your questions. Readers who have not had a chance to hear our music, check out Immemorial and know the sagas of ancient race of warriors who dominated the shady forests of South America!
---