---
Congratulations with your last album 'Safe', why did you name it this way?
Lars Larsen: The name of the album is a play with words. I wrote all the lyrics myself this time, and there have been a lot of personal stuff rolling in, during the time it took us to write this one. I have become father to a little girl amongst others. Her name is Sara, and my wife's name is Federica...I guess you can see the connection from this info.
This is your seventh album, still I have the idea that there has not been a big break-through yet for the band, what is your opinion about that?
Lars: I guess you're right about that. It's very frustrating to constantly be named the most underrated metal band out there, but I have no idea what to do about it. We have been on 6 European tours and 1 US tour, without getting the recognition. Either we suck horribly live (which I know we don't, given the fantastic reviews, when we play live), or else, we just don't know the right people. It funny, coz, I spoke to the A&R at Century Media, when we shopped the new album, an he told me that he personally like the band, and has been following our progress during the years – but still, the label couldn't sign us, since we didn't break into the higher league of bands. It's really a paradox...I mean, if a big label is not signing you, the chance of breaking through is minimal, and the situation thereby bites its own tail. Frustrating, yepp!
I still find '8 Deadly Sins' your best record so far, what do you think is the best you released?
Lars: My favourite is still "Hyperion", if we talk about the music, and the compositions. I feel that we simply clicked totally on that album. I also have to say that the production of the 2 "Circus" albums is the best we have done. We had way more time to get these 2 albums done, than on any of the other albums, and it shows that we have a lot more details in the music on those 2 releases. You can keep on listening to them, and find new layers of interesting stuff all the time. Also visually, the booklets are really cool to look at.
You have a very recognizable voice, it is not bad, but I still can't get used to it. Is it just me and am I too picky, or have you heard this more often?
Lars: You are too picky.....! hahahaha. Nah, I have heard that a million times before. I guess I am one of those singers with a very distinct voice, where you either love it or hate it. Same with King Diamond, Erik AK, Hansi Kürsch, Chris Boltendahl, Andi Derris, etc etc. All of them have special voices that you might not like, but they fit the music of their respective bands. I think I fit perfectly into Manticora with my mellow style of singing. You should come and watch one of our live performances. That might change your mind. I actually sing live, as I do on the album, unlike so many others, who can't sing 50% of what they do in the studio.
What makes 'Safe' different from the both 'The Black Circus' albums?
Lars: The rawness and more simple attitude towards the writing and composition of the songs. And also the fact that this one is recorded with 7string guitars, making it a musically much darker album than the Circus albums. Last, but not least, Safe is not a concept album!
Do you still use the same writing process as on the earlier albums, or did you change things by learning on the job?
Lars: We changed things this time around, in that we didn't write a concept album. This time, we went back to the way we wrote music, when we created the first 2 albums. We did the songs, and threw in the lyrics afterwards. I also didn't really contribute in the music-making, but concentrated on the lyrics this time. I think I only wrote 2 riffs on this album, so it's a lot different, in the writing process, than it has been for the last 8 years. I have to say that I like to make concept albums much better than just making normal albums. It kind of makes it much harder, but also more challenging to make a concept disc.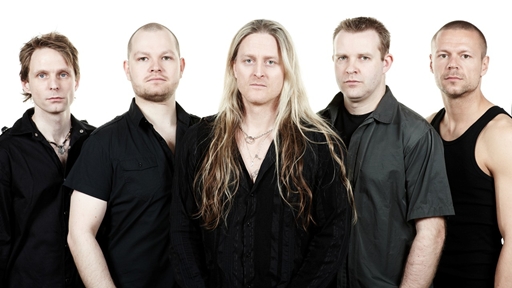 The album has been out for over 2 months now, how are the reactions of the fans and is it selling the way you expected?
Lars: As always, the fans love the music, and most of the reviews are overwhelmingly positive (several 5/5, 6/6 and 10/10 reviews!!!), so I can't complain about that. I have no idea about sales yet. We won't know that until sometime in the new year.
What's the story behind 'Dead End Solution'? You give it away as a download?
Lars: Well, it was meant as a promotion album when we did it back in 1997 - made for the record labels to sign us. It was then split up, and used as bonus tracks on the re-release of our first 3 albums, when Massacre decided to re-release those. Unfortunately, Massacre also decided to end the cooperation, and then destroy the remaining stock, instead of selling the albums cheap to us...meaning that these 5 songs were still unavailable for people. We then came to the conclusion that we wanted to give the songs for free, so we were free of the problem, with people, who couldn't get a hold of the songs. After all, they don't hold the same quality as the material we have made on any of our albums.
Any touring plans already?
Lars: We went out on 2½ weeks European headliner tour in October, so right now; there are no more plans on touring. Maybe in the fall of 2011.
What can we expect from Manticora in 2011?
Lars: Not much really. We of course hope that we can play a lot of summer festivals, but we re going to lay low for a while, since the last 4 years have been a constant tour/recording/writing music stress. It is leaving its mark, so 2011 will be spent with our families, to gather strength for the coming years (we'll of course slowly begin writing new material).
Which band(s) are going to make it in 2011 do you think?
Lars: Impossible to tell in this awkward and unpredictable business. Sorry.
If you had to name the best 3 power metal albums ever made, which ones would you choose (you are not allowed to pick Manticora albums hehehe).
Lars:
Blind Guardian: Nightfall In Middle-Earth
Gamma Ray: Land of the Free
Rhapsody: Power of the Dragon flame
Any wishes for 2011?
Lars: To sell 1 million albums, and to play at Wacken, Sweden Rock and Roskilde Festivals… :-)
Thanks for answering the questions and have a nice and healthy 2011!
Lars: Thanks for your interest in the band.
---