---
You've been in the business for so long, do you still have high hopes for each album or do you take a more laid back approach to thing now?
Magnum - Overtime you do an alb, you always have high hopes for it, you obviously work to your maximum to make it the best album you have ever done.
How does the final result compare to the idea you had going into the studio?
Magnum - The final result always differs to what you had in your head. It's a case of the song develops as you record it.
"The Last Frontier" could be the sequel to "All England's Eyes", is there any connection between the two?
Magnum - None at all.
I think the sound on this album more back to basic than "Into the Valley of the Moonking", without sacrificing any of the classic Magnum trademarks or signatures. Was that a deliberate decision, and if so, why?
Magnum - We never go into the studio with any plans set in stone. things develop on there own but in a very natural way.
Where do you see the biggest difference between this album and "Into the Valley of the Moonking"?
Magnum - There is a slightly darker edge to The Visitation compared to the Moonking.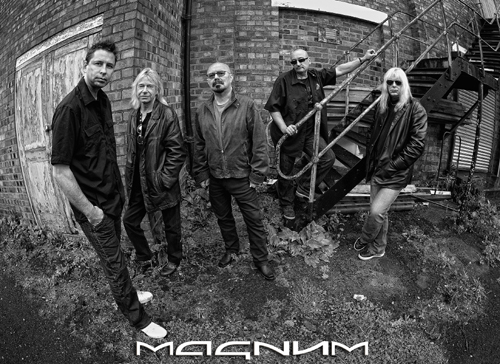 Recording, touring, recording, touring... but what else is a part of your life, spare time?
Magnum - Even in my spare time I find that I will still do some writing in some way musically & for relaxation I like to walk with my dogs.
Which album do you hold close to your heart and why? (I would pick "On a Storyteller's Night", "Vigilante" and "Brand New Morning").
Magnum - Brand New Morning, Princess Alice, Moonking and The Visitation are my favourite Magnum albums.
What does the words hard rock mean to you?
Magnum - It means different things to different people, to me hard rock is AC/DC. Magnum is what I consider to be a melodic rock band.
You will be heading out on the road from early March - what can the audience expect?
Magnum - We have a really good strong set to play. Something for everyone I feel in this set. We will play some of the new album and many from most of the magnum albums from the past. A very exciting set list. I think it will go down very well.
Thank you very much for answering my questions. Do you have any last rants for our readers?
Magnum - We hope you really enjoy the new album as much as we have recording it. We hope to see many of you on tour.
Cheers Tony.
---