---
Debut album out, tell us – what kind of feelings do that bring up in you?
Love.Might.Kill (Michael Ehré) – First of all we're all very proud of that album, because we worked very hard to get the best result possible! I've played on a lot of records the last ten years, but "Brace for impact" is very special as it's my first real "own" album since the "Murder One"-debut. Though this is a debut-album it combines all the experiences we made during our musical career. We knew very clear what we want and what we don't want.
If you had to pick one song off the album that represent the essence of Love.Might.Kill, which one would you pick and why?
Love.Might.Kill – I guess my choice would be "Tomorrow never comes", the opening track of the album. It combines all the trademarks we´re aiming for: heavy-guitar-riffing combined with melodic vocals and groovy-metal-drumming. Besides that this song has a good dynamic.
"Brace for Impact" is your debut album, does the final result live up to the ideas and expectations you had going into the studio?
Love.Might.Kill – When I started to work on that album I didn't have any expectations to be honest. This is at least three years ago. And it all started with the idea of working on tracks that I couldn't use for the bands I was involved at that time. For certain reasons I thought the tracks were too strong for not working on them. But I didn't expect them to be that strong!
If you had to state one emotion to describe Love.Might.Kill, which one would it be and why…?
Love.Might.Kill – I think to describe Love.Might.Kill with only one emotion it seems not enough to me as our music is powerful, melodic, groovy and everything with a certain dynamic. I think that would be the best way to describe it. For me personal this album is something special as I've put a lot of energy and work in it. I mean I love all the albums I've played on but this is really a different thing.
Tell us a bit about the artwork – who made it etc.?
Love.Might.Kill – The artwork was made by a friend of mine Nikolas Fritz. He is not only a very talented artworker he is as well the drummer from Mob Rules. This band is also very special to me as I've played with them a couple of times. I know them for almost 20 years now and we're always helping each other. This is how it should be in the business.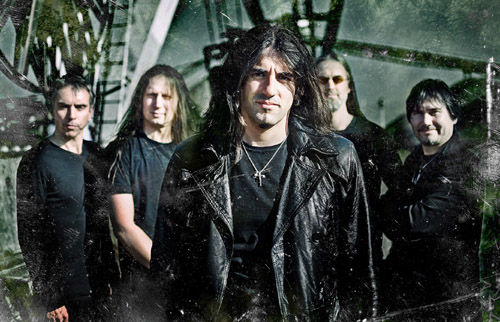 Who and what has inspired you musically?
Love.Might.Kill – I started when I was a kid with bands like Rainbow, Deep Purple, Whitesnake or AC/DC. Later I also liked the more metal stuff like f.e. Accept or Judas Priest. These bands are still my favourites and I'm pretty sure that after almost 30 years listening to that bands this will never end, hahaha...There was also a band back in the late 80ies/early 90ies that changed my life. This band was called "Crossroads" and I saw them in a little club with maybe 20 people in the audience. They were so powerful and authentic that I was really impressed. The funny thing is that the guitar-players from that band are in Love.Might.Kill now! So for me it's like a dream come true, hahaha....
Could you give a brief introduction to the lyrically ideas behind "Brace for Impact"?
Love.Might.Kill – Each song has its own story. It's not like one story that continues from the first to the last song. Most of the lyrics are very dark. "Will love remain" f.e. is about the mankind destroying themselves by killing our planet step by step. If we don't change the way we're living we're lost in my opinion. Not now and maybe not tomorrow but the final day will come. A few days ago I've read in a review that our lyrics are too cheesy. That showed me that the guy who wrote the review didn't listened to them carefully. He only read the names of the songs but they lead you in the wrong direction.
How did you end up with a name like Love.Might.Kill, any interesting stories to tell?
Love.Might.Kill – It's really hard nowadays to find a name for a band...we had some ideas but ended up with Love.Might.Kill as I like the two different views on the words. On the one hand you have the three words standing on their own and representing in a way our society these days as it's all about love, might and kill (if you see "kill" as a synonym for war). On the other hand you have the short sentence "love might kill" which fits perfectly to some of our lyrics as they deal with some sick stories about people killing for love. Besides all that I don't know any other band with that name.
If you had the chance to pick your touring partners, who would it be and why?
Love.Might.Kill – I'd love to tour with bands like Whitesnake or Accept. I think that would fit perfectly as we have some of their trademarks included in our music.
What's next for you, any tours planned, work on your next album…?
Love.Might.Kill – I personally will play a lot of festival-shows in summer with Firewind and Uli Jon Roth. In September/October I'm on tour with Firewind in Europe and the USA. With Love.Might.Kill we will play our first shows in June and we're planning to do more shows in December. There's also the plan to do the last Metalium record this year. But as we are all very busy it's not so easy...
What does the words melodic metal mean to you?
Love.Might.Kill – Melodic Metal is that kind of music that I like the most. It combines the heaviness with melodies and that's what it's all about to me!
Thank you very much for answering my questions. Do you have any last rants for our readers?
Love.Might.Kill – Thanks for your support and I hope to see you on tour soon ;-)
---