For people who know Norway only through postcards showing beautiful landscapes, oil production and black metal, can you introduce you and the Norwegian progressive metal scene?
Tor Oddmund - Leprous is a band that has been around for ten years now. We've previously recorded one EP, "Silent Waters" (2004), and two LPs, "Aeolia" (2006) and "Tall Poppy Syndrome" (2009). We're currently available with our new album "Bilateral", which is released by InsideOut Music / Century Media. Apart from performing as Leprous, we're also hired as the backing band of Ihsahn, known from the legendary black metal band Emperor. In Norway we share the progressive metal scene with traditional "prog power" bands such as Pagan's Mind and Circus Maximus, as well as the more experimental progressive acts like Shining and Ihsahn. We don't like to be labeled in one specific genre though, since we try to look beyond the borders so we can feel free to mix in whatever we feel like in our music.
What are the steps forward from "Tall Poppy Syndrome" to "Bilateral"?
Tor Oddmund - We didn't have any special plans before making the songs for Bilateral in terms of how we were to evolve from Tall Poppy Syndrome. Looking back though, I guess you can say that Bilateral is more complex, but at the same time more catchy and well thought out. There are more obvious differences from song to song, but at the same time I still think we manage to give it all a common sound.
The feeling I have when I listen to "Bilateral" is that each song shows a different facet of progressive metal in 2011, with its past and present inspirations and various influences, mixed with a nice creativity. Any comment?
Tor Oddmund - Well, as I said we try to look beyond the traditional forms and compositional rules laid out by specific narrow branches of the progressive genres, so if our music gives you the feeling you're saying then I guess we've managed to do just that.
What have you been listening to from your iTunes scrolling this week?
Tor Oddmund - Hmmm, let's see if I remember. I think I tried out some old Maiden, which I actually haven't listened to in maybe 6-7 years. I also listened to the most recent Radiohead album, and then Vegard (Ihsahn) showed me some things I don't recall the name of at the plane home from Bloodstock Open Air.
I would be so happy to have Ihsahn as neighbor! Can you tell us about your collaboration with Mister Vegard Sverre Tveitan on "Thorn"?
Tor Oddmund - First of all we've known him for a long time, and he and his wife Heidi (Star of Ash) have been a big help to us since we started out as a youth band in 2001. This last collaboration we did with Thorn was actually a result of some experimenting in the studio, which was more or less a coincidence since he was already the technician in the studio. When we were adding the vocals we didn't feel that we got the right feel to that distinct part, and when he offered to try out we tried it out. We were all really satisfied with the addition he made to that part in the song, and we didn't actually realize that it was kind of cool that we suddenly were sitting with a "feat Ihsahn" in our hands until some time afterwards. We didn't give him any boundaries when he recorded his vocals, so he was free to fit the lyrics to the music, and that gave it the special Ihsahn touch.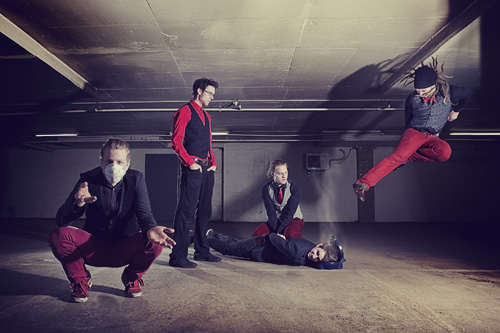 What about the work of Jens Bogren, who is now becoming a big name in the music production?
Tor Oddmund - All I can say is that we're really satisfied with his work on the material he was sent. We were initially pleased with the raw material, but he really gave it an extra shove in the right direction. He was also easy to work with, so if we wanted to make some alterations, he followed our wishes. Hopefully we can continue our cooperation with him at another time.
Can a progressive metal band make a living of music in 2011?
Tor Oddmund - I guess if you're Dream Theater it's possible, but talking for Leprous it's a completely different situation, he he. So far we're still on the wrong side of the economical scale, but that's something all bands have to keep up with for a long time before it's possible to make a living out of it. In Leprous we don't consider the financial aspect to be our goal. First of all, we really love to be able to make music that people actually get inspired by, and to be able to get to the point where people actually gets acquainted to our music we need to be stubborn, and not let petty issues or insecurity get in our way. Confidence and stubbornness is what gets you anywhere. You shouldn't count on luck to get you anywhere. ;)
I have just bought my ticket for Southern Discomfort Festival in Kristiansand and I will have the pleasure to see you live for the first time. What can I expect?
Tor Oddmund - You can expect a band that gives their best effort to present their music in the most honest way they can manage. We have no intention of trying to play a perfect copy of the recorded version of our songs, since that probably would mean we had so sit down with footstools and reading lights. We consider it as an important element of a live show that the audience should get a different experience than sitting at home and listening to the record, and that means we have to find the correct balance between sitting still and playing perfect, or going crazy while playing like crap. Energy and enthusiasm are keywords.
Since you're mentioning it though, I would highly recommend you checking in at our release concert September14th at BLÅ in Oslo. There we'll present an exclusive show, playing "Bilateral" in its whole, and maybe we'll throw in a couple of guest musicians as well ;)
I am asking now the Norwegian citizens you are: as Prime Minister Stoltenberg said, do you think there is going to be one Norway before and one Norway after July 22.?
Tor Oddmund - I agree on this, but it's important to follow up with an explanation to this statement. The goal of the attacks was to change the Norwegian society further to the political "right", leading to more xenophobia and less inclusion of different cultures. The natural reaction to such a reprehensible action would be to hate the people that shares the thought of the attacker, which would damage our democracy and the freedom to speak our minds. The change we need though, is a strengthening of our democracy, since this would first of all lead to a more tolerable society where people are allowed to have different opinions, and in this way the terrorist will never win.
A final word or comment to close this interview?
Tor Oddmund - Thank you for the interview, and I hope to see as many of you as possible on one or more of our upcoming and future gigs.