---
I am sure you are a big unknown to most of our readers – so could you please start by introducing you?
Jolly - We are a 4 piece alternative rock band from New York City made up of Anadale (Vocals/Guitar), Joe Reilly (Keyboard) Louis Abramson (Drums) and myself Anthony Rondinone (Bass). We incorporate a lot of different styles and sounds in our music because of our wide range of taste, we enjoy heavy riffs as much as soft atmospheric melodic parts, one is just as important as the other.
"The Audio Guide to Happiness, Part 1" is your second album, what sets it apart from your debut album "Forty Six Minutes Twelve Seconds of Music". Personally I think your style and sound have been much better defined and the album has a much better overall sound?
Jolly - Don't get me wrong, the first album was amazing, but I think there's been a lot of growth since then. We wrote The Audio Guide intentionally more dynamic then the first album, so there are much more styles and sounds on it. The heavier riffs are heavier, the melodies are more infectious, and the atmospheric parts are… more atmospheric. I'd like to think my sound has added a bit to the JOLLY sound overall, but I think in general we've all grown as musicians in our own right and as a band collectively.
If you had to pick one song off the album that represent the essence of Jolly anno 2011, which one would you pick and why? Personally I would probably pick; "Joy"?
Jolly - I think that's a good one, but in my opinion it would have to be The Pattern or Where everything's perfect. These songs just have the dynamics that JOLLY is all about, the various sounds, styles, highs and lows, heavy, groovy, melodic, catchy, dark, happy, a little bit of everything and it all flows naturally.
How happy are you with the final result?
Jolly - You should see the smile on my face!
If you had the choice to pick your producer (free of charge), who would you pick and why (Steven Wilson maybe)?
Jolly - Honestly, and I'm not only saying this because I'm going to see him tomorrow, but I would say I would still want Louis Abramson (Our current producer)… Our sound and style is very thick and complex, there's a lot that goes into the production of a JOLLY album. When you really listen to our music closely, there is a very intimate relationship between all of the instruments and layers of sounds, I think it would be hard for someone else to know that relationships which makes up the JOLLY sound. He's grown from the first album to The Audio Guide and god only knows how much better he will get for the next album. I know I'm excited for the future.
Your music is very emotional - but if you had to state one emotion to describe Jolly, which one would it be and why… joy perhaps?
Jolly - I would say it's constructively melancholy. It's not melancholy in a self loathing way, it's more about using your feelings of sadness or loss in a constructive way, as a healing process to move through these feelings, which I guess in the end would be a joyous or happy thing. This is just personally what I put into it and get out of it, I can't speak for every one. That's the beauty of this album, everyone can take different emotions out of it, what ever helps the listener. This also is just the emotion I think we have now, who knows what the future holds as we evolve.
Who and what has inspired you musically, I even hear bit and pieces of Saigon Kick in your music?
Jolly - Oh I remember Saigon Kick, that was for Sega Genesis right? Enough about video games, musically we are inspired by tons of genres and bands. To name a few Pink Floyd, Radiohead, Madonna, Tears for Fears, Tool, Mike Patton, Depeche Mode, Michael Jackson, Tito Jackson, the circus, video games, Messhugah, Sade, Jazz, Dance, R&B, Incubus, DMX, Smashing Pumpkins, Korn, Stone Temple Pilots, Metallica, Dream Theater, Type O Negative, Devin Townsend, Black Sabbath, Tim Burton, Joe Satriani, Dave Mathews Band, Strapping Young Lad, Alice in Chains, Nirvana, that's a few of them...
Actually I meant Saigon Kick, the Florida band that released 5 albums between 1991 and 1999.
Could you give a brief introduction to the lyrically concept for "The Audio Guide to Happiness, Part 1" (and Part 2)?
Jolly - Well I don't really like to give away lyric meanings or give my interpretation of lyrics before the audience gets a chance to form their own opinion. This album forces the listener to look inside themselves so I would only be hurting the process if I planted seeds of what I thought the lyrics mean, they could be different for everyone. I can say though, we write based on raw human emotion for the most part so that's the thread that runs through these songs.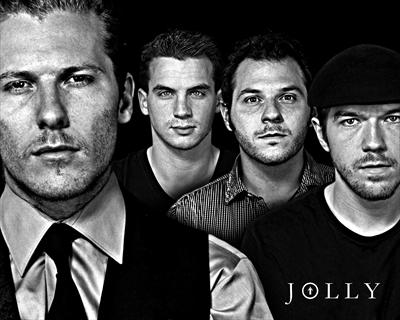 This is Part 1, when will Part 2 follow?
JOLLY - Most likely sometime after part 1.
Will you pick up where you left us musically as well as lyrically on the second part?
Jolly - Yes, part II is the rest of the Audio Guide, it is one complete thought. It will be the second half of the process you've started in part I.
Why a double album at this stage of your career?
Jolly - Why not?
You toured Europe with Riverside - what kind of impressions did you take with you back home to the US?
Jolly - We learned that the European audiences is amazing and we can not wait to go back. They really welcomed us, for a lot of them it was the first time seeing or hearing us and we just got such a great response. We had the pleasure to talk to some people after the show when they were buying CDs; to hear feed back from them was such an incredible feeling. They seem to be into finding new and fresh music over there. We also learned how lucky we are that most of them speak English!
What's next for Jolly, any touring plans now or is it back in the studio…?
Jolly - We are currently planning US dates to promote the new album, this will most likely be mid to late Summer. Also we're looking at opportunities in Europe for the Fall. We will keep everyone updated. We will post shows at Jollyband.com as soon as they are booked. Stay tuned!
Your first album was released on Galileo Records/ProgRock Records, while your new album is release by the highly acclaimed prog label InsideOut Music – how did you hook up with them and how important do you feel it is to have a respected label backing you?
Jolly - Well our manager Rob Palmen got us in contact with InsideOut, we sent them a few demo songs from The Audio Guide and they were really impressed. We met with Thomas Waber from InsideOut when we were on tour in Europe with Riverside and had a very promising conversation about JOLLY's future with this label. It always helps when you are semi un-known and you have a respected name in the industry like InsideOut pretty much saying, you should check these guys out we believe in them. People take that pretty seriously because they are a trusted label, i mean...they have Devin Townsend for god sakes! So to have a label like InsideOut believing in us means a lot.
"Headphones Required" (fans will know!) – What about fans that don't have headphones?
Jolly - Well they can go fuck themselves! haha, no you obviously can still enjoy the album, the only thing that changes is that you do not get the effects of the binaural tones without head phones, that is just how they work.
What does the words prog rock mean to you?
JOLLY - To me Prog rock means 30 minute solos inside of a 20 minute epic song about Space dragons flying through time. Don't get me wrong, there's a lot of good prog rock out there, it's just become a term that has a specific sound to it in my opinion. I think saying that the rock that we play is progressive, in the true sense of the word, in the fact that we're taking rock to a new level and pushing it forward would be a better way to describe our sound as opposed to saying we are prog rock...
Thank you very much for answering my questions. Do you have any last rants for our readers?
Jolly - I want to thank you guys for checking us out, we love to hear feed back about what we're doing and how this album is effecting people out there. Come to our Facebook page and let us know! We're always checking it and love hearing and talk to you guys! Thanks again!
---