---
Debut album out, tell us – what kind of feelings do that bring up in you?
Holy Force – Hello, Powerofmetal.dk & everybody. It's really wonderful that we could finish this album and release it in Europe, U.S. & Japan, it's really an amazing time for us.
If you had to pick one song off the album that represent the essence of Holy Force, which one would you pick and why? Personally I would pick the title track and album opener…
Holy Force – Yes, the title track has a very special meaning to me, but personally my favorite track on this album is "Emperor", in this song the biggest thing is Mark's amazing voice, Mike & Rhino's amazing skills and the lyrics are also important to me.
"Holy Force" is your debut album, does the final result live up to the ideas and expectations you had going into the studio?
Holy Force – Yes, we've tried our best to do this album, and it is really great we could finish it as we wanted, one important choice was our talented engineer (Anssi Kippo). He really helped out a lot on this album.
If you had to state one emotion to describe Holy Force, which one would it be and why…?
Holy Force – About Holy Force, I just try to tell the people what happened to me and what I think about it. Holy Force should be a band not just bring the music to the people, but also bring life's power and strong spirits.
Holy Force is sort of a super group, how did you join forces?
Holy Force - Holy Force members all have their own bands. It's a very long story about all the steps of this band history, but I can tell you that all my band members are all very nice people, and this is the biggest reason that this album got done, their input and dedication.
Tell us a bit about the artwork – who made it etc. and how important do you feel it is to have a cool artwork?
Holy Force –I told our designer (Alex Yarborough), that I wanted him to include a warrior, a dragon and a phoenix, and he came up with this cover. He also heard all the songs for inspiration. He took my background into consideration as well with the eastern-influenced details.
Who and what has inspired you musically?
Holy Force – Life, troubles, problems, poor and hard moments. Partners, love, believing and surviving.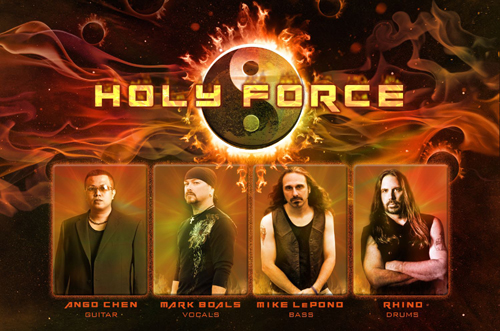 Could you give a brief introduction to the lyrically ideas behind "Holy Force"?
Holy Force – I wrote all my songs during a very bad time in my life, and during some very hard moments. My first song was "Flying", that song is for a partner, I tried to tell her to not give up. Even when times are hard, we will pass the quest and we will find our sky.
How did you end up with a name like Holy Force, any interesting stories to tell?
Holy Force – The biggest problem and damage to me personally came in Summer 2010, and the time was a real hell to me. But I know I couldn't give up and I finished the lyrics for "Holy Force" (I finished the music in 2008), this was the last song get done on this album, and I come back from hell like a Phoenix, so I decided to use the name Holy Force.
What's next for Holy Force, any tours planned, work on your next album…?
Holy Force – We want tours if people want to see our show and if some people will make it out to see us. If people buy our album and support us, this band will survive.
What does the words power metal mean to you?
Holy Force – Bring the light and hope to the people with high speed or heavy music, but it has to be lawful!
Thank you very much for answering my questions. Do you have any last rants for our readers?
Holy Force – Thank you so much, I've read the review that you made for us, that is a really good review and it means a lot to this band. We really appreciate everything you did for us, all the best to Powerofmetal.dk & everybody!
---