Your first album came out in 1994 and back then you were one of the first that combined hardcore with thrash and death. Any idea why you are still not one of the more popular bands in that genre?
From 1993 to 1998 we were quite popular here in Germany and many other countries. The first two records did really awesome and everything went very well for the band. But the third album "Pzyco!" was too experimental for many of our old fans. Maybe also the silent time between the "Pzyco!" album (1997) and the "H8 for the masses" album (2004) has been too long. Many people thought that we had split up and many people stopped being interested in the band during those years. But we are not too sad about all this...everything that has happened belongs to our history and we can't change it anyway! So we try to do our best nowadays to write good songs and to record good albums...also our record sales are not that bad and all in all I guess we do still pretty good!
In 1995 the band played at the legendary Dynamo Open Air festival, how was that?
That was fuckin' awesome! Killer! A dream came true for the whole band!!! We were only usual Dynamo festival visitors in 1993...we just started Hate Squad one month before the Dynamo 1993, we only had 2 songs and no real demo at that time...but we dreamed to play Dynamo one day with our band. In 1994 we've been at the Dynamo festival again as visitors... we had our "Theater of Hate" demo already and also we were very close to our record deal and we still had the dream to play the Dynamo festival. 1994/1995 I worked for SPV/Steamhammer and I had phone contact with Dynamo organiser Andre Verhuysen at that time and so I asked him every time on the phone if Hate Squad could play... and what can I say, in 1995 we returned to the Dynamo...and this time we were on the bill! It's still one of the highlights in our band history and since it was the best Dynamo ever, it was a real pleasure and honour to have been a part of this legendary festival alongside with all those awesome bands like Machine Head, Biohazard or Fear Factory. The whole band will never forget this show...we were lucky guys back in these days, hahahaha...
Why did it take until 2004 before the follow up of your 1997 album 'Pzyco!' was ready?
We had a major line up change end of 1997...a new guitar player (Michael Gerstlauer) joined the band. We wrote around 25 songs with him between 1998 and 2000. In 1999 our old guitar player Mark KŁnnemann rejoined the band and in spring 2001 Michael had to leave the band because of private/ work reasons. So we decided to get a second guitar player and we found the right guy with Martin Blankenburg. Finally we had nearly 2 new guitar players in the band and we decided to start again to write new songs with the actual line up. From the songs with Michael we only used "Time for Revenge". So it took again about 3 years to complete the song writing process. Beside that, everybody in the band has lost many family members during 2000 and 2004 and so we had to interrupt the song writing again and again and again caused by very sad reasons.
Now you maybe want to know, what has happened to all the other (over 20) songs we wrote with Michael...to be exact: nothing 'til now! But I have another project called RISE ABOVE RUINS and one day I will use many of those songs that have been written by Michael originally for Hate Squad. The songs were far too good not to use them one day and so I agreed with Michael that I can use them for my RISE ABOVE RUINS project. Whenever I have some time I will record those songs with help from many (known) friends and guests...but right now I'm very busy with other stuff, so this other project has to wait. Finally all that means, the first RISE ABOVE RUINS record that I will hopefully put out in the future could have been the 4th Hate Squad album...and since there will be the same voice as in Hate Squad, I'm pretty sure that it will sound very close to Hate Squad.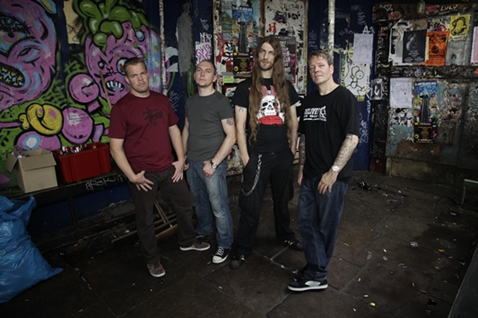 You hail from Germany, but Bauke de Groot must be Dutch, am I right?
Yes that is right, Bauke was born in Amsterdam (The Netherlands). But he has grown up in Switzerland and came to Hannover in the 80s. He joined Hate Squad in 1995...right now he lives and works in Hamburg since a couple of years, but we try to rehearse as often as we can. Beside the band he is one of my very best friends and a cool and funny guy.
What is in your opinion the biggest difference between your 2008 album and your new album 'Katharsis'?
All in all I guess there are not that many major differences. From the production side we started a new area for Hate Squad with "DegŁello Wartunes" in 2007/2008 and we continued the path with "Katharsis" and tried to optimize the whole result. In my opinion the main differences are that the songs on "Katharsis" are more melodic, with more guitar solos and melody lines in it. And even if I like the work I personally did on "DegŁello Wartunes", I optimized the vocals on "Katharsis" and put again more brutality and energy into the whole vocal recordings. In my opinion "Katharsis" is the logical follow up to "DegŁello Wartunes", a big step forward for the band and one of the best Hate Squad albums ever!!
The music has a lot of groove and it sometimes reminds me of the 'Wolverine' period of Entombed. Do you understand what I mean?
Yes, I understand what you mean. The most important ingredients of many Hate Squad songs are GROOVE and AGGRESSION, so you can find both in nearly every Hate Squad song and that will be the way we'll keep it for the future...
Who is responsible for the song writing?
Generally everybody in the band can offer his ideas and take part at the song writing. But most of the music on "Katharsis" has been written by Mark KŁnnemann (guitars) and Helge Dolgener (drums) and nearly all lyrics are written by me. Usually we write the music first and later I add the lyrics to it.
Where is the inspiration for the lyrics coming from?
Most of the inspirations I get from the real life and also from very personal inner thoughts that I have. The human world is so fucked up in general and there are never ending possibilities to write pissed and aggressive lyrics! Some of my lyrics are also self motivation in some way and about the struggle a human being is involved sometimes! But we have also very positive songs like "Old Times...Good times!" or "Every Second Counts".
A lot of bands play the kind of style you do at the moment. Not afraid that a lot metal heads will think that you copy them because they don't know the bands roots?
No, we are not afraid at all. We know exactly that we do this kind of music since many many years and started long ago before many of the younger bands started. And there are also bands like Heaven shall burn that cover our songs nowadays, what brings us closer to the younger generation of fans. Here in Germany many people know that we started with all that long before other bands and at least there is Wikipedia, so everybody can research it by his own...and if anybody thinks that we are a "Rip Off" of anything, we don't care! We know who we are and we like what we do for over 18 years, so I guess we don't have to worry about other peoples meaning who has started all this first!
Any touring plans or festivals that are admitted?
We want to play definitely more shows in 2012 than we did the last years, but so far nothing is confirmed! We really hope that we'll get some chances for good shows, festivals or tours...we'll see, keep your fingers crossed!!!
What are in your opinion the 5 best (metal) albums released in 2011?
+ HATE SQUAD – KATHARSIS
+ MACHINE HEAD – UNTO THE LOCUST
+ CROWBAR – SEVER THE WICKED HAND
+ RINGWORM – SCARS
+ DEVILDRIVER - BEAST
Which album (band) made you decide to become a musician?
There were not really a band or an album that pushed me to become a musician. But I can try to explain how I came on this path...
The first band I ever noticed as a "band" was SLADE at age 4! As I was 6 years old, I've bought my first own album: AC/DC " High Voltage" and I guess, 2 of the songs showed me my further destiny: "It's a long way to the top (if you want to rock n' roll)" and "Rock n' Roll singer"...but at that time I didn't know anything about all this, could not even understand English, hahahaha...was just a kid. Later came bands like IRON MAIDEN, BLACK SABBATH and many many Punk bands (like EXPLOITED & GBH) my way...in 1983/84/85 I discovered bands like EXODUS, SLAYER, METALLICA, DESTRUCTION, POSSESSED, KREATOR, SUICIDAL TENDENCIES and little later also bands like CRO-MAGS, AGNOSTIC FRONT, TOKEN ENTRY and many Hardcore and Oi bands etc. etc. ...from that time I was totally into Thrash Metal & Hardcore & Oi Punk and was a fanatic underground tape trader! Later I crashed into the whole Death Metal scene from the beginning and expanded all my trading activities, mainly audio and video live stuff and demos...at peak times I had over 30 regular trading partners all over the world and had an awesome collection. And since then my main favourite styles are still THRASH, DEATH & HARDCORE/PUNK. As we started in 1993 with Hate Squad I also was still in the trading scene but from 1994/95 I had not that much time anymore for all the trading activities...but nowadays I'm re-infected again with the collectors and trader virus...not end in sight!!
Anything else you want to share with our readers?
First of all thank you for the interview and to all Hate Squad supporters: thanks a lot for the killer support during the last 18+ years!!! If you like Thrash & Death Metal combined with Hardcore elements, so check out our albums, especially "DegŁello Wartunes" & "Katharsis", could be possible that you like it! Ah and by the way, if you are already a Hate Squad supporter and like our band, so feel free to check out and join the HATE SQUAD official supporter division (HSOSD) here: http://www.hsosd.com ...it's a place to communicate and network for all Hate Squad supporters and friends worldwide... everybody is welcome and it's free, so check it out! I also will start as soon as possible to post complete Hate Squad live shows exclusively for HSOSD members for free download...and by the way, as an old tape trader I have surely EVERY Hate Squad show as audio and video recording since 1993, so there is much to come in the future! Just check the site out and join us...thanks to you all for the awesome support, see you somewhere on the road in 2012!!!
---