---
HATE ETERNAL'S DOMINATION
It's an undeniable fact that Hate Eternal are today a point of reference for quality, technically adept and uncompromisingly brutal music. The band's new opus, "Phoenix Amongst The Ashes", is scheduled for official release just a few days after the following interview took place. It's an album not so much destined to consolidate Hate Eternal's reputation as it is likely to cause irrevocable tremors throughout the global Death Metal community.
Ah yes, the interview…..you see I was mentally geared to chat with Erik Rutan and the questions I had prepared were in fact tailor-made to such a meeting. Instead, a mix-up meant that I was introduced to Hate Eternal's drummer: Jade Simonetto. It was a pleasant conversation but it also meant I had to improvise most of the interview.
Just to bring all readers up to speed, "Phoenix…" is the second album Jade has recorded with Hate Eternal, after 2008's "Fury And Flames". The latter album made an overnight Death Metal phenomenon of him.
After I left Jade I bumped into JJ Hrubovcak, Hate Eternal's bass guitarist, who happily accepted to answer a couple of impromptu questions. But more about that later. First I wondered what Jade had to say on Hate Eternal's current tour…..
Jade: Yeah, it's going great. We're on our 5th show right now and we've really started to get into the swing of things. It's been a while since we've been on tour so we've only really started to catch our breath. We're all really excited.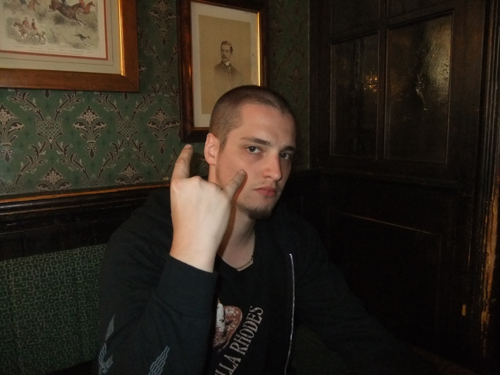 There are only 6 days left for the official release of "Phoenix Amongst The Ashes"…..do you feel anxious?
Definitely! Fans have already heard a few songs online and the reviews have been great from both fans and the press. We definitely think this record is going to give the band a breath of fresh air and I think the fans are going to enjoy it.
Personally, I think "Phoenix….." is a distillation of all Hate Eternal had previously done. But how would you describe its sound especially in comparison with other albums by the band?
I think this on this record we really did not try to fit any mould – we just did what felt right at the moment. We weren't trying to build any specific sound or theme or vibe. I think what emerged is a 100% creative journey where there are really no barriers, and that's why this record turned out so diverse.
Death Metal fans tend to be more demanding and erudite about their music. Does this put added pressure on you in your role as musician?
No. Nowadays with all these bands being extremely technical, I think fans have their fill of extremely technical musicianship. I think what's coming is guys who are going to be looking for regular songs….you know….creative music, and not as much trying to play as many notes as humanly possible but really try to evoke emotions out of the music. The way it's supposed to be.
Do you feel it's easy to be creative with Death Metal?
Every kind of music has its own creative path. Of course it [Death Metal] is more aggressive, louder, more intense. But that doesn't mean you can't be extremely creative just like any Classical composer – [in both cases] there's a lot of music going on, a lot of layering, a lot of percussion…and so on.
"Phoenix…" contains some pretty intense and complex music – did you find it difficult to adapt the material to a live scenario?
Before we came on tour we tried to rehearse the material and find the best way to play these songs as a 3-piece because obviously there's a lot of guitar harmonies. We really had to think and choose what we were going to play. For example there's a lot of layering at the end of the song 'Phoenix Amongst The Ashes' and we really trying to layer it out and decide which was the best way that it would sound live. I think this band is meant to be a 3-piece and we will probably always remain that way.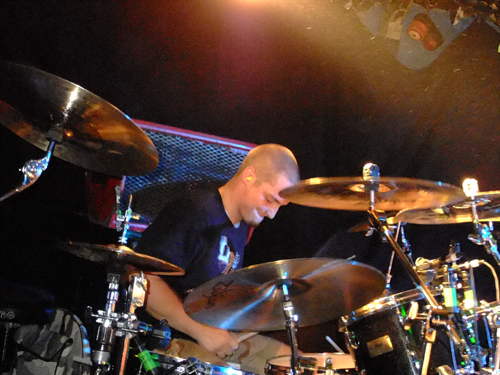 Before you start recording an album with Hate Eternal, as a band do you spend a lot of time thinking on how it should sound like and what sounds to include?
Well, we had been throwing around a lot of ideas for at least a year and a half so we really weren't sure where the album was going. We definitely wanted it to be intense. Personally I was pushing for some really fast tempos because we're Hate Eternal and we have a certain obligation to raise the bar every time. I felt we definitely accomplished that with the fast stuff but we were also trying to open up a little with some of the slower stuff and really building intense epic harmonies and solos. And very catchy lyrical content and very deep lyrical content as well. We definitely broadened the horizon on this record.
Is there any deeper significance in the title of the album?
Definitely. I mean Erik does all the writing of the lyrics but "Fury And Flames" touched on chaos, fire and death and it was very much based on Erik's emotions towards the whole event with Jared's passing. I think "Phoenix Amongst The Ashes" is a continuation of that but in a more positive light. You know, resurrection, life after death, rising up from the ashes…..that kind of symbolism.
[Note: Bass player and vocalist Jared Anderson, who played with Erik Rutan in both Hate Eternal and Morbid Angel, had passed away at the age of 31 in October of 2006.]
Do you think these emotions are reflected in the music?
Well, if you listen to "Fury And Flames" you can hear that the music is coming from a very dark place. Immediately you feel that the vibe of the record is very dark and chaotic. With "Phoenix….." it's completely different. In fact that's what's so great with Hate Eternal's records – they all have a completely different feel. There's nothing I hate more than listening to a band and every record they put out sounds exactly the same. Same production, same feel…..basically same songwriting. I think a band has an obligation to tell a story, to take the listener on a musical journey.
Why is there so much band-member turnover within the Death Metal scene? Is it really mission impossible to have a stable line-up?
[pauses to think…..] It is a difficult genre to be in because of its harsh environment, especially financially. You know, a lot of bands can't stay above water. I guess some guys want to live a stable life. Luckily with Hate Eternal we do great and we're able to stay on the road with no stress involved. I think when a band comes to a point when they can't make a living out of it, that's when it becomes very hard for these guys to stay together and keep it 100% focused.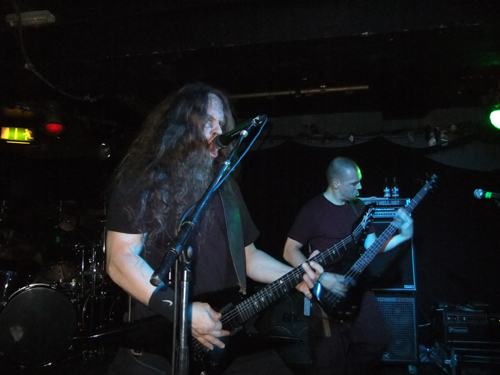 In the second leg of this current tour Hate Eternal is covering North America, including Canada – which I believe is where you're from.
Yes.
What are your expectations of those dates?
The package itself – Hate Eternal with Origin, Vital Remains and Abysmal Dawn – is an extremely brutal one. So I think the Death Metal fans will be very pleased to go to a full-on Death Metal show which is something that doesn't happen very often any more. I'm also excited that I'm going to play in Canada, see my family.
Will your family be coming to see you?
Oh yes, of course. My family supports me completely; they're a very supportive family. Even my grandparents are from the old-school Italian mentality – they appreciate what I'm doing and they love that I'm travelling. Obviously they might be a little partial to the kind of music I play but they support me completely in what I do and there's nothing better than having people who you care about that support you 100%.
Jade, is there anything you'd like to add to the interview?
If you're around come and see our show – you will not be disappointed. We'll have a good time and we'd love to meet all the fans.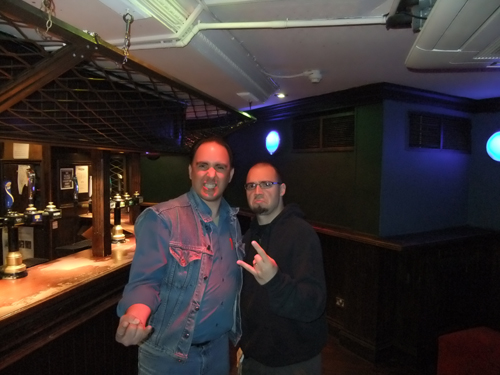 This interview was done prior to a London date of Hate Eternal's "Phoenix…" tour. After I left Jade, this gig hadn't yet started so I loitered about the environs of the venue. That's when I casually met JJ Hrubovcak, mingling inconspicuously amongst other punters.
Later this year, Vile release their new album – "Metamorphosis" which features JJ himself on bass guitar. I ask him for some feedback on this regards…..
JJ: Yes, it's coming out later in the fall. The interesting thing about this record is that we recorded it in 2006 – or maybe it was 2007. To be honest I only contributed one song and one solo. On the previous record, "New Age Of Chaos" [2005] I contributed a few solos. But the band is really the baby of Colin [Davis – guitarist]. I'm kinda more of a session player on both records.
Will you be touring with Vile, once "Metamorphosis" is released?
I and my brother [vox Mike Hrubovcak] both did tours with Vile but this coming record I won't be able to do any tours with them because I'll obviously be occupied with Hate Eternal. Actually I hadn't been part of Vile for quite a while – like I said we finished that record around 2007 and I haven't been part of Vile since then.
But actually I'm proud of what we did with that band as well and obviously I'd appreciate being able to perform with them.
A few moments ago I asked Jade about the challenges involved in bringing "Phoenix…" to the stage. What's your take on that?
With "Phoenix Amongst The Ashes"…...it's not so difficult to adapt to a live situation because Hate Eternal has always been a 3-piece. Erik adds a lot of complex harmonies to the music but we are able to go off each other. With the bass lines, some of them are rooted in the main rhythm of the guitar but a lot of them are deviating and I tried to complement the guitars as much as possible. I think the mixture of both being able to add something and contribute something extra to the music and also maintain the root of what a bass is – which is to support the rest of the band – well that will balance itself out live.
"Phoenix Amongst the Ashes" is out on May 10, 2011 via Metal Blade Records.
© 2011 Chris Galea
(All photography: © C. Galea 2011)
---