---
SOLO HOUR
Guitar player Glen Drover always seems to have been particular about his musical endeavours. Ever since he formed Eidolon with his brother Shawn (who currently plays drums with Megadeth) Glen has been synonymous with cutting edge Metal, consequentially earning the admiration of both fans and musicians. Sure enough, besides releasing 7 albums with Eidolon, Glen has recorded with Megadeth, King Diamond and has also guested on albums by renowned musicians.

His first solo album - entitled "Metalusion" – is released this month and sounds nothing like Glen has done before. The core members of his solo band feature musicians who have played with Prog Rock legends Saga. An impressive list of musicians also dropped by to contribute to his album: Chris Poland (ex-Megadeth guitarist), Jeff Loomis (Nevermore, Jeff had also auditioned for Megadeth), Vinnie Moore (UFO), Fredrik Akesson (Opeth, Talisman) and Steve Smyth (Forbidden).

Taking advantage of this particularly exciting phase in his career I thought of asking Glen a few questions…..

About 18 years after your first recording, you are about to release your debut solo album. Could you please describe the music?

Glen: It's really a mix of metal, prog rock and jazz fusion.

When Eidolon had started out, the band was focused on instrumental music before bringing in vocals for the first album. If Eidolon would have debuted with an instrumental album, how close would it have been to "Metalusion"?

Good question indeed. Not that close. All the Eidolon stuff was 100% metal, where as my new band has various influences.

Chris Sutherland, Jim Gilmour and yourself were probably all entering previously unexplored territory when you started working on "Metalusion" – with this consideration in mind, how did the three of you overcome any musical disputes?

We didn't have any disputes at all to be honest - it all came together very natural, which was a clear indication of the cool chemistry we have together.

Was the participation of Chris Poland and Jeff Loomis the result of an ongoing friendship or did they come aboard specifically for the album?

Yeah, it started with a friendship, and of course being that they are very good players, I wanted them to be a part of the album.
Were your reasons for leaving Megadeth linked to unfortunate circumstances or were there any personality issues involved?
Both.
Why did you dedicate half the album to rearrangements of Jazz-fusion numbers?
We started the whole process by doing a few covers to see how well we worked together, and after doing these tunes and being very happy about how well we sounded as a band, we decided that we had to include these versions, because of how well they turned out.
Did you have any difficulties in adapting the violin of Jean-Luc Ponty for your guitar?
Not at all. I have been listening to Jean for many many years, so a lot of those melodies are locked in my brain. Most of his solos are soaring and very melodic. He is the master at that kind of stuff!
I've met Al Di Meola a number of times (I've even seen him give a live performance of 'Egyptian Danza') and each time he struck me as being an open-minded individual. Did he hear your version of 'Egyptian Danza'?
A few people have passed over my version to him, but I have not heard any reaction yet. I would love to. Hopefully I will soon……..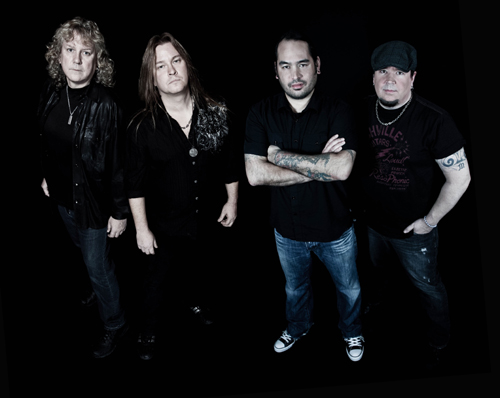 Jean-Luc Ponty and Al Di Meola recorded a couple of albums together and Frank Zappa had composed an entire album for Jean-Luc. Were you aware of these connections?
For sure.
What do you remember about the first time you performed outside Canada, your home country?
That was with the band King Diamond. We played Sweden Rock and I had a great time there!! It has since become my favourite overseas festival!! It was very well organized and the people were awesome.
What made you decide to build your own recording studio? Do you record/produce music for other bands?
I started recording at home about 18 years ago and just love doing it. Always have. I record a few indy bands here and there when I have time.
I'd like to ask a few questions about your artistic collaborations…..how did your involvement with King Diamond come about?
I became friends with King back in 1990 and stayed in contact with him right up until the time he asked me to join in 1997.
Is it more likely for Andy La Roque and yourself to work together again, now that King Diamond (the band) is on hold due to the triple-heart bypass operation on King?
Good question. You never know what the future will bring……..
Somewhere I read that you were working with Adagio's Stefan Forte – what had become of that?
We were going to do something together, but I ended up doing my own thing, as did Stephan with his solo project. He is a great guy and great player. Maybe we will do something down the road…
After leaving Megadeth, you toured with Mustaine & co as guitarist of Testament. How would you describe that experience?
It was weird at first and then became a ton of fun!! The Testament guys are great to work with. Most fun I have had on any tour!! As far as Megadeth, I wasn't really around them at all, except for my brother a little here and there.
How much influence did Testament have on Eidolon's music?
Definitely had some for sure, both musically and vocally. Chuck [Billy, Testament vox] is one of the best guys for aggressive vocals in my opinion. Always been a fave of mine.
When learning the riffs and solos of Alex Skolnick [original Testament guitarist], did you discover anything you hadn't noticed as a listener?
Sure, when you start learning stuff from an artist that you are very familiar with, you tend to start listening to things in a different way and hear things you may not have heard before.
Do you plan to work on new material with Eidolon in the near future?
At this point I would say no.
In this interview we mentioned music genres extraneous to Metal, so in conclusion, I'd like to ask you to recommend 5 non-Metal albums for a Metal fan interested in broadening his music appreciation….
- Al Dimeola – Casino
- Planet X – Quantum
- Genesis – Nursery Crime
- Jean Luc Ponty – Enigmatic Ocean
- Frank Zappa – One size fits all
© 2011 Chris Galea
Glen Drover – selected album discography:
Solo
Metalusion (2011)
Megadeth
That One Night: Live in Buenos Aires (2007)
United Abominations (2007)
King Diamond
House of God (2000)
Eidolon
The Parallel Otherworld (2006)
Apostles Of Defiance (2003)
Coma Nation (2002)
Hallowed Apparition (2001)
Nightmare World (2000)
Seven Spirits (1997)
Zero Hour (1996)
---