---
There has been a lot of turmoil in Evergrey lately, with a few comings and goings.
Why did you feel that was necessary at this stage, and do you feel the band is stronger now as a unit?
Evergrey - We felt we were going in different directions and made the mutual decision that it was time for a change. A few of the guys felt it was not so funny anymore to be part of Evergrey and they also had a project on the side that they wanted to give main focus. It's of course a bit scary to make such a major change and we didn't have a clue if we could find good replacements. I must say we were really lucky finding Marcus, Hannes and Johan. If it's a stronger unit its a bit too early to say but at least we have found some new energy and right now it feels really good. We are still kind of on our honey moon :)
Now on to your new album; "Glorious Collision". Everyone claims their latest album is their strongest, but why is this album so special?
Evergrey - If you give a hundred percent on the song writing and the recording I think you should feel that its your strongest effort. Otherwise it would be hard to continue doing your best every time. Then it's up to others to decide their own opinions and usually you have to wait a couple of years until you have the proper distance to your own work.
For us Glorious Collision is special since two of the main songwriters left the band and we didn't really know if we could pull it of. And of course the energy that a new band can bring really gave a special vibe to the album. I must say at this point we are really satisfied with the result. If it's our strongest release to date? I leave for you to decide.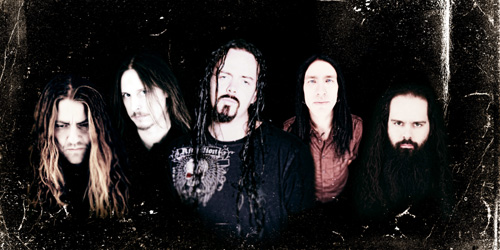 What is the biggest difference between this album and your latest one "Torn" (2008)?
Evergrey - There are a lot of big differences between Torn and Glorious Collision. It's not recorded in the same studio, There are new members involved that also have effect on the sound, There a bit different song writers. It's mixed in a different way with more focus on the overall sound. There are also similarities between the two albums. I think both of them have that special Evergrey vibe that I personally think all Evergrey albums have.
If you had to single out one or two songs that really captures the essence of Evergrey in 2011, which ones would you pick and why?
Evergrey - It's really hard to choose songs now since they are all (the new ones) so fresh. One song on Glorious Collision is called "To Fit the Mold", that song contains everything that is Evergrey to me. It's mellow, dark, beautiful and heavy. Its very epic and I think right now it's my favorite song on the album. But at the same time my favorite song changes pretty much every time I listen to the album :)
How does the album compare to the thoughts and ideas you had going into the studio?
Evergrey - We pretty much had an idea what we wanted to make of this album going in to the studio. Then again you never really know what you will end up with. I think it came out for the better. The keys were kind of done when we entered the studio. The only thing we really recorded in a real studio was the drums. I think Hannes did a great job and really improved from the demos and the sound is great. Also Daniel Bergstrand did a great job in the mix and took the production to a higher level.
Another own production at Division One Studios?
Evergrey - No, That studio does not exist anymore. Torn was actually the last production made in Division One.
You will head out on the roads in the spring - any chance we will see another live recording like the brilliant "A Night to Remember"?
Evergrey - Right now we don't have any plans for a new live recording but since we have a partly new band and all, it might be a good idea. A night to remember was a really good experience for us and I hope do something similar again in the future. But we really have something to live up to after that show so maybe it's better to do something quite different.

Kamelot tour - you will be special guest on the tour, and your countrymen Amaranthe will also be a part of the package as well as Sons of Seasons.
Evergrey - You are correct Sir :)
4 bands playing each night, good value for the audience, but what kind of expectations do you have for the tour?
Evergrey - I hope and think it's gonna be great! Evergrey did a tour with Kamelot I think in 2000 so it's gonna be nice to do it again. Hopefully we gonna play some nice places and we get a chance to show some more people what were made of. And of course I hope for some old Evergrey fans to join up as well. Hopefully the people can bare so many bands in one night but it's a great package so I think they will. Amaranthe is actually from Gothenburg so I know most of the guys in the band. I hope for a lot of fun!
What does the term Power Metal mean to you?
Evergrey - Well, to me it's like Halloween and their followers... Like a lot of double bass kick with good melodies and a high pitch vocal. But that's just me :)
Evergrey isn't taking all of your time (I assume), what other project are you spending your time on?
Evergrey - At the moment most of the time goes to Evergrey. It's a lot of preparing before the release; interviews, rehearsing and making sure everything is as good as it can be etc., but usually it's quite diverse. A couple of guys live in Stockholm and do various musical jobs. Me personally I just had a daughter so family is taking a lot of my time. But like I said right now there are always things to do with and for the band.
Thank you very much for answering my questions. Do you have any last rants for our readers?
Evergrey - Well, we really hope you will like the new album and if we come to a theatre near you should most definitely come and check us out.
---