---
Some say that the wave of young thrash bands is already drawing away…
ESSENCE controverts this opinion. The band overcomes the Danish traditions in the melodic extreme styles and offers classic thrash metal in the best European traditions.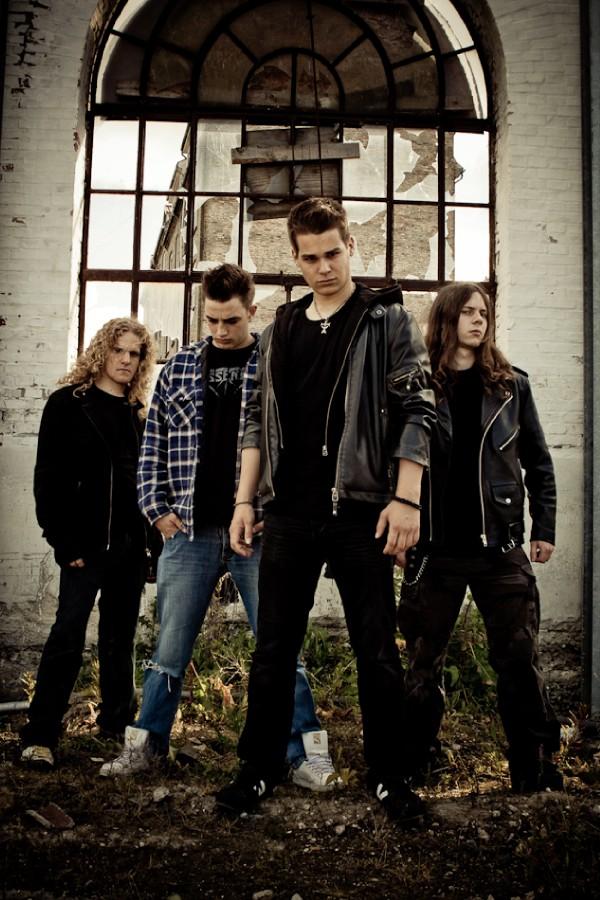 Receive our compliments and my personal gratitude for your debut album. At what level ARTILLERY are inspiration for you? Do you follow the traditions? What is your aim as development of your music?
Thank you! Artillery is a great inspiration to us; they have made some great albums and are still going strong. It is inspiring to see a band that keeps on going after a lot of years and still keeps writing some amazing songs. We want to take our music to the next level and we want to develop as musicians. I think it's important that we keep getting better both as individual musicians and as a band. We will always seek to reach the next level in our songwriting.
Recently Rene Pederson from MERCENARY shared that you are the most fabulous new band that he listened to. At what level the opinion of the fans is important to you? Does this opinion transform your songs somehow? Who are the big musicians who would delight you that they listen to you?
It's very important for us that people embrace our music and we have gotten great response on Lost in Violence and that means a lot to us. We're still going to write music the way we think it should be despite of what others think, because we're really passionate about playing and we will always be as long as we play thrash the way we like it. We would really like if our idols who inspires us listens to our music, that would be a great honor.
In my point of view you sound exceptionally in the traditions of the European thrash. Which is your favorite American band? Do you have such influences? If we express them in percents – what's the result of the soccer between Europe and USA?
There are a lot of great thrash bands from USA. I can't speak on behalf on the others but my favorite American band is Metallica. Master of Puppets was my first experience with thrash metal and that album was the reason I started playing. I think it's a tie since I equally like the European and the American thrash, I think that both have some great qualities.
I have somewhat vision about the Danish scene… Let's play soccer again! At what level you are influenced by the fact that you are from Denmark and at what level by the global culture? According to you is there any sensible compromise between personality and society? In such a way should sound a thrash question, shouldn't it?
I don't think that the fact that we are from Denmark influences us in a certain way. I think that we influence each other within the band, as we all have very different approaches to the songwriting. That makes the creative process very interesting and we're constantly learning from each other.
The next album of ESSENCE…. What will remain the same and what will be changed? To which band you would like to be support at scene? Which band you should chose for support at European tour?
We are going to emphasize the elements of the songs, the melodic parts will be more melodic and the thrash parts are going to be more intense. The next album will contain more diversity and we will focus on writing some really good songs, instead of writing a lot of songs to fill out the album. We are going to support Vader at their European tour in June and we are really looking forward to it! We would really like to support Kreator on tour! We are all big fans of Kreator and it would be a fantastic experience to tour with them.
Why thrash and not something else? According to you what is the future of the thrash? Would every one of you share which are his favorite bands?
It was natural for us to pick up the thrash genre, because we were all listening to thrash when we started playing in Essence. I think that thrash has a bright future, since there has come some great new thrash acts the last couple of years and they keep coming. As I mentioned before I can't speak on behalf of the others, but currently my favorite bands are Kreator, Destruction and Metallica. I think that they are some of the greatest thrash bands and I find great inspiration in them.
I tried not to bore you with eternal questions. Which are the things you simply love?
We only play music for the hell of it and that will never change!
---