Can you give us a short story about the bands history?
We are a traditional heavy metal band from Melbourne, Australia who are heavily influenced by legends such as Judas Priest, Savatage, Helloween & Dio (to name a few!). We have been together and working hard on our music since we were 16 (2003) and are now ready to unleash our music worldwide with the debut album "Barbed Wire Metal". After playing countless shows throughout Australia were ready to mark our name in the international metal scene.
The band already exists for a long time, why did it take that long to release the debut?
Back when we first made the band we were still in high school and were only 16, nobody knew how to play an instrument so everybody had to basically work hard on getting to a level we were proud to show to the world. After long years of practising, writing, rehearsing and gigging 2011 finally came to a point where we thought we could do some serious damage in the studio. We did have periods where we thought we should just go into the studio and record the album but it would have never been as successful as it is now. It was definitely worth the wait!
It was first released by the band in April, then by Stormspell Records and now by Massacre Records, what's the story behind that?
The album was complete around late Feb/early Mar where we started sending out promotional copies to record labels, the problem was that because we had never done an album or EP before no label showed any interest. Sure we did shows around Australia but we no clips, no songs and basically nothing to show for our work so we thought we would release it independently. The great thing was that towards the middle of the year once the album was out and was being shared worldwide throughout the internet record labels started hearing about us and people were contacting us all around the world. The initial offer came from Stormspell Records to do a limited press which we were excited about as we had come familiar with artist such as Lich King through Stormspell and shortly an offer was followed by Massacre Records which we knew would boost the interest throughout Europe and all major countries.
The music is a mix of US-metal, NWOBHM, speed metal and German Power metal with a thrash crunch, what are the bands influences?
That's a cool way to describe the music by the way, definitely going to use that haha! We're influenced by any metal that is classical, melodic, thrashy & power, basically you won't find any "nu-metal" on our IPods hahaha! We love bands like Grim Reaper, Manowar, Raven, Hibria, Toxik, Stryper, Megadeth, Winger, Iced Earth and the list can go on and on. Anything you can drink or party to is our type of thing haha.
A lot of people will say that the music is far from original, but I think you don't care because you just want to play what you like most. Am I correct?
That's right dude! We play music that we love but definitely put our own twist on every song. We don't try to copy anything or try to make it sound un-natural we just do what feels right in our hearts. I think now days people are trying to re-live the days of the greats such as Priest, Maiden, Tallica' etc..because they were seriously the best days. I mean you've got bands like Havok, Holy Grail, Striker & Skull Fist doing some killer stuff.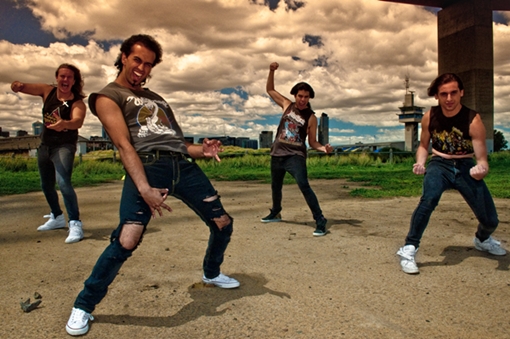 You did lots of gigs in Australia, do you think that this release by Massacre Records will see to it that you can play in Europe too?
Definitely! That is the main reason we wanted to be apart of a European based label. We needed the opportunity to get our music heard on that side of the world to help us play in countries such as Austria, Greece, Holland, Germany, Croatia, Poland, Spain and so on. We know that's the home of true heavy metal so we're craving to play in Europe.
If you can play in Europe and you would be able to pick a band you can support, which band would that be?
Ahhh! That's a hard question. But because we respect the band so much for what they do I would have to say Manowar. We've seen all their Hell On Earth & Magic Circle Festival DVD's and that would be so crazy! After watching those we know that Europe is the place we need to be in.
Which release in the last 2 years did wipe you of your feet?
Recently it would have to be between Accept's "Blood Of The Nations" or Overkill's "Iron Bound". Both releases created so much power but still kept their old-school touch, they were massive inspirations when we were in the studio. Killer albums by killer artist!
What's next? Recording a second album perhaps?
Next we're heading to Europe for a full tour in April 2012 which will hopefully lead us to constant touring and festival dates over the years to come. With that being said we're always writing new material so when the time is right you will hear more music from us!
Anything else you want to share with our readers?
Thank you so much for the opportunity to showcase our music in your country and if you have checked out our music it means the world! Hopefully we can see you guys at a crazy show in 2012!!
---