---
Could you please introduce the band to our readers?
Paul: Eden's Curse is a five piece band consisting of five guys from five different countries. We have Michael Eden from USA on vocals, Thorsten Koehne, from Germany on Guitar, Englishman Pete Newdeck on Drums, our newest member Alessandro Del Vecchio from Italy on Keys and finally from the land of fine whiskey and men-in-skirts, myself, Paul Logue on Bass!
This is your third release, what is the biggest difference with the two earlier albums?
There is different songs on this one LOL! In all seriousness, I think the first album for any band is like "trying to find your feet" and see how your sound is perceived by the public. The second record was a development in terms of song writing and our approach to composistions and the third record is an extension, where this time we feel everything has just clicked and come together really well. There is a little heavier edge to the new songs that come from playing live together and the new keyboard player has added a wonderful symphonic touch in places.
All members have different nationalities, isn't that difficult to cooperate? How do you work with each other?
This band is not your average meet in your local bar, talk music, form band, jam for years then make a record, type of band. We formed this band first and foremost via the internet because initially Michael and I could not find like minded players in our locals scenes who wanted to do what we wanted to do. So, thankfully through the wonders of modern technology, we are able to transfer files over the internet and compose a record and record at our home studios and send it all to Dennis Ward to mix together into what you hear today. Also everyone speaks and writes great English, so language is not a problem, but music is what is important in Eden's Curse and these guys are fluent in all aspects of music. When it comes to touring we book around a week long set of rehearsals (sometime 9 to 10 hour days) and go in and play and play to death the set!
How did you get in contact with James LaBrie, and was he immediately enthusiastic or did he have to hear the music first before he decided to work with you?
Tracking James down wasn't as hard as we thought, and within three hours of first discussing the idea I received an email from him on my Blackberry saying "I hear you want to work with me. Tell me more … the more detail the better". That was freaky!! I sent him some links to the music and he loved it. James is an absolute Gentleman. We hit it off from the word go, and he absolutely adores the music. It was simply a case of aligning our schedules and working out a deal with him. He was brilliant to work with - the consummate professional - and continues to keep in touch with us on a regular basis and he has been plugging the hell out of the band and the new video we released for "No Holy Man" (check it out on www.youtube.com/edenscurse) which has received over 25,000 plays!
Same question as above - Andi Deris.
Andi couldn't have been more different than James! I had completed some website work for Kosta Zafiriou, drummer of Pink Cream 69/Unisonic, who also happens to be Helloween's Tour Manager, and he said "If you ever need any help ...". So I asked could he hook it up. He did, and I never spoke to Andi once. I just got his vocals in one day and I was like "WOW"! That was a real special moment for me. Anyone who knows me, knows I adore Pink Cream 69's music since I've been listening to them since the late 80's and I absolutely love Andi's voice and writing! I was gutted at the time when he left PC69 and have followed him ever since in Helloween. It's cool now we have had both PC69 singers on our albums.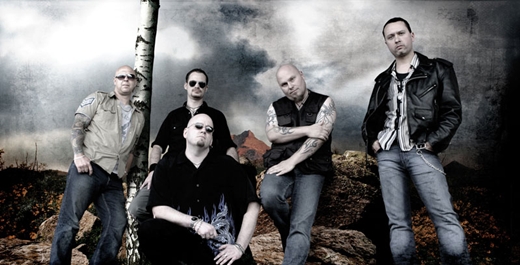 The lyrics have religious subjects, is Eden's Curse a Christian band?
No, but there are Christians within the band. We try and write social commentaries all wrapped up in mythological guises, for want of a better phrase. It's something we've developed from the band name, to the album covers, and is something we'll continue to do. It beats the guy-meets-girl songs in my humble opinion.
Trinity, isn't that the father, the sun and the holy ghost? On the cover the holy ghost looks like the devil, please explain the album cover?
Well, the Holy Ghost or Holy Spirit is often portrayed as a dove, but we wanted to show symbolise the "three into one being" more clearly but having three torso's morphing into one body, so we asked Thomas Ewerhard, our graphic artist, to make the Holy Ghost a "ghostly" type figure. We are also a Hard Rock / Metal band, so it looked way cooler to do it that way!
Who are the most important songwriters in the band?
I write the majority of the music and lyrics with major contributions from Pete Newdeck and Michael Eden. Thorsten wrote some killer tracks this time around and Alessandro was really great to write with too. So, this album was much more of a team effort this time.
How would you describe your music style to a total stranger?
A mixture of 80's US Hard Rock and 00's Melodic Metal with radio friendly hooks wrapped up in a big bombastic modern production.
Will we see the band live somewhere, or is it just a band that makes CD's and that's it?
We definitely hope so! We've already toured with Stratovarius, Firewind, Alestorm, The Rotted and played several festivals in the UK and USA, so we are always open to offers for touring, and if it is deemed as being the right package then we will do it.
How are the first reactions from the press on the record?
Utterly amazing! Most seem to believe that it is our best record to date. We just do what we do and we are very grateful that many people like it so much.
Anything else you want to share with our readers?
Stay Metal, stay young, stay cursed!
---