---
Could you please give our readers a brief introduction to Divine Ascension?
Robb - Divine Ascension is a melting pot of thoughts, ideas and emotions , gathered together to tell our story. We are trying to find the right balance between power and passion, light and shade.
New album out now; tell us what kind of feelings does that bring up in you?
Robb - Like a weight has been lifted from our shoulders (laughs)! But seriously, we are over excited to finally have this CD out there. We have had some great support from Intromental/Nightmare records/Hydrant Music and are able to reach out to the world more expansively because of them.
The feedback and support from fans so far has been overwhelming and much appreciated.
It's a huge market out there but it's nice to know people still have room in their lives for "one more band".
If you had to pick one song off the album that represent the essence of Divine Ascension today, which one would you pick and why? Personally I would probably pick "Guided By Osiris".
Robb - I think "Another Battlefield" is the one for me as it has the heavy chugs with melodic sections adding tension in small amounts…pretty much describes all of our songs , I know (laughs)! But, this is one song which goes down well live.
Where did you record the album and who has produced and mixed it?
Robb - We tracked the drums at Eastern Bloc Studios in Melbourne with Ermin Hamidovic at the helm of the controls. Vocals were recorded at Sing Sing Recording Studios, Melbourne, again with Ermin. Ermin also recorded the rest of the instruments on the album, excluding small additions like the cello and acoustic guitar on one of the Japanese bonus tracks Not Today, in his studio at Systematic Productions. Ermin was also responsible for the mix of our album, with mastering being done by Plec at Panic-Room Mastering.
If you had the choice to pick the producer of your dreams, who would you work with and why?
Luke - This is a great question and in a sense a hard one to answer, as there are so many accomplished producers out there. Personally, some of the producers and influential engineers that have worked with bands I have enjoyed over the years would be obvious choices and would be 'wish-list' type candidates, they include: Andy La Rocque and Tom S. Englund for their obvious contributions to the Evergrey albums (Tom being the frontman and guitarist of course), Sascha Paeth and Miro for their work on the Kamelot albums The Fourth Legacy and Karma – good, honest metal, Fredrik Nordström, Mika Jussila, Jens Bogren, etc, this list could go on. I'm sure the other guys in the band would have some great additions too and our final decision on one producer would be a tough one no doubt!
Tell us a bit about the artwork – who made it etc. and how important do you feel it is to have a cool artwork?
Luke - I feel it is crucial to the album experience to have artwork that has been thought about by the artist. I have spent many album listens with booklet in hand reading lyrics and interpreting artwork. Both lyrics and artwork give the songs form, meaning and heightened emotion for the listener. The artwork for As The Truth Appears was a collaborative effort and realised by Jon Hocking of Jon hocking Design; we chose the innocent image of the child in the sand to represent generations yet to come. When the booklet is unfolded the listener is presented with a landscape type image also incorporating a mini metropolis that we wanted to represent what the new generations would inherit – all our decisions, good and bad, our misgivings, our politics, our world basically. We were hoping it suggested that the generations that follow maintain their innocence and remain grounded despite the wreckage of a world left for them. But the beauty of CD artwork is that the listener can interpret it in any way they like; so long as they draw something from the artwork then that would mean we had reached someone and we would be happy with that.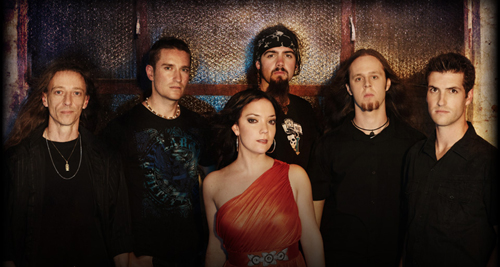 Who and what has inspired you musically on this album?
Robb - Life in general is the major influence on this album. I'm hoping these songs can be interpreted in many different ways that can relate to anyone's situation.
We tried to have the music go through many different emotions, much like a movie, and have the vocal melodies stitching everything together to make sense...we hope it worked (laughs)!
Could you give a brief introduction to the lyrically ideas behind "As the Truth Appears"?
Robb - The state of the world at the moment appears on a knife's edge and ready to come apart at the seams and each song of ours is a brief snapshot in the story of "life".
It's a fairly dark album in places.
What's next for Divine Ascension, any tours planned, work on your next album…?
Robb - We are already talking about album number two and throwing around some ideas to each other, but our main concern now is to tour as much as possible with an Australian jaunt from Sydney all the way around to Perth (Western Australia).
We would love to be on a festival in either Europe or the US also. For us we need our name out there so people may be interested to come watch us play.
If you had the choice to pick your ideal touring partners, who would you pick and why?
Robb - Symphony X: to me Russell Allen is "the voice".
Within Temptation, Nightwish, Pagans Mind...there's too many (laughs)...maybe we can play with them all...on the same bill I'd be happy to sit back and watch.
How is the scene for bands like Divine Ascension down under?
Robb - While there is a great deal of talented melodic bands down here, we sit in a strange place, too heavy for lighter bands yet too light for the heavier bands. This often makes for some interesting but cool gigs.
Thank you very much for answering my questions. Do you have any last rants for our readers?
Robb - Thank you all immensely for the great support and kind words; we read them all.
We also thank all Interviewers/Reviewers for their flattering support as well.
We WILL be coming soon to play for you so keep your eyes and ears open.
Robb-DA
---