The new album 'Species' is the fifth Consortium Project album. Is this indeed the last one?
Answer Ian: This is sadly the 5th and final part. So far the reactions for the 5th and final part of my concept Consortium Project V Species have been amazing. I have had some of the best reviews ever and the highest scores 9,5 being the best I received in my 25 year career and a great way to close the chapter after a 12 year musical journey..
It is the most comprehensive album in the Consortium series, you opened all registers on this one. How long have you been busy with writing and recording this album?
Answer Ian: It took me from the time I started writing the fifth part of the concept to completion of the production including the album sleeve about 18 months.
Was it hard to find all the musicians that participated on this album?
Answer Ian: Basically due to the logistical side of a large project like Consortium it is important to plan every detail. The most important part for me for Consortium V "Species" was to write a believable last part to my concept story, then once I have the concept I could then start writing the songs. Once the songs were completed I could then figure out who would be best suited to perform the songs having more than 30 musicians and singers working on all 5 albums during the past 12 years since I started the Consortium project back in 1999. So I selected in my opinion musicians who had been there from the 1st Consortium 1 "Criminals & Kings" album. My first and obvious choice was Vanden Plas guitarist Stephan Lill. It has been an amazing experience to work along side Stephen during the guitar recording session at Bazement studios Germany. For the drums there was no hesitation when Kamelot drummer Casey Grillo who had played previously on both Consortium 3 and my last solo album Visions. Casey's incredible style and grooving technique drives the songs powerfully along, so the next obvious choice to complete the rhythm section was bass ex-Pain of Salvation bassist Kris Gildenlow. Kris had performed with Consortium Project during the live shows in 2008 so I knew Kris's style would mould the basic structure of the songs.
I always like to add a number of newcomers to the Consortium family such as Dawn of Destiny members Jen Faber on bass and Veith Offenbacher on guitar as well as the 2 female singers Lene Petersen (ex-Infinity Overture singer) and Bulgarian female vocalist Ani Lozanova.
I had worked with Lene Petersen performing a live with at the c.d. presentation in Copenhagen for the Infinity Overture "Kingdom of Utopia" album release, which I co-wrote and recorded with Danish guitarist Niels Vejlyt. I was so impressed by Lene's Gothic metal style singing I asked her not only to do backing vocals in Denmark but later flew her to Amsterdam where she recorded some of my own lead vocals parts which I left out and replaced with Lene's Angelic style voice. Lene's unique vocal style was a perfect way to illustrate the atmosphere in songs such as "Silence calling" and the closing song "Oracle". For me it's all about the total production when I am producing an album.
In 2009 I was contacted by Bulgarian rock singer Ani Lozanova to produce and write songs for her new album "Miracle" and her band The Ani Lozanova Project. After working with Ani in Sofia Bulgarian and performing songs from previous Consortium albums both on her new Miracle c.d. and live on stage, I knew without hesitation that Ani's dark powerful rock voice would give C V Species that bombastic orchestral fullness adding her rich choir vocals. So it was a great pleasure and fantastic experience working with two beautiful and very talented singers and all my amazing colleagues who helped make this the best album from the Consortium Penology.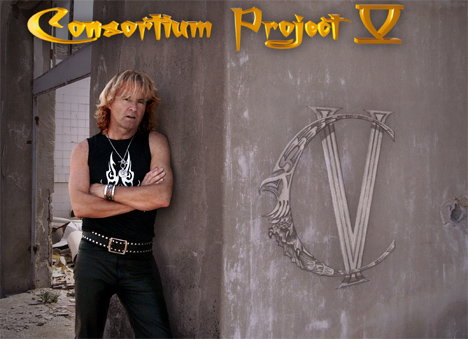 Were all the musicians enthusiast and willing to help you out?
Answer Ian: The amazing thing since I started the Consortium Project back in 1999, is that not only did I contact some of my most favourite guitarist and musicians from the world of Prog rock metal, but many musicians contacted me over the years explaining who much they would like to be a part of The Consortium Project. Consortium and the music written by my Colleagues and me has been seen as a quality project by many musicians around the world and not just the fans which is normally the case. So I have been very fortunate to have the best enthusiastic top performers / Musicians involved in such a creative and supportive way.
With Stephan Lill, Neils Vejlyt, Veith Offenbächer, Kris Gildenlöw and Casey Grillo (just to name a few) you found some excellent musicians. Did they all have the time to help you?
Answer Ian: This time around the only person who sadly could not deliver his parts due to the ill health of his father was Circle II Circle guitarist Bill Hudson. On Consortium Project IV I had asked Sharon from Within Temptation to perform a song with me, but as the wonderful Mum she is, her motherly duties come first and foremost and she was unable to appear on C IV due to the birth to her child.
Apart from these two occasions most musicians I asked were able to perform with me on the final C V Species album.
You have a very recognizable vocal sound, there isn't anyone in the metal genre that sounds the same. You must feel blessed by having such a sound. How old were you when you started singing and discovered that you had that talent?
Answer Ian: Thanks I didn't realise I had such a distinctive sound. I always think this of other singers I admire such as The late Ronnie James Dio, David Coverdale, Geoff Tate and Paul Rodgers.
I started singing at 17 yrs by accident. I had been playing drums for a year with a local village band in Cheshire England. Our singer at the time went off on a day trip with the local young centre and so my brother who was also a drummer back in 1977 filled in on drums while I stood behind the microphone screaming my balls off. Then during the next band meeting standing under the local bus stop shelter I was told by the guitarist that I was going to be the new singer, my brother would be the new drummer and the singer would learn guitar (which he did) and became the new rhythm guitarist. Funny how life can turn out here I am some 32 years later and still screaming my balls off ha! ha!
A lot of the songs on this fifth album are in my humble opinion the best you wrote to date. Were you aware of that during the writing sessions?
Answer Ian: C V Species being the 5th and final album is different because it is based more on guitar riff heavy power metal songs. I wanted a more heavier album with songs strong enough to stand on there own. I'd done all the progressive technical stuff with long instrumental passages and 6 minute songs on the earlier albums which is also cool. I wanted to keep the orchestral influences with orchestral strings and piano etc creating the gothic choir atmosphere where needed, but have more compact guitar riff tracks with catchy easy to remember vocal lines in the choruses and still retain the elements of a concept album, based mostly on the lyrical concept rather than a musical concept.
This is the most bombastic, melodic and most heavy album all together. The guitars sound very metal and the melodic parts are great. Did it end up just the way you wanted it to be?
Answer Ian: Absolutely, just listen to tracks like "Enemy Within" which I used for the new video clip now on my Youtube site (visit www.ianparry.com to view the clip).
It's pure heavy metal guitar all the way. I even managed to capture the nuances of classic Queensryche with the opening riff from "To The Earth and back". I worked together with Stephan Lill to create this opening riff exactly in the style and vein of Queensryche at their best, which in my opinion is still the best progressive metal band ever. (Apart from Vanden Plas oh course ha! ha! Plug! Plug!) As always with Stephan a job well done and a pleasure as always to work along side one of the best prog metal guitarist around.
Is there a possibility to go on stage to play the songs live? Most of the musicians are member of an other band, can you get a band together?
Answer Ian: I am in the process of contacting a select few clubs in Europe for a Consortium farewell tour in February 2012 to coincide with the last release of the Consortium Quadrilogy remasters which Lion Music will also release every 2 months after the July 15th release of Consortium V Species. As yet the line up is not finalize but I will keep everyone posted on my homepage; Face book and MySpace sites.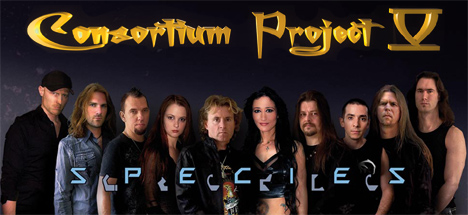 In the info your music is been described as progressive/power/gothic metal. The first two I can agree on, but the gothic part I think is a little strange, or is that because of the female vocals?
Answer Ian: I give credit to Danish singer Lene Petersaen for the Gothic element. Her lead vocal performances in the intro of "Silence Calling" and "Oracle" create that gothic metal atmosphere similar to Evanescence in parts which is one of Lene's favourite bands , but I guess we can safely say that C V Species has a taste of styles for everyone but is focused more this time around on Power metal guitar riff orientated songs.
Any change that there will be an Elegy album in the future sometime, or is that band gone forever?
Answer Ian: Well since the re-releases of 7 from the 8 albums (excluding Forbidden Fruit) via Metal Mind Productions Poland, sadly Elegy has no plans to reform or record. However if a label were to approach my colleagues or me with a proposition well like Ian Fleming the writer of James Bond wrote "Never say never again".
I know that you just finished this album, but do you have already ideas of what's coming next?
Answer Ian: On the short term I first have to complete lyrics and vocals for a project with Japanese guitarist Yoichiro Ishino from the increasing popular Japanese metal band Area 51 who is working on a special charity album for the Red Cross and the Japanese victims of the Earthquake disaster. Afterwards I will start working on lyrics and vocals for the next Crystal Tears album, which hopefully will be ready the end of 2011 or early 2012.
I am a Dutchman, do you feel yourself more Dutch or English? If the Holland soccer team plays England, who must win?
Answer ian: I love The Netherlands and the Dutch way of life, but as we say in the UK "Once a Brit always a Brit". But I see myself these days more as a citizen of Europe and the world, rather than someone coming from one particular country.
You have a big career, what is the thing you did that you are most proud of?
Answer Ian: Playing with Elegy in Osaka and Tokyo and having my stage jacket placed in a special frame on the wall of the Hard rock café was an honour. But later playing for 10,000 people at the Valley's rock festival in 2000 and later finally being invited to play in the USA was the ultimate dream.
What do you find your worst performance you did in your career?
Answer Ian: Back in a town on the other side of the river Mersey next to Liverpool. I played in a local band who won a chance to enter into a talent contest final. But the final was with a band full of skinheads and their fans hearing a heavy rock band playing better than the Skinhead band starting spitting as much as is humanly possible. Thanks god we continued to perform and finish our song only to hear that a due to popular demand the Skinheads won the day! The moral to this story is "If you can't beat 'em…join 'em ha! ha!
Anything else you want to share with our readers?
Answer Ian: On behalf of my colleagues from The Consortium Project and me I would like to say thanks to you and all the readers of Power of Metal and thanks to all of fans whom have supported our music these past 12 years. Hope to see you all soon live with The Consortium Project Farewell tour in 2012.
All my very best Ian Parry 2011.
---