---
Debut album out, tell us – what kind of feelings do that bring up in you?
Conflicted (Jason Orton – vocals) - With the release of Never Be Tamed we are excited about all the reviews we've received… they've all been so positive! It's great to have a disc out that we are all so very proud of!
If you had to pick one song off the album that represent the essence of Conflicted, which one would you pick and why?
Conflicted (Jason Orton – vocals) - Great question! Not as easy to answer though… J
I am pretty sure that you'd get a different answer from each member of the band on this one. My personal favourite as far as catching the essence of CONFLICTED might very well be "The Hand of God". It's precise drumming, articulated guitars and over the top vocal work really sums up what we are all about in a live situation.
"Never be Tamed" is your debut album, does the final result live up to the ideas and expectations you had going into the studio?
Conflicted (Jason Orton – vocals) - Another great question! Yes I believe that it does. We had recorded 2 EPs prior to Never Be Tamed that were great demo recordings at best. It was nice to sell a few of the EPs at the shows, but the performance quality didn't match the band's `fire`. This Never Be Tamed disc has a lot of production, a real headphone disc! There are a lot of great guitar and instrumental moments as well as over the top vocal moments!
If you had to state one emotion to describe Conflicted, which one would it be and why…?
Conflicted (Jason Orton – vocals) - CONFLICTED are: passionate!
Tell us a bit about the artwork – who made it etc.?
Conflicted (Jason Orton – vocals) - John Hill, a former work mate of CONFLICTED guitarist Mark Owen is the mastermind behind the artwork. Not only did he execute the cover with his graphic artistic abilities BUT he also researched the topic. He found that the gargoyle was believed to have never been able to be tamed. Therefore on our cover he has the gargoyle breaking free from it's shell.
Who and what has inspired you musically?
Conflicted (Jason Orton – vocals) - Musically I have personally been inspired by SO MANY genres and incredible musicians. The band only really has 5 influences: each other! As for personally influences I have always been a big on the Beatles, Deep Purple, Fates Warning, Judas Priest, Queen, Yes, Yngwie Malmsteen, Genesis, Beethoven - etc etc! Most of the guys in CONFLICTED share some influences but for the most part we are all islands unto our own. I would like to think that if you are sitting to listen to Never Be Tamed that you might very well hear all of our influences here and there!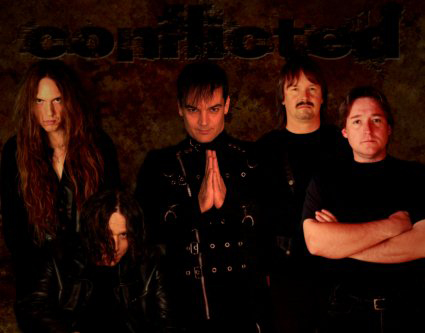 Could you give a brief introduction to the lyrically ideas behind "Never Be Tamed"?
Conflicted (Jason Orton – vocals) - Oh my favourite! As well as writing a fair portion of the music I did write all of the lyrics on Never Be Tamed. So as for the lyrical content: it's mostly personal, and of course how can I write from any other point of view…
Many songs are about personal growth, love or lost love, moving forward, looking back, and some songs are just down right silly! I don't get caught up in politics, I find that's a really quick way to date your music. I also have never really been into the "dungeons and dragons" type lyrics either, they are great to read or hear but have never been my thing.
How did you end up with a name like Conflicted, any interesting stories to tell?
Conflicted (Jason Orton – vocals) - The band was struggling with a name for a very long time… months. We had a couple or a few that we were pondering. CONFLICTED really summed up our situation at the time. We had members of the band that had their thoughts in other places. We were planning a show, but needed a name, CONFLICTED won!
If you had the chance to pick your touring partners, who would it be and why?
Conflicted (Jason Orton – vocals) - Well, I'd have to say Deep Purple, Dream Theater, Yngwie, Judas Priest or any combination of them would be great!!! These are the 4 bands that we are compared to most often so it would be great to play for an audience that might really appreciate us!
What's next for you, any tours planned, work on your next album…?
Conflicted (Jason Orton – vocals) - The future holds much for CONFLICTED. We are in negotiations right now with new management. Our eyes are firmly locked in on touring North America and Europe. We are also well into writing a follow up to Never Be Tamed. The new material is sounding very very good!!!
What does the words progressive power metal mean to you?
Conflicted (Jason Orton – vocals) - Progressive Power Metal is just a label to me. I like many bands and genres so the industry stamp means nothing to me unless I like the core song, performance and approach. I guess though that if a band has been branded as a Progressive Power Metal band that they probably have a great singer, guitarist and a solid sound…. I think that's a pretty great compliment!
Thank you very much for answering my questions. Do you have any last rants for our readers?
Conflicted (Jason Orton – vocals) - Thank You so much for your interest in CONFLICTED! Please stay tuned to conflicted.ca for all things CONFLICTED! All the best from Canada to you!
---