---
I am sure you are a big unknown to most of our readers – so could you please start by introducing you?
Dan: Clandestine is a melodic hard rock / metal band with various other influences like progressive and electronic. I play guitars and co-wrote our latest album with June.
If you had to pick one song off the album that represent the essence of Clandestine, which one would you pick and why?
June: I think the song "The Invalid" has all elements of the whole album. It's the most dynamic song – the atmospheric intro with the sound of an oxygen mask, the quiet section with a ticking clock, and then the band comes in heavily with synth parts. I'm singing and screaming at a few moments, and there is also an elaborate guitar solo. I really like how moody the arrangement is. The lyrics are about going through a sickness that has no cure and wishing for the right of death. Through words, I want to express a pure emotion and feeling about a difficult subject without worrying about what others think or whether the idea would be accepted by others. The song "The Invalid" does just that.
"The Invalid" is your debut album, but how happy are you with the final result?
Dan: We're definitely pleased that it all came together like it did. That being said, we wouldn't be a progressive band if we didn't learn from our experiences in order to better ourselves as musicians in the future. Of course there are tiny things we wish we would have done differently but what can you do? You can't tweak the same album your whole life, you gotta let it go.
June: There are many things I could pick on if I decided to do so, but I just stopped judging the album so I can move on to the next one with a fresh mind. We did our best in a given time for the album, and we try to respect ourselves for that. Being too hard on yourself after the album is done wouldn't be productive. We definitely learned a lot from the whole process of making our first album, and it should only get better from now on.
If you had the choice to pick your producer (free of charge), who would you pick and why?
Dan: I've been absolutely loving Celldweller's self titled album from 2003. To me, that album is the closest thing to a perfect album I've ever heard mainly because of the production value – so many unique sounds and effects, big fat massive mixes and very well written songs. I think Klayton (the brain behind Celldweller) could do some pretty cool stuff to our next album. At the very least anyway, I should be able to cop some of his style.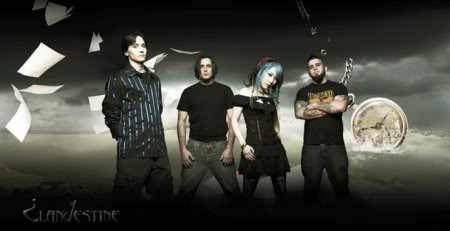 Your music is very emotional - but if you had to state one emotion to describe Clandestine, which one would it be and why…?
June: Vulnerability – I talk about things that are too fragile on the surface. The complexity of our mind and the way we identify ourselves in the context of our surroundings often conceal what we really feel inside. Clandestine is about revealing what's beneath our mask no matter how vulnerable the subject might be.
Who and what has inspired you musically?
Dan: During the writing of "The Invalid" I was very in to progressive metal stuff like Porcupine Tree, Dream Theater and Mudvayne. But since it was written over a couple of years, you'll hear various other influences like electronica and pop.
June: I was a quiet girl and used to have a problem expressing my thoughts when emotions kicked in. I don't know why but every time I wanted to say what I felt, I would choke and swallow my words. I think my emotion was so intense that speaking couldn't deliver it. Music and singing was the cure for my temporary muteness. The power of music carries my words and emotion in a perfect balance.
Musically, I'm into bands or musicians that are progressive, unique, somewhat dark and introspective – such as Katatonia, Tool, A Perfect Circle, Bjork… and most recently, TesseracT.
Could you give a brief introduction to the lyrically concept for "The Invalid"?
June: Simply put, it's about what you really feel – even if you don't want to talk about it – rather than what you're supposed to feel or what others think you must feel. My goal is to understand self-denial to its core and be able to express it in a pure state of emotion, not distracted by rationality or external opinions.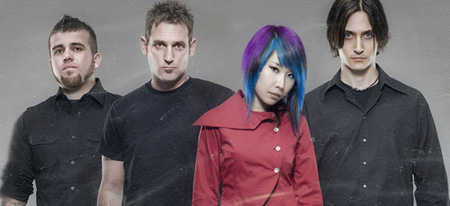 What's next for Clandestine, any touring plans now or is it back in the studio…?
Dan: We are lining up some U.S. tours this year. We can't wait to get out on the road and play this album for new crowds. And we'd absolutely love to get over to Denmark and Europe as well. We'll see what happens.
The cover needs a few words, kinda psychedelic almost Dali inspired. Who made it and what do you want to express with it?
June: It was created by Chilean artist who goes by Sidiuss. The artwork is an image of The Invalid – a patient with an incurable disease, who is so weak and barely breathing, contemplates her complete disappearance from the world.
What does the words progressive metal mean to you?
Dan: If a band is described as progressive metal, I personally would assume that band to have hard rock / metal at its core while embellishing it with other genres and influences and thus, pushing it in a much further and broader direction. Because of this, you can't always assume you know what that band will sound like until you listen to them. It's not like "metal" or "techno" where you pretty much know what to expect.
June: There is a familiar sound element such as a rhythmic style or time signature that makes a band called "progressive." However, a progressive band is not progressive anymore if it doesn't progress from the mannerism of what a progressive band should be. In that sense, I think any band that desires to experiment can be called progressive.
Thank you very much for answering my questions. Do you have any last rants for our readers?
June: Thanks for reading our interview, and I hope we continue to share our thoughts and emotions without boundaries through music. When I was going through hard times, music was always there for me like a friend who would never leave me. No matter how long I've been distant or careless due to either a busy schedule or stress, music remained in the same place and waited until I was able to cope with "feeling what I feel" again. It would be my great pleasure if I could provide what you need to pull you through your darkest hours.

---