Please tell us what the band has been doing between the 2009 release 'Science of Annihilation' and the recordings of 'Supremacy of Steel'.
Well we did a lot of touring in the USA. Probably more touring in America than ever before. For Science of Annihilation we did our first proper tour of Europe and it was great. Much more of that planned. Also went through some line-up changes. Lots going on always!
There are two new members in the band, Steve Brogden and Pete Stone, can you tell us something about them? What is their musical background?
Steve is a younger guy with an old metal soul who worked with Norm at the record store Norm owned. The writing process really went well with Steve he fit in great and plays great on stage. Pete has been around San Diego for a long while and is a great player. Everything fit together perfectly and the live stage show is off the chain now!
How is the song writing process for a new Cage album?
Well a lot of the writing is done as a group all together at the same time in the room. That is where I like to write the best. Three of us have home studios now so something is always being recorded by somebody. We bring the pieces into the room and we all start tweaking it into metal form. I often come up with music melodies or vocal melodies and have really developed a great system within Cage to make smashing songs. Norm has added a great ability to come up with beats that we may not have considered which at times can take things in a better direction. Feeling what the music does live and get instant gratification all together live is something that gives us a definite edge on our competition.
Besides a lot of new tracks, you also put an old song "Braindead Woman" on the new album, did you finally find it time to release it and why not on an earlier album?
Well it was recorded on our unreleased record now known as the "LOST Cd". It was the first song we had in the early 90's that people used to scream for some reason. It had a cult following all its' own and we decided to bring it back into the year 2011 and unleash it upon our fans. It is obviously a totally different vibe but people seem to be enjoying it. It is kind of a joke song which is different for us as we are always drop dead heavy metal serious.
How do you decide if a song is good enough to be on a new Cage album?
There is a huge pile of fallen bodies in the dead song pile for sure. I am always going through our old tapes to catch some old riffs that were cool but just did not make it. There is a lot of left over's which we put some of them on the bonus disc for the pre order package. To me when I get the goose bumps and the song sticks in my head I know we have something special. We are just simply metal fans and if the song rocks me I know that it should probably rock fans of this genre. It has served us well thus far so now I am pretty confident in my ability to recognize what is kick ass in this heavy/thrashy/speed/power metal vein we are in. Music is all opinions but we have been able to craft albums with little to no filler songs like the great records of old.
With every album the music and songs sound more extreme, but are still recognizable as Cage songs, where will this end?
Ha! We have been getting a lot of that lately which is a bit of a surprise to me. I think we definitely pushed some boundaries with our two heaviest songs like BLOODSTEEL and WAR OF THE UNDEAD. These are just natural progressions to me. We are always dabbling new shades of metal like in the song FLYING FORTRESS or ANNELIESE MICHEL. I am always looking for new voices to use and show off and with Norm on drums, the sky is the limit when it comes to speed and new metal beats to employ. Where will it end? As long as it does not sound like a bunch of shit we will keep ripping harder and faster I will imagine. It is a fine line and the important thing is to have a great song whether it is fast or slow or whatever it has packed into it.
I find this album a blue print for a heavy metal album, is that the bands goal? Writing the ultimate metal album?
Ha! That is really cool to hear. In a way it kind of is I would say. When we wrote METAL EMPIRE and had the cover art come together we knew this was a definite statement album. It is a testament to the superiority that metal is as an art form and as a lifestyle and we wanted to encapsulate a lot of where we came from and where we plan to take this genre with our vision. By being able to emulate a Sabaton, a King Diamond and a Painkliller sound on one record, I think we covered a lot of ground on one record. These are some of the roots of where the heavy metal fan looks to for their devout faith and some of the masters are either gone or their newer works are not fulfilling enough sometimes. We try with each album to fill it with great songs that will keep the cd in the player for the next year or so!
Who decided to make a Mercyful Fate like song reminding of their first albums?
It was my idea initially and Dave wrote a great song for it. That music was all his and it fit perfectly with how I wanted to sing it. Just another example of the synergy we have with our metal. He had that cool keyboard intro and the song ripped. We checked out the topic of this real life famous exorcism and were shocked no one had tackled the topic yet. It was perfect and so famous they made a major motion picture about it even. When we first tracked it a sent a pre mix version of it to some friends who were King Diamond fans and told them it was a newly discovered Mercyful Fate song and they believed me ha!
Some might find your music and lyrics a little bit too over the top and a little too cliché, can you understand that?
That is always strange to me because this is how I was taught to be metal. This is what metal simply was to me. Look at every Maiden cover or Ozzy album. Black Leather and lasers and fire was what I loved about metal. The music and the images and the attitude. Cliché or cheesy I do not understand either because that is what metal was about. Ozzy had Bark at the Moon, we have The Beast of Bray road. Judas Priest had The Sentinel, we have Speed Kills and King Of the Wasteland. I am not into introspective songs about my mood or feelings or the shitty human condition these things are not metal to me and do not provide the awesome escape that a Number of The Beast does. I was taught also that there is no such thing as too much when it comes to metal and I believe that. It takes a lot of work to produce each record and we want to scream to the highest mountain top that this is metal and the album cover shows just what we think metal is as the metal gods are clearly depicted there. I understand some might find it this way but the people that are true metal heads and wear their denim vests filled with patches do not share the concept that it is too cheesy or over the top at all. These are the things that attracted me to metal in the first place and they have not changed over the years and will never change. I love the fact people think we are extreme and over the top.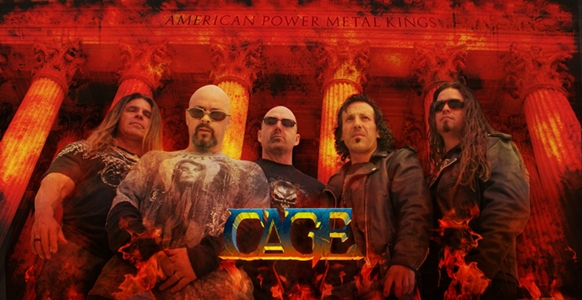 If there is one band you can compare Cage to, it must be Helstar with James Rivera on vocals. What is your opinion about this?
James is a good friend who we have shared the stage with many times. I like stuff he does, I like some stuff Ripper does, Dickenson and of course the best ever Halford. I am proud of my ability to employ different voices and approaches from song to song and within the same song too. I really like it when a singer can put some variety in the songs to keep it fresh I get bored when the singer sounds the same all the way through. I think Halford does that better than anyone.
Can we expect Cage in Europe this Winter or Summer for some festivals?
Well we have very aggressive touring plans for 2012 and they are all being worked on now. I cannot confirm anything until it is set in stone and just know wherever you are reading this, it is likely we will be near you soon.
How is your popularity in Europe, I know that Germany is a good market, but are there more countries you are very popular?
Hard to say when we toured for Science of Annihilation we did a headlining tour and were very happy with the turnout. We have had some good success in Mexico and parts of America. Belgium was good and so was Holland. We just plan on working the planet to bring out our metal as much as possible. When people see us play live that is where we do our best work. We are a band that comes off better live than on the record and although we have captured more of a live sound with SUPREMACY OF STEEL.
The album has a beautiful 16 page booklet, and the whole package is really worth buying. Is this because you want to have people buying the album and not downloading it illegally.
Yes that is part of it but we just wanted the fans to have another vehicle to assist in their metal escape with this record. I wanted people to be able to play the whole record, stare at the cover for 20 minutes then spend the next 45 minutes in the booklet. With this artwork presented here it is totally possible. Our fans are very loyal and will but the cd even after downloading it which I think is the same with most metal fans in general. That makes another point why metal is superior to all! But we are really proud of the booklet and think it is one of the best in metal history perhaps. Wait until you see the next one!
If you have to choose 5 albums that everyone should have listened to at least for once in their life, which 5 would that be (not 5 Cage albums haha)?
No Cage albums? Damn! Ok 1. Crimson Glory - Transcendence 2. Judas Priest - Painkiller 3. Ozzy - Diary of a Madman 4. Riot - Privilege of Power 5. King Diamond - Abigail or Them as a tie
.
If you had the choice, with which band would you go on tour?
Priest or Maiden that is easy who else?
Anything else you want to share with our readers?
Well I want the readers to know how much we appreciate the feedback from them and face book has really been a great tool to keep in touch with our fans and make new friends. Metal fans are some of the coolest people in the world and it is so amazing that I can be here at my office in San Diego California and some guy from South Africa or Poland can buzz in and start chatting with me. We work very hard on this stuff every day as it is our passion and after 19 years in Cage we have found that the biggest joy or payoff is performing and the second best part of it all is talking with the people. So please reach out to us through any of our sites we love talking metal!!!
---