---
Between The Buried And Me "The Parallax: Hypersleep Dialogues": (a kind of) interview.
BTBAM is probably the latest band you can suspect of lack of inspiration and creativity. Why do you come with an EP instead of a LP? Lack of time? When will part II LP come?
- Well, we've done five full length records in a row (not to mention the covers record, and a live album), so we it seemed like a good time to change it up and try something different. It was our first release with a new label, our first time with a new producer…so it just seemed right to try an EP. Focusing on a short burst of music rather than a full length record was something different and kind of exciting. Of course early on we developed ideas for the concept of a record and decided to use the EP as kind of a prologue to the story, so it'll be great to have a half hour start on not only the story, but the music as well. We'll probably start working on ideas on our own this summer and really gets working on the full length in early 2012.
Your music is a patchwork of styles, with both power and technique, aggression and harmony. How do you bring coherence from chaos? What is your composition process?
- We all bring different influences to the table, which is why it ends up being all over the place sonically. Personally, my influences are so diverse, but I'm rooted in progressive rock from the 70s (King Crimson, Yes, Gentle Giant, Genesis), as well as a classical background. When those two influences meet with my other interests of intense energetic music, it starts to get interesting haha. But you know, some guys are more into metal, some just love Radiohead and bluegrass. We're all over the place. Finding cohesion is kind of a simple thing when we're arranging. It's just like any band that's arranging and composing songs, it's just what's must natural for us to do. The second it becomes taxing and unnatural is when we need to stop and re-evaluate- and that's like with any band. You never want something to seem forced.
And what about the recording process? Did you try things for "The Parallax: Hypersleep Dialogues" for the first time?
- Recording in Toronto, ON in December with a Grammy award winning producer was definitely a first for us haha. It was a pretty gnarly experience recording with a guy that's tracked Robert Fripp, Tony Levin, Bill Bruford, Matt Belamy, Daniel Johns, Peter Gabriel, Maynard, etc etc... David Bottrill was super down to earth and easy to work with. We tracked drums at Metalworks studios in Missassauga, ON which was by far the nicest studio we've ever been in. Aside from it being freezing cold, it was a great experience. Toronto's a great city!
Can you tell about your influences? Who are/were for you the most important musicians and artists/authors outside music?
- The only things that really inspire me musically are other music. Seeing a good live show always makes me want to go home and write. There are various things that get me just excited about life and in turn I guess inspire me to write, such as dogs; eating a glorious vegan meal, running, summer time, the x-files…life's pretty great actually!
Each new production from many bands comes often with the same comment: "This is our best record!". Would you answer the same here? How can you describe your evolution since "The Great Misdirect", "Colors" and before?
- I think this record just properly captured us where we were at for the two months we were writing. "Colors" was such a huge step forward for us that it's hard to base anything off of that record. They're still some of my favorite songs to play, and looking back that were such a special time for us. We were just on fire. I can remember waking up and grabbing my guitar or bass and literally playing and writing all day until the wee hours of the morning. My friends would have to come into my room and steal me away to go out to eat or socialize. We were just all on the same page as far as the progression we were moving in, and it was just the easiest record to write. Actually really, "The Great Misdirect" happened extremely fast and easy as well. We had some snags with "Swim to the Moon", but you'll have that with an 18 minute long song haha. I think, hopefully, you'll see another big step forward in our evolution on this next full length like you saw with "Colors". Personally, I don't ever want to feel content.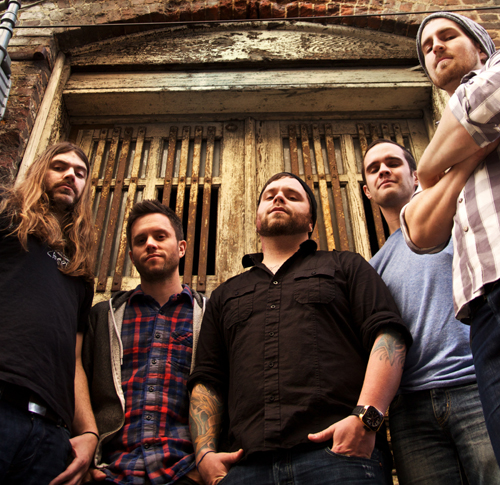 Photo: Justin Reich
Back to the concept, does the first person live on Earth or somewhere else in the Milky Way? If it is so, have you located the second one? In which galaxy within the Virgo Supercluster?
- The first person is the character from "Swim to the Moon", who is in fact located on Earth. I don't think an exact location has been pinpointed for the second character, other than that they're millions of light years away living a parallel existence to the one happening on Earth.
Even "The Great Misdirect" was perhaps more accessible than "Colors", how do you explain it could reach #36 on the US Billboard Top 200 in its first week of release? What is the magic formula for a band which plays an excellent but definitely not easy listening or formatted music to reach a large audience?
- It's definitely a mystery to us! There's absolutely no reasonable explanation as to why a band like BTBAM should be in the top 40, but it's fucking awesome! For a band like us we really look up to bands like Dream Theater that have always stuck to their guns and written the long expansive music that they want to write and haven't worried about changing their sound to accommodate the masses. I think it's just a tribute to how much we tour and how great our fans are. I really feel like their musical tastes have evolved along with ours, which definitely helps. A 6 song full length with an 18 minute long closer is definitely not "accessible" to the masses, so we owe it all to the amazing people who support our band.
Did you sign with Metal Blade Records to get bigger, both inside and beyond the US borders, and to focus especially on Europe, right now with "The Parallax: Hypersleep Dialogues" and on stage in September?
- That was definitely a big part of it, yep. Metal blade has a great presence outside of the states, which we never had with our old label. We're excited to see what our shows overseas will be like when our records can actually be found in the stores there! haha. We're so excited to be in Europe in September, and with our good friends in animals as leaders as well. We took them on their first ever tour in the US, so it's great to take them out on their first European tour as well.
What about European summer music festivals? Not interested? Why ignoring Scandinavia according to the September's schedule at Metal Blade's website?
- We love Scandinavia, and we have no say in where we go. It's all up to our booking agent and what's available. Hopefully we'll be there sooner than later. And this is our first summer off in the 6 years I've been in the band. So excited about it! I'll be watching lots of baseball, camping, cooking out, swimming, you name it. Summer time should be full of adventures!
What do you think about people who are not music journalists or professional critics and who are writing music reviews on the internet and sending interviews, sometimes in a language which is not their mother tongue?
- I think it's great! the internet's made it very easy for people to have their voice heard. when I was growing up in the hardcore scene, we all got our news and interviews with bands through diy zines. that was such a huge important part of my coming up in the music world pre-internet blogs, so I think this is just the new wave of that for kids. I think it's great.
A final word or comment to close this interview?
- We're psyched to get overseas! Come out and come talk to us, we're very friendly.
---