---
I am sure you are a big unknown to most of our readers – so could you please start by introducing you?
Borealis – Borealis started out as 4 high school friends who wanted to emulate bands like Nightwish and Sonata Arctica. Since then, we've had the pleasure of playing with huge international acts like Symphony X and Stratovarius, while we've been honing our writing style and growing together as musicians. Some other members have come and gone but the 4 original members, Sean Werlick, Sean Dowell, Jamie Smith, and Matt Marinelli, have stayed the same since the beginning.
If you had to pick one song off the album that represent the essence of Borealis, which one would you pick and why? Personally I would pick either "Finest Hour" or the title track…
Borealis – We would say "Breaking The Curse" is the best track in terms of representing Borealis, as it is today. The melody and aggressiveness of the song ties in all of our inspirations and influences quite well.
"Fall from Grace" is second album, but your first "proper" release, how happy are you with the final result?
Borealis – We are extremely happy with the final result of Fall From Grace. The sound quality alone is many times better than our first full length release, and we feel our songwriting improved quite a bit between albums. Having read a handful of reviews so far for the new CD, we are thrilled that people seem to feel the same way!!
What's the biggest difference between this album and "Wolrd of Silence"?
Borealis – The biggest difference is the production quality, which as I said is very much improved. We went into the recording of Fall From Grace with a much clearer idea of how we wanted our songs to sound, and in finding Jordan Valeriote for recording and mixing, and Tomas "Plec" Johannson for mastering, we were able to produce a great sounding album.
If you had to state one emotion to describe Borealis, which one would it be and why…?
Borealis – One emotion to describe Borealis would be aggression, in terms you hear on Fall From Grace. Our writing style and feelings towards our music is much more aggressive than before, and that's what people will probably come to identify Borealis with after listening to Fall From Grace.
Who and what has inspired you musically?
Borealis – Every band member has different musical inspirations, and they all make their way into our writing. From the usual suspects like Symphony X, Evergrey, and Avantasia, to more obscure inspirations like Hans Zimmer's movie scores and Lady Gaga's top 40 hits, we all like it and try to blend it all in our writing.
Could you give a brief introduction to the lyrically ideas behind "Fall from Grace"?
Borealis – Lyrically, Fall From Grace was meant to be less of a "fantasy" metal album and more of a "real life" album. Dealing with topics like addiction and insanity, we've taken some inspiration from our own lives and applied them to our music.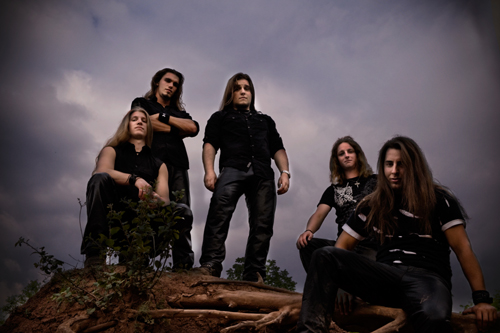 What's next for Borealis, any tours planned, work on your next album…?
Borealis – We are aggressively looking for a tour, we'd like to hit the road and get our music in as many peoples' heads as possible. We've had terrific support from around the world, even before our album hits stores worldwide, and we want to play in front of as many people as are willing to come out and see us!
How did you end up with a name like Borealis, any interesting stories to tell?
Borealis – Not the most interesting story, we were all hanging out one night and the northern lights (aka Aurora Borealis) could be seen above. We thought it would be a cool name, but with Aurora Borealis already being a successful band, we shortened it to Borealis :)
Tell us a bit about the artwork – who made it and who is falling from grace?
Borealis – Our artwork was made by Frank Fiedler, a very talented artist who was referred to us by Rainer Kalwitz. To be honest, we were completely at a loss as to what to put on the cover, but we fell in love with Mr. Fiedler's artwork, and the rest is history!
What does the words progressive power metal mean to you?
Borealis – To us, Progressive Power Metal brings to mind some of the best bands we've ever heard of, and when we are compared to them and classified in the same genre as them, we are extremely flattered and humbled. We feel there are big shoes to fill in the Progressive Power Metal genre, and we intend to do our best to find our place amongst those bands.
How hard is it to get recognition in your home country Canada, your style isn't so big there…?
Borealis - It's been very difficult getting recognition in Canada. That said, there some extremely dedicated and passionate fans of our music here, and they have been amazing to us. Without them, we would be nowhere, but in terms of radio play and recognition in the media, it's very difficult for a band playing this kind of music.
Thank you very much for answering my questions. Do you have any last rants for our readers?
Borealis - We would like to thank anyone and everyone who has supported us, and to first time listeners, we hope you like Fall From Grace!! Check us out at www.borealismetal.com, and drop us a line, whether you think we rock, or you think we suck, we want to hear from you!!
---