---
Almost exactly 2 years after 'GabriŽl' your new record 'Transhuman' is released. What did the last 2 years bring for the band, was it as expected?
KB: We played some shows in support of Gabriel and spent a lot of time working on the Transhuman album and laying the groundwork for everything that is happening now. We also have our jobs and lives to manage in addition to the band stuff.
In my interview with you in April 2009, your friend Elton Nestler took care of the bass (on the new record done by Kurt), where did he go and why, how are you going to solve this playing on stage?
JK: Elton was interested in spending more time on other things and we were getting ready to jump into the Transhuman project head first, so it seemed like a good time to leave. For now I'm playing bass in our live shows instead of keyboards. We might change that by getting a touring bassist or keyboard player at some point, but for now we're a four-piece live act.
Your new album 'Transhuman' is again rather different from 'Gabriel', what is the biggest musical difference?
JK: There seems to be a variety of opinions floating around about what is different, and we're not hearing some of the things that other people are hearing. That's great, though, because it shows us that we succeeded in creating music that is multi-faceted and grabs the listener in different ways depending on what they bring to the listening experience. For us, it was important to focus on dynamics and melody and not just have a string of interchangeable thrash riffs throughout the whole album. Kurt wanted to experiment with lots of vocal layers as well.
You used some more modern sounds, like drum computers and stuff, is that something that will be worked out more on the next albums?
JK: We did use some programmed drums on the instrumental, "Currents", but I think a lot of what people refer to as more modern sounding with this album is the fact that the production is so much better. The raw thrash sound really worked on previous albums, but a cleaner, modern, tighter production is what we wanted for the songs we wrote for Transhuman. However, it's not all clean. The keyboards in general are more retro and organic than on Gabriel. There's also a lot happening with Kurt's vocals.
The bass seems to have a more important place in the music too, it is mixed more in front, is that a coincidence or was it planned?
JK: No, that was planned. We wanted the bass to have a bigger role in this album and in keeping with our focus on songwriting and dynamics, we wanted it to be more prominent at times. Plus, we really liked the actual bass tone that we recorded with and wanted it to be heard.
Am I correct that you all like the band Voivod?
KB: Yes, we're fans of Voivod and it's great to get some of those comparisons. We see Voivod as a true progressive band, striving to experiment with different musical soundscapes and constantly reinventing themselves.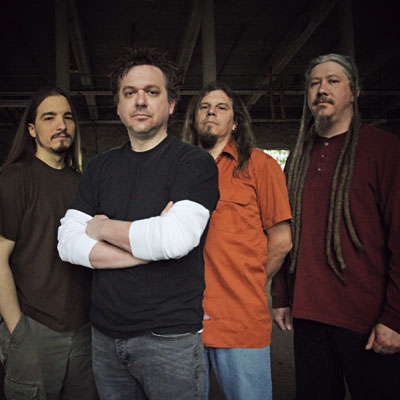 Can you tell something about the lyrical concept?
JK: Lyrically, we explored concepts related to what it means to be human in the age of technology. However, we don't have a lot of technical jargon in there. If you didn't know what the loose concept was about, you would probably come up with something completely different.
How do you create the recognizable, and typical for the band Believer, dry guitar sound?
KB: Jeff, maybe you should answer this from an engineering or sound recording perspective.
JK: There is no secret formula. Kurt lists the equipment he is using from time to time and he does not necessarily use the same gear or guitars from album to album. I think the biggest part of his sound is his right hand technique rather than anything related to gear or recording equipment. His picking is very tight and precise. When you layer several tracks of that together you can actually hear phasing in certain places because of how tight it is.
Although there are musical changes, with your vocals and guitars you can pick out the band between 100 others immediately, you must be proud of that fact, aren't you?
KB: Yes, we've always strived to be unique. We never wanted to be a carbon copy of another band. The fact that listeners can pick us out from other bands suggests that we have achieved our goal and this makes us proud.
This is the second album for Metal Blade Records, did signing with them bring you a lot effort?
KB: It actually went fairly smoothly. We found out Howard Jones from Killswitch Engage was a fan of the band and got in touch with him about doing some guest vocals on "Gabriel". He flew in to record and while he was with us he mentioned that he had an imprint on Metal Blade and was interested in working with us. He was instrumental in making this happen.
How are the first reactions on the album?
JK: They've been great from our perspective. Maybe they've been a little more polarized than the first reactions from Gabriel. People either love the new vocal direction or hate it. They like the production or not. But that's all good. A lot of fans have already concluded it's their favorite Believer album, which is very gratifying to hear.
Will the band play a lot live in 2011 and will you be coming to Europe?
JK: We would love to do lots of shows but the reality is that we have jobs and families and need to make sure we make responsible financial decisions. We are interested in coming to Europe under the right circumstances.
Anything else you want to share with our readers?
KB: Thanks for your support of our music and our sonic experiments. Please check out our website if you're interested in what's going on from the band.
Thanks for answering the questions and a lot of success!
Both: Thank you!
---