---
New album out this week, tell us – what kind of feelings do that bring up in you?

Simon - We are very excited and pleased with all the great reviews and positive comments we have received so far. I think people appreciate how we have grown as a band and how it shows on 'Forever More'.

If you had to pick one song off the album that represent the essence of Awake today, which one would you pick and why?

Simon - I would say 'Out of control'. It has a new heaviness and energy that we were looking for, yet retains the 'theatrical' Awake sound.

What's the biggest difference between "Illumination" and this one?

Simon - Forever More is a big step forward from Illumination. We all had the same ideas of how we wanted it to sound. We thought there were certain moments on Illumination where the guitars got 'lost' in amongst the tracks and we didn't want that happening again. Hopefully people will recognise and appreciate the new guitar riffs and sounds.

You had a changing of the guards at guitar between the albums, why and what has that meant for the chemistry in the band?

Simon - Ah yes, Richard, it was a shame as he was a founder member of the band, but things and people change. We were very lucky to have Andy Coles audition for us. We knew straight away that he was the one to join us. His talent and writing is amazing but what we liked, was, how well he fitted into the band. It is like he has always been there. It is so important to have a tight unit for us, makes the whole process of writing, recording and performing so natural and it has to be fun.

Has the new guys changed your approach to song writing?

Simon - Yes! Andy's brother, Steven, used to come and help out at rehearsals, all of us knew he had to join the band too. The connection the brothers have is fantastic when they write together. It brings out a whole new creative side in us all. We all have bought our own style and influences but pushed it to a new level.
Tell us a bit about the artwork – who made it etc. and how important do you feel it is to have a cool artwork?
Simon - Cool artwork? Glad you like it! We came across a very talented guy called Rainer, he works with a few fantastic artists who happened to have a piece that fitted the album title perfectly. We asked him to make a few adjustments to the original piece and we ended up with the perfect representation for the album.
Who and what has inspired you musically on this album?
Simon - Musically we wanted to start a whole new chapter for Awake. When the Coles joined the band and we all sat down to write, I guess you could say we all inspired each other. It was a new and exciting time and we all eager to see where the band could go in the future.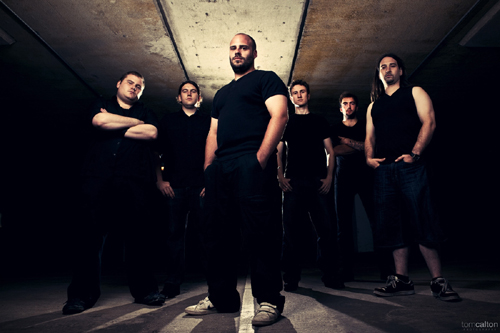 Could you give a brief introduction to the lyrically ideas behind "Forever More"?
Simon - We like to write about experience's we have been through either as a band or on a more personal level. In life everyone has ups and downs and I guess there were a few of us that were coming out of some low points in our lives. I personally like 'Closing the doors' I wrote it as I was closing a chapter in my life and moving on, so it's a positive track for me, marking a new beginning. I don't know what we will lyrically write for the next album as everyone has moved on and are now very happy and settled! Haha.
What's next for Awake, any tours planned, work on your next album…?
Simon - We would love to tour again, who wouldn't? So it is a possibility and something we enjoy. There are gigs booked, Fused festival in May 2012 is a great one. We play with some other amazing bands, like Seventh Wonder for example. Check out our Myspace as more are being added all the time. We are already starting to write for the next album and again are eager to get back in the studio recording.
If you had the choice to pick your ideal touring partners, who would you pick and why?
Simon - Do you mean bands? We had a brilliant time with Magnum, they were great to tour with. I know we all would love to tour with Dream theatre, but I think most bands in our genre want to, haha.
What does the words progressive metal mean to you?
Simon - Hmm this is tricky, as I would say our sound was more of the melodic genre.
Thank you very much for answering my questions. Do you have any last rants for our readers?
Simon - Yes! Huge thank you to everyone who has supported us through the years and we hope you will continue to do so, it does mean a lot to us. I hope you will enjoy the new album and tell everyone to buy it, haha. As I said we are writing again already and hope you will stay in touch on all our web pages for more news and updates.
Always wear a raincoat!!
---