---
I am sure you are a big unknown to most of our readers – so could you please start by introducing yourselves?
Aura – We are an Italian band born in 1996.The members of the band have been the same ever since, except for the keyboardist who arrived in 2001 and the guitarist who's been a bit on-off. After various live gigs and demo projects, in 2008 we made our first album and signed a contract with MyKingdomMusic. For the new album we are working with Spider Rock Promotion.
"Deliverance" is your second album – what can music lovers expect from it?
Aura – Deliverance is a complete musical journey, those who love music will surely find something interesting in this album. They can expert melody, taste ,research, lust, a kind of music that's open, not locked into schemes.
What's the biggest difference between this album and your first?
Aura – The biggest difference lies in the musical growth that every member of the band reached through past years. Deliverance is surely a more mature album and you can get it at first listening; there's obviously been a different sonorous research and a better song-writing.
How happy are you with the final result?
Aura – We like it at 99% because, same as in life, there's always something to improve, otherwise we should always feel complete and realized, instead there's always a new goal to reach.
Who and what has inspired you, musically as well as lyrically?
Aura – We started this album with the idea of a musical journey. We wanted to tell a different story and we wanted to put it in music. We didn't have any bond with anyone but our passion and creativity. In this breeding ground of feelings, we had the idea, with the guitarist who plays in our first album, of making a mind trip in Palestine because those places had always fascinated us. It's this idea of a journey into feelings and scents that inspired us.
Any story worth telling behind your name?
Aura – There are many; one of the funniest is about that time that we had to play at a Festival in The south of Italy, it was August and it was very hot and we got there after spending time on the beach and we our arrived in our flip flops, shorts and a ball .We arrived like tourists in the backstage that was crowded with hundreds of long haired musicians dressed in black and we heard them say "Who the fuckin' hell are these?"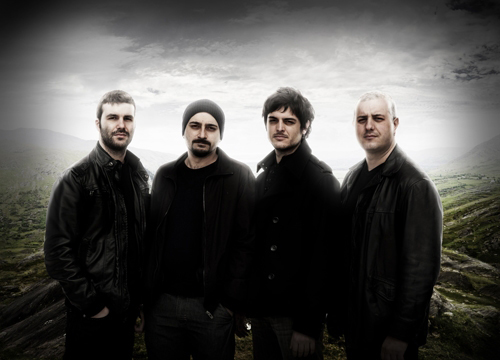 What's next for Aura, any touring plans for 2011?
Aura – We are planning a tour, the first date is on the 23rd of April at the "Pictures and Prog Festival" in Rome with DGM and KingCrow, and it it's our first promotional date of the album. We have several dates to confirm so we'll communicate them later on.
If you had the choice what would be your ideal touring package?
Aura – We'd love to play with bands we've been fans of during our growth. It's a long list but during this tour we'd love to drag people in a new dimension of a circular trip of sounds and lights.
What does the words prog rock mean to you?
Aura – Prog rock is a way to push ourselves behind schemes, to research, to find different atmospheres, to stimulate creativity, to create new horizons.
Thank you very much for answering my questions. Do you have any last rants for our readers?
Aura – We take the chance to thank you for making this interview and the readers who had the patience to read it. We want you to remember that the album will be available as a digital edition from 15th April and as a cd on our stores fifteen days later. Before that date you can listen to an abstract from the album, the song "Egypt's call", in streaming on our MySpace page www.myspace.com/auraonline or on the site of Spider Rock promotion. Thank you everybody.
---