---
Debut album out, tell us – what kind of feelings do that bring up in you?
Ty - This brings great feelings of accomplishment. I waited almost twenty years to create a melodic metal project. I am very satisfied with the results.
If you had to pick one song off the album that represent the essence of Artizan, which one would you pick and why? Personally I would "Trade the World" or the title track…
Ty - "Trade the World" is a good choice. I will have to also agree with 'Curse of the Artizan.' The title track has all of the dynamics and emotional elements that we were striving for. To me, music like this is best when there are places for the instrumentation to breathe; peaks and valley's to pull you along. I want the listener to have an emotional experience. I think the song 'Curse of the Artizan' accomplishes that more than any other song on the album. I hope we can capture that again.
"Curse of the Artizan" is your debut album, does the final result live up to the ideas and expectations you had going into the studio?
Ty - It's always exciting when you prepare to record material you have worked on for so long. I had a vision and certain expectations for the production of this album. We were striving for strong melodies, powerful riffs, catchy choruses and an organic, sonic clarity. I believe we achieved all of this. Our producer, Jim Morris (Iced Earth, Crimson Glory) always brings fantastic ideas to our projects which escalates our songwriting and musicianship. The album is everything I wanted it to be.
If you had to state one emotion to describe Artizan, which one would it be and why…?
Ty - I believe Artizan represents passion. Passion represents very strong feelings or desire for something. There is a deep, passionate energy woven into this album, and I hope it is conveyed to the listener. I know you will see and feel this at a live show.
Your music has references to your former band Leviathan as well as bands like Iced Earth and Iron Maiden, but how would you describe your music to metal fans that haven't heard your music?
Ty - The best way I could describe Artizan is that we are definitely a melodic, heavy metal band with progressive elements. We focus on strong, clean vocals. I make sure you can understand what our singer is saying. We want you to be compelled to sing the chorus and melodies of each song. We have two guitarists, so we have a lot of guitar harmonies. Although we have been described as melodic power metal, we are not a fast, straight forward power metal band. The power is in the heavy guitar riffs, my drumming style, Tom's vocal strength, and the overall dynamics within each song. If you enjoy Iron Maiden, Crimson Glory, Iced Earth, Jag Panzer or even Fates Warning, I would imagine you would really enjoy our music.
Tell us a bit about the artwork – who made it etc.?
Ty - I wanted to have a classic, painted look for the cover artwork. I always liked those old Molly Hatchet covers that Frank Frazetta did. I chose fantasy artist Marc Sasso to create the cover for this album. The first time I saw Marc's work was on the Dio album 'Killing the Dragon.' Then, I saw his work for the Dio album 'Master of the Moon', and on some Halford material. I really liked his style. I approached Marc early in 2010. He said he liked the music and would be interested in working with me. We had already created the song 'Curse of the Artizan.' I knew that song needed to be the title track and the concept for the artwork.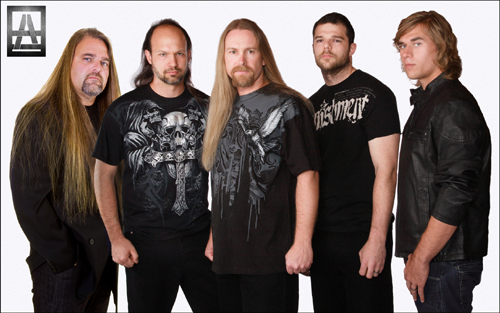 Who and what has inspired you musically?
Ty - Regarding my actual lyrical, songwriting influences, I would say that I have been inspired by Ronnie James Dio and Freddy Mercury. As far as my drumming, Vinny Appice, Nicko McBrain, Buddy Rich and Dave Lombardo.
Could you give a brief introduction to the lyrically ideas behind "Curse of the Artizan"?
Ty - I really liked the concept of the Artizan character, which is essentially about a man who went through some very difficult times as a child. He was ostracized by other kids, had a hard time growing up, and basically ended up keeping to himself. As he matured, he discovered he was born with a special 'gift.' He is a talented artist who creates magnificent sculptures from granite. He is also a fine painter. So, he is essentially an artist, which is where the name Artizan came from. But, his talents come with a curse, if you will. He is compelled to create monstrous creatures that break free from the stone and destroy those that ridiculed and bullied him earlier in his life. The energy you see glowing from his body is the magical power exploding from him as he works. His paintings contain scenes of tragedies that will happen to his enemies.
How did you end up with a name like Artizan, any interesting stories to tell?
Ty - The name Artizan is taken from the word artisan, which means skilled craftsman or creator. I wanted one word to represent the band that had a fantasy aspect. This word seemed to describe our project and I changed the "S" to a "Z" to make the word more interesting. I think the logo also looks pretty cool like that.
If you had the chance to pick your touring partners, who would it be and why?
Ty - How could I not want to tour with bands like Iron Maiden, Dream Theater or even Megadeth? Touring with very popular bands like this could get us great exposure. I would also like to play with Jag Panzer, Symphony X, Iced Earth and Crimson Glory. There are many great metal bands that would be a good fit for us.
What's next for Artizan, any tours planned, work on your next album…?
Ty - We are currently working on music for the next album. I have to say that I am really enjoying what we have created so far. The next album will be an extension of all of the elements in the "Curse of the Artizan' album. We learned a great deal from the writing and recording process. I would expect us to mature as a band, and create even stronger music. We plan to tour as much as possible this year. Our first tour in the USA is scheduled in August on the east coast. Then, we plan to hit the west coast soon after. Europe is in our sights. So don't be surprised to see us come to Germany and other regions of Europe. We know the fans overseas are excited to see us perform.
What does the words progressive power metal mean to you?

Ty - I think progressive power metal is heavy metal with some technical aspects such as odd meters, time changes, and stimulating, evolving passages that go beyond the parameters of straight forward heavy metal. You will hear all of this on 'Curse of the Artizan.'
Thank you very much for answering my questions. Do you have any last rants for our readers?
Ty - Thank you for supporting Artizan. We enjoy communicating with the fans and invite everyone to join us on Facebook at: https://www.facebook.com/artizanmetal
Thank you Power of Metal!
---